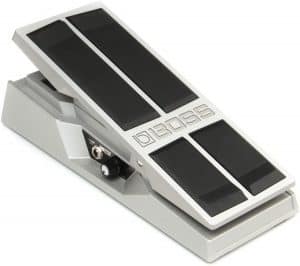 As is the case with many effects pedals, there is a lot of variety in the volume pedal market. They can range in price from less than fifty bucks to a few hundred dollars, and often perform far more advanced functions than simply giving you more in-depth control over your dynamics.
Those who don't play guitar or bass may wonder what the point of a volume pedal is. After all, there are volume control knobs on your amp and instrument; a separate piece of equipment that does the same thing might seem a bit redundant. Those control knobs aren't especially convenient for using volume-based effects like swells and decays, however. The best volume pedal options will often do this and more.
As is the case with many effects pedals, there is a lot of variety in the volume pedal market. They can range in price from less than fifty bucks to a few hundred dollars, and often perform far more advanced functions than simply giving you more in-depth control over your dynamics.
Buyer's Guide
The Run-down
The pedals on the list below are what we came up with after considering all of the factors above. All in all, they're some of the most versatile, most durable, and overall most useful volume pedals on the current market. If you want to add this incredibly useful effect to your arsenal, one of the choices below will give you exactly what you're looking for.
All eight of these pedals will give you good volume control, and most of them use a very similar interior circuitry to get the job done. The exception is the Lehle Mono Volume Pedal, which is both the most unique and the most expensive option on the list. The main difference between the others comes down to the material of the casing, the size of the pedal, and what they can do beyond simple volume control.
Buyer's Guide: Choosing The Best Volume Pedal
The idea behind all of these pedals is the same: to give you a way to do fades and otherwise adjust your instrument's volume without having to mess with the knobs directly on your instrument or amp. Given how simple the concept is, you might be surprised by just how many factors there are to consider when you're buying a volume pedal.
Obviously, the first thing you're looking for is quality. The pedal needs to work with your equipment and deliver a smooth swell and fade or nothing else about it really matters. Not every pedal will go completely to mute, so you'll need to pay attention to that feature if you need the option of making your instrument completely silent.
All of the options listed here have an excellent effect range and responsive pedal. When you're choosing between products that are all of a similar high quality, you'll be making your decision based on more specific qualities. Consider the different characteristics below. Not all of them will be important to every player, but looking through some of your options can help you narrow down which one you want.
Is passive or active equipment best?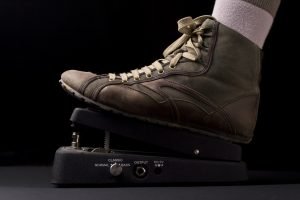 There are two sides to this question: whether the pedal itself requires an external power source, and whether you'll be connecting to passive or active pickups.
Let's start with the first part of that question. Some pedals will require an external power source, and some of them won't. There's no difference in sound or performance between these pedals; the only difference is how they operate.
Volume pedals don't tend to be battery hogs as much as other effects, but you will need to have a supply of 9-volts on hand if you go with a battery-operated version. You can also find powered pedals that run on an adapter. These will save you on batteries but will mean you'll need to track down an outlet.
A powered pedal is especially convenient if you have a lot of pedals on your board. Individual 9-volt batteries aren't expensive but the costs can add up if you have a lot of pedals. The same thing goes for outlets—the spots can fill up quickly between your amp, pedals, cabinets, and other equipment. You can always buy a space-saving adapter with multiple plugs to help everything fit, but not having to worry about it is even better.
The second part of that equation is whether you'll be using the pedal with a passive or active pickup. Some pedals will work with both, but for others, you'll need to buy different versions to accommodate different power levels.
Stereo vs. mono
This has to do with the number of channels the pedal can process. If you're using the volume pedal as an effect for a guitar or bass, a mono pedal will work fine for you. If you're using it with a synthesizer, keyboard, or another instrument with multiple voices, something like the Yamaha FC7 will be better for your purposes.
As a side note, you want to consider the number and type of outputs the pedal has. You'll find up to three outputs on the pedals on this list. These can give you the option of sending the signal to more devices and is an especially good choice if you want to use it as an expression pedal.
Type of circuitry
There are two major categories of interior circuitry. Most pedals use potentiometers, or pots, to drive them. This is a kind of resistor that passes the signal from your guitar through the pedal and to the next piece of electronics in the chain.
Pots are inexpensive to make and use, which is why they're so common. They do wear out over time, however. You'll be able to tell that a pot is wearing out because the sound will suffer. It may get scratchy, or you may start hearing extra signal noise that wasn't there before.
If the pots get worn out, they can be replaced. Whether or not this is worth it, though, will depend on a lot of factors, including how much you paid for the pedal in the first place and how much of a hassle and expense it will be to find replacements.
Pedals with pots aren't your only option. You can also find pedals that use electro-optical circuitry, Like the Morley Little Alligator on this list. In an electro-optical circuit, there aren't as many moving parts. Optical technology is used to read the position of the pedal and use that information to alter the signal. This means less wear and tear on the interior circuitry and a longer life for your pedal.
While pots will wear out over time, they do tend to last for quite a while before they do so if the pedal is well-made. You can expect most of the pedals on this list to keep sounding great even after years of daily use. If you want that extra assurance that your pedal will last for a long time, though, electro-optical circuitry is a great choice.
Matching your instrument
Different effects will work better for different instruments and situations. What you play should play a factor in your choice when you're looking for a volume pedal. We've already talked a bit above about what you need for a keyboard or synthesizer, but even between different types of string instruments, you'll find certain pedals work better than others.
The chart below will give you some basic suggestions of what you want to look for in a volume pedal for a variety of instruments. While there's certainly no hard and fast rules, it's a good guide to help you get started.
Matching your style
Even two guitarists might prefer different pedals depending on the kind of music that they play. A jazz's player's conception of the ideal tone isn't likely to be the same kind of sound a heavy metal player is going for.
Generally speaking, players in heavier genres will take more interest in boost features that will give you a bigger, badder overdrive. Folk or jazz players are probably going to be using the pedal more for switching from rhythm to solo modes and won't get as much use out of some of those more advanced features. Check out the chart below for more details on what to look for if you play different genres.

Few professional guitarists play in just one style, even if they have one that they play most often. If you do a lot of switching between styles, versatility is likely to be one of your main considerations. The more transparent a pedal is, the better it will adapt to a lot of different playing styles.
Think all that matters are the pedal functions?
Think again.
Aside from the inherent differences between pedals on the inside, there are some other factors that will likely play into your decision about which one you want to buy—some of which don't have anything to do with how the pedal functions.
While sound and performance would be the only considerations in an ideal situation, in the real world the factors below can be just as important.
Size
If you use a lot of pedals, adding another monster to your board for a basic function like volume might not be so appealing, no matter how necessary the effect is. The good news is, you can find some pretty compact little pedals out there that give you the same bold swells as models that are twice the size.
Top choices for size: Ernie Ball VP Jr, Valeton EP-2
Durability
You want to know you can count on your pedal to perform the same way night after night. Pedals can take a lot of abuse when you're taking them to and from gigs—not to mention the kind of beating they take during the show. If you want your pedal to last for years no matter what you do to it, the construction quality should be one of your top concerns.
Top choices for durability: Morley Little Alligator, Lehle Mono Volume Pedal
Value
A volume pedal can be an important tool in your arsenal, but that doesn't mean you have to spend a lot of money to get one. If you're on a budget, you can find quite a few excellent volume pedals that won't set you back too much. The main sacrifice you'll likely make is in the casing material; pedals in the $50 and under category are more likely to be made of plastic.
Top choices for value: Yamaha FC7, Valeton EP-2