The Best Wah Pedals: A Beginner's Guide
Most people have heard a wah effect whether they realize it or not. If you're a guitarist, you probably have a basic understanding of what this kind of effect can do for your tone, but even if you've played with wah pedals before you might not completely understand how they do what they do.
The easiest way to conceptualize a wah pedal is to think of the sound it makes when you use it, which is similar to a human voice making a "wah" sound, which is the reason for the name. It's based on the similar effect that brass instruments like trumpets and trombones can get using a mute, a sound that became popular during the big band jazz era. The guitar pedal effect is more associated with the rock of the '60s and '70s, although you can hear it in pretty much every genre from funk to metal to modern electronic.
All wah pedals operate in basically the same way, and will give your tone that same vocal quality, but that doesn't mean they're all going to sound exactly the same. With an effect like a compression pedal, for example, you can count on all of them to do the same basic thing for your sound, even if they do it in slightly different ways or to different degrees.
A wah pedal, on the other hand, you can think of more in the category of a fuzz or distortion pedal. They will all do the same basic thing, but each pedal will have its own distinctive flavor—and the most popular ones tend to draw a following. This can make it easier to pick out your favorite pedal if you fall in one with one particular effect sound, but can also mean it's tricky if you're still trying to figure out which sound is the right one for you.
One great tip, no matter what kind of effect you're shopping for, is to check out what equipment your favorite guitarists use. You won't instantly sound like Jimi Hendrix just because you use the same wah pedal, but if you're hoping to mimic the wah from your favorite recording, figuring out what pedal the original artist used will get you on the right track.
You might be wondering: what's the deal with dual effects?
If it doesn't say otherwise on the pedal's information, it only does the wah. It is fairly common, though, to find wah pedals that will also do other effects well, typically other common effects that are standards of a guitarist's pedal board.
On this list, you've got the Morley PFW Cliff Burton, which also includes a fuzz effect in the same pedal as the wah. The great thing about this pedal is that you can use both effects at the same time, or either one independently—basically you can use them the same way you would having separate pedals for the two effects, just pushed together into one compact pedal. This isn't something you can do with every dual effects pedal; some of them are more limited, and will only let you use one effect at a time, so that's something to check out before you buy if that's a concern.
You can also find wah pedals that include a boost or volume pedal function. The Donner 2-in-1 is one option on this list that gives you a volume effect along with the wah, and there are others that can give your tone a bit of a boost depending on how you position the pedal, even if they're not strictly speaking a multi-effect pedal. You can get a volume pedal separately (there are quite a few great options on this list) but since it's a fairly standard effect, you might as well get them both in one package if you can since it'll save you both money and space on your pedal board.
Vintage vs. modern: What does this mean for you?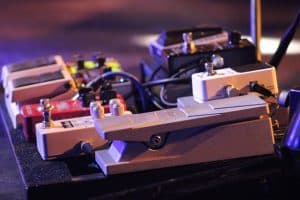 The wah is a classic effect, but because it's been around for a few decades by this point there's been a lot of evolution of what the wah effect can sound like. This is a lot of the reason why you can't expect every wah pedal to give you the same exact tone and feel. As new music genres and styles have come along, what players need out of a wah pedal has changed.
Sonically, the difference between modern and vintage wah effects is subtle. It's linked more to the components used in the pedals than anything else; the pots and inductors that were in use in the '60s and '70s are different than the ones being used today, and even if they're designed with the same basic end goal in mind, that difference will mean the sound is different when you play through it.
You could generally say that the vintage wah sound is more fluid, while the modern wah is more precise. Think of the messy, gritty vocal quality you'd find on classic rock tracks; that's the kind of vibe a vintage wah pedal was usually going for. You could also say that the modern wah sound is typically a bit drier and more aggressive, better-suited for crisper, more electronic genres. These are obviously generalizations, but will give you a basic idea of what to expect from pedals labeled one way or the other (and if you want to go into more depth on the difference between a vintage and a modern wah pedal, check out this Guitar Magazine article).
If you're not sure whether you want a vintage or a modern wah sound—or if you want to be able to use either one when they suit your needs—you should go with one of the options that has more tone shaping controls. The Xotic Wax XW-1 is one that can give you both vintage and modern tones easily, though you'll pay a bit extra for the ability, while the Weeping Demon is another one that can give you any sound you have in mind.
Components and materials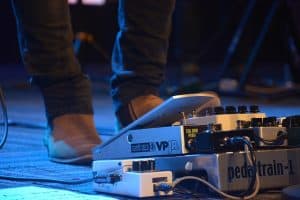 When it comes to the housing, there are two different categories: plastic and metal. The difference between the two is fairly obvious. Plastic housing is lighter in weight and less expensive to produce, but it can be damaged more easily. For metal housing, durability is the main selling point, but it can cost more and is often a heftier pedal.
It's a common misconception to hear plastic and instantly think that means "cheap." When it comes to the hard plastic used in modern pedals, though, that's not necessarily the case. The Boss DS-1 uses a plastic casing but it can still reliably give you years of consistent play—and just because a pedal has a metal housing doesn't mean it's going to last for a lifetime. The level of craftsmanship involved in constructing the pedal is just as important to its long-term survival as what material the housing is made of. Generally speaking, however, if you expect your pedal to take an above-average level of abuse, you'll want to buy the sturdiest model you can find.
In terms of the interior components, you'll also find two general categories of pedal. The traditional model uses potentiometers (pots for short), but there are also wah pedals that use optical circuitry. Simply stated, the main difference between them will come down to durability.
Pots are mechanical and will wear out gradually over time. Granted, it will take a while; modern pots are tested to over a million iterations without failing. With optical circuitry, though, there's no actual contact between the parts, and this means there's absolutely no wear and tear. If you'll only be using the pedal occasionally, you probably won't need to consider this, but for heavy use it's something to keep in mind.
Best Wah Pedal Reviews
Further Considerations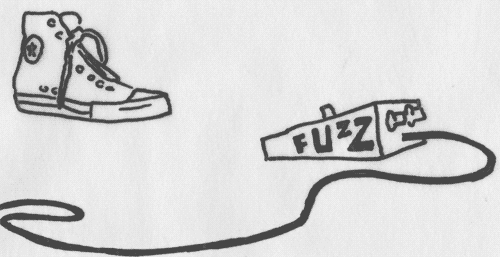 There are a lot of moving parts on a pedal—both literally and figuratively. You might listen to one of the pedals above and fall in love, and if that's the case, there's no reason to overthink the situation. The most important thing is to buy the pedal that speaks to your style.
For the player who likes to look at the details before making a decision, though, effects pedals give you a perfect chance to really get into the nitty gritty of your sound. The sections below are a few more things you might want to think about.
Customizing your sound
The kind of controls you get on your pedal vary from brand to brand. In some cases, the intensity and frequency of the wah are controlled by applying different amounts of pressure to different parts of the pedal. This is an effective system if you want to be able to control things on the fly, but doesn't give you as wide of a range of effect sounds, which ultimately makes the pedal less versatile.
Other pedals will give you a variety of different control knobs, either on the top or the side of the pedal, which you can use to change up your sound. Most of these are pretty standard, not just across wah pedals but across effects in general. The level control will change the overall volume of the effect, for example, and some of them will even give you EQ knobs for altering how much the effect works in different frequency ranges.
Most players enjoy having these kinds of controls. It certainly means you can get a lot more kinds of effects out of your pedal, and will keep you from having to buy an entire army of different pedals. It's not the be-all end-all of a pedal, though. Some people think something like the Weeping Demon or the Xotic Wah is actually a bit too versatile. With so many different ways to change your sound, finding the right one can be tricky and time-consuming, especially if you're a relatively inexperienced player.
Simply stated:
There's something to be said for simplicity.
Besides adding to the complexity of the pedal, the knobs you use to control the effects are also far more likely to take damage in transit. Some pedals, like the Weeping Demon, have mechanisms in place to protect the knobs, but if they don't you'll have to be more careful with pedals that have these tweaking options, especially when you're traveling to gigs.
As a final word on this, if you're really into customizing your sound, a lot of pedals offer more options than you'll see on the knobs on the outside. If you open up pedal, you'll often find places that you can adjust more advanced options, like the sweep of the wah or the frequency range. The only downside to these controls is that they're not usually as easy to use or interpret as the user-friendly knobs on the outside. If you're comfortable with more technical things, though, it can greatly expand your pedal's versatility.
Bypass

Some pedals will offer a true bypass for your signal, and some pedals won't. In a true bypass, there is absolutely no alteration to your guitar's signal when you're not using the effect. The signal is sent straight to the next item in the chain, whether that's another effect pedal or your guitar amp, so there won't be any buffering.
You might notice a slight compression or alteration to your sound if there's no true bypass on the signal. Whether or not this is a problem (or even noticeable) will depend on your set-up and the level of transparency you prefer in your sound.
Size
Wah pedals come in a lot of different designs, and sometimes the differences are more than just aesthetic. Traditionally, wah pedals are some of the largest effects. The nature of the effect demands a full-sized pedal rather than the mini stompbox style that's been popularized by modern pedal manufacturers. This can be bad news if you already lug around a lot of equipment when you travel to gigs.
As it turns out, size is important to each player individually but there's no one right answer. Especially with an effect like a wah, for some players a smaller pedal can actually be uncomfortable.
With the extreme example of this, the Wahter, someone who's accustomed to playing with a different wah pedal might find the smaller size limiting. The smaller the pedal, the more subtle and precise your movements will have to be when you're trying to get varying sounds out of the effect. A little bit of practice with the pedal will help you get used to it, but if it doesn't fit into your natural playing style, the bigger pedal might be the better option.
Multiple effects

Wah pedals work great in chains with other effects, especially fuzz and overdrive pedals. If you're chaining multiple pedals together, you'll need to buy a few more ¼" connector cables to hook them together. Cables with a right angle for the jack tend to work best for this, letting you get the pedals linked together in a relatively tight space. All of the cables linked to in the reviews above are great options for chaining pedals.
Using multiple effects can really expand the options for your sound. Experiment with where you put the pedals in relation to each other. The signal from your guitar passes through the pedals in the order that they're linked together. Putting the wah before a fuzz pedal will apply the wah first and the fuzz second, which will give you a different overall sound than if you apply the wah effect after the fuzz is already applied.
The question of whether the pedal has a true bypass will be more important if you're using multiple effects pedals. You might not notice the buffering that comes from a single effect pedal, but if you have a few of them in sequence the cumulative effect can take the life out of your tone.