The 30-Second Review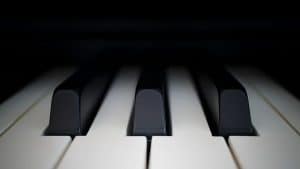 The more you want your digital piano to sound and feel like an acoustic, the more you're generally going to have to pay.
The cheapest options will be those that don't offer a full 88 keys.
But don't be turned off just yet…
These can be viable options for young children, since they'll have an easier time reaching all the keys.
Not buying for a child?
You'll want to get a full-size keyboard if you can afford it…
Once you're within the category of full-size keyboards, the difference between price points will be both in the sound and the feel of the instrument.
You can generally think of these models as fitting within one of three tiers:
entry-level
intermediate
professional
Entry-level instruments tend to cost between $200 and $500. They may offer weighted key action, though it won't be as sensitive or responsive as pricier models, and the array of voices offered will generally be a bit more limited.
Intermediate models will typically cost in the $500 to $1,000 range, and will have a higher degree of realism as well as a broader array of features compared to cheaper options.
If you want something at the professional level, you should expect to spend at least a grand, and most often will be spending $2,000 or more. In terms of authenticity, though, they're practically indistinguishable from an acoustic piano, especially to a beginner's ears.
Whether you need something that performs at that level is a question only you can answer; for many students, even serious students, a well-made entry-level or intermediate instrument should serve your needs just fine.
Choosing a Digital Piano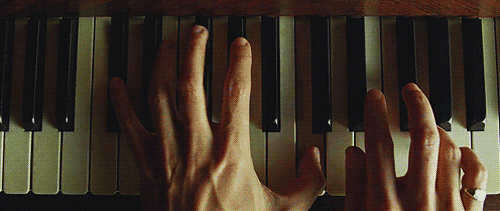 The digital pianos versatility is a double-edged sword.
With their wide range and versatile tone, pianos are found in almost every genre, and are invaluable tools for composers, arrangers, and songwriters. Because they're so useful to so many people, though, you'll find many different models out there, offering a whole slew of different features.
Overwhelmed yet?
We've already talked about the obvious basics…
You want an instrument that sounds good, and one that you enjoy playing.
Then what's the catch?
This can mean different things to different players.
The sections below go into more depth about the features and specifications you can expect to find on a digital piano. Understanding what each feature does and what it brings to the table will help you figure out which ones you need, and help you find the right instrument for your needs.
Keys and Feel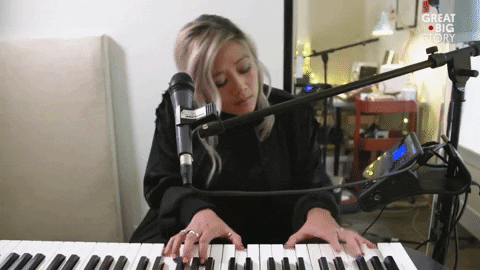 Aside from the authenticity of the sound modeling, the build and feel of the keys on the keyboard is where you'll find the biggest difference between entry-level and professional instruments.
The most obvious difference will be how many keys you get. Cheaper keyboards often shrink the keyboard down to 61 or even 48 keys, instead of the full array of 88 that you'll find on acoustic pianos.
Here's the deal:
Fewer keys doesn't always mean the instrument is a lower quality.
However, it does mean you won't have access to all the notes you'll get on a full keyboard at the same time.
Fortunately, keyboards with an octave transposition feature will let you choose which notes you're missing, so you can play all the notes with some tweaking. If not as seamlessly as with a full 88 keys.
So is it a problem or not?
The main players who will find this limiting are classical pianists, as many of the works within the repertoire will call for using both the extreme low and the extreme high register within the same piece.
If you're buying the keyboard for a younger learner, though, a 61-key model might not be a bad idea, especially if the length of an 88-key model exceeds their reach.
In terms of materials, most digital pianos use plastic for the keys. With cheaper models, this can lead to clicking or squeaking when you press them, and this is something that can get worse over time, especially with heavy use.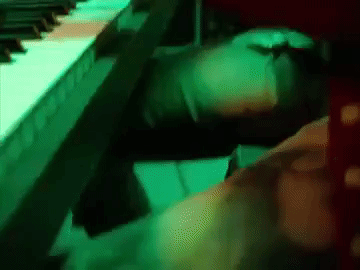 Higher-end keyboards tend not to have this problem.
Some of them will even feature wood and ivory (or synthetic ivory) keys, just like an acoustic piano, although this is a rarity and not a necessity, so long as the keys are made to a high quality standard.
The only complaint some players have against plastic keys over wood and ivory ones is they can get a bit slippery after sustained play.
Many of Yamahas models use a matte coating on the keys to alleviate this problem—something to look for if this is a concern for you.
More important than the material, though, is the weight.
In other words, the resistance the keys give to your fingers. Not all the keys respond in the same way on an acoustic piano.
The higher you go, the less resistance the keys give.
The lower you go, the heavier you have to press.
This is a side effect of how the piano produces sound. When you press a piano key, a string inside the instrument is struck with a hammer, causing it to resonate through the wood of the instrument and producing the sound.
The lower the pitch, the longer the string, and the more effort is required to strike it.
This type of weighting is unnecessary for a digital piano, of course.
Pressing a key simply tells the circuits inside the piano which tone to produce, and the effort involved is the same regardless of where you are on the instrument.
The thing is…
For many pianists this change in weight from the bottom to the top is an important part of playing the instrument. Knowing this, many digital piano manufacturers add weighting to the keys of their instruments that simulates, to some degree, the response of a string-and-hammer mechanism.
My advice to you:
If your goal with the keyboard is learning to play piano, you should invest in an instrument with graded hammer action, or at least weighted keys. This will ensure the technique you learn can be seamlessly applied to an upright or grand piano.
If you learn to play on a digital piano without weighted keys, you'll find the transition to an acoustic keyboard rather jarring, especially in the low end.
This consideration is less important for composers and arrangers, or those primarily using the keyboard as a MIDI controller.
Here's where it gets good:
Digital pianos offer you some key options that make them even better and more versatile than acoustic pianos.
Most digital pianos will give you some control over the sensitivity and action of the keys, letting you adjust how much they respond to changes in your touch.
As you might expect, the degree of control you get over these settings increases as you move up in price. High-end Yamahas even give you the option of adjusting both the response and the resonance, and use a more sophisticated sensor to make sure it reads the player's pressure accurately.
Voices
As a piano player, you technically only need one voice.
Indeed, many players will consistently use the same voice every time they sit down at the keyboard, and the primary piano voice on a digital piano is the one companies tend to pay the most attention to when it comes to modeling and sound quality.
The number of voices a piano offers is in no way an indication of quality.
In fact, if you find a keyboard in the budget price range that offers dozens or even hundreds of voices, this is almost certainly a novelty instrument—fine for a kid to play with, but not the best option if you're serious about music.
Almost all digital pianos will come with at least four or five different voices to give you some sonic variety.
If there are a limited number like this, they'll usually only be variants of other keyboard instruments—typically a couple piano models, an organ model or two, and a harpsichord setting.
If there are more voice options, you'll usually find the orchestral strings are the next instruments to be added (violin, viola, cello, and bass).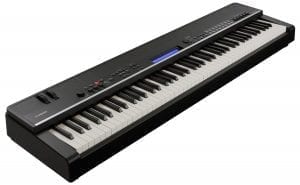 If you want more voices than that—and you want them to still be at a high sound quality—you'll want to look at professional stage pianos, like the Yamaha CP4.
These models almost tow the line between a digital piano and a synthesizer, in terms of the variety of voices that are offered. They'll give you true to life models of various different instruments, including winds, percussion, and a range of string and keyboard voicings.
The key question is what you want to have a lot of voices for, if that's something that's on your list.
If you're a composer, producer, or electronic performer, high sound quality across voices is just as important as how many you get. It will be worth it for you to spend the money on the CP4, which will deliver on both of these counts.
If you're more of a hobbyist and just want a lot of cool sounds to play around with, something like the RockJam or the Casio CTK-3500 is probably more what you're looking for.
Recording And Midi Options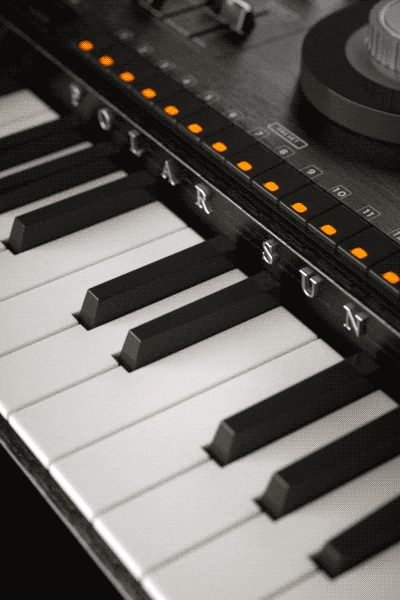 One advantage digital pianos have over acoustic pianos is the ability to send their signal directly to a computer or DAW.
Recording an upright or grand piano requires a somewhat complex arrangement of microphones, both inside and around the piano, to capture the full sound.
With a digital piano, you can send the same sound that comes out of the speakers through the line-out, without the intermediary step of a microphone.
Guess what?
An on-board recorder can be a helpful feature for a beginner, too.
Your attention is pulled in a lot of directions when you're practicing. You're thinking about your technique, which notes are coming up next, how much pressure to use for the right dynamics— all the little things that go into a good performance.
Being able to record yourself right there on the piano lets you listen to yourself after the fact, which can help you catch small flaws or issues that escaped your attention while you were playing.
Of course, you can still use this practice technique even if you don't have a recorder on the piano. Most smart phones even have a recording function with a decent audio quality, or you could buy a stand-alone recorder.
In short, you have some options.
It is convenient to have the controls right there on the piano, though. And the ability to overdub tracks is a nice extra feature you won't have with hand-held recorders.
Many pianos that can record also give you the option to export your recorded tracks as MIDI files.
Is that important to you?
If you want the option to export, look for either a USB or a MIDI I/O hook-up on the features of the piano.
Just as a side note, the ability to export MIDI files isn't the same thing as being a MIDI controller.
The latter means you can hook up the keyboard to MIDI-enabled devices to trigger effects or sound changes. If that's what you're after, your needs will be different, and a digital piano might not actually be your best option.
The Top Digital Pianos: Read Our Full Reviews
01
Yamaha YDP184R Arius Series Console Digital Piano with Bench
The Arius line is the heart of Yamaha's digital piano catalog. You can think of them like more affordable and lighter-weight alternatives to upright pianos. While they're designed mostly for use in the home, the high sound quality and modern connectivity also make it a great option for recording studios, private lesson instructors, and other professional applications that don't demand mobility.
We'll start with the sound.
That's really where this piano shines.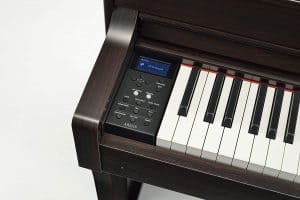 The main piano voice is modeled off of the CFX concert grand—and with an impressive degree of realism, we have to say. The tone is lush from top to bottom. Yamaha uses advanced virtual modeling to simulate the sympathetic vibrations of the strings around the note being played. This might seem like a small detail, but it's a big reason why this piano sounds more like the real thing than others.
The YDP-184 achieves a similar realism in terms of the feel. Rather than simply replicating the weight of a hammer action, they use a similar design for the key mechanism to what you'd find inside an acoustic instrument, with a three-sensor set-up for an accurate touch reading. This means the response is more sensitive to the pressure of your fingers, giving you an overall more realistic playing experience.
As if that's not enough...
The YDP-184 is also a fully-functional MIDI recorder. Many digital pianos let you record basic loops, but this model gives you 16 separate tracks, all of which can be played simultaneously for layering and overdubbing. You can export your recordings to your computer or DAW through USB for mixing, editing, and storage.
Even after all that, we've really just scratched the surface of what this piano can do. It has a full complement of on-board effects, along with features like Duo Mode and dual headphone outputs that make it great for teachers.
While it might honestly be more piano than most hobbyists need, professionals of all stripes will get a lot of value out of the YDP-184.
Features:
Keys: 88
Voices: 24
Effects: 27
Power: PA-300C adapter (included)
Weight: 123 pounds
USB: Standard (1)
Input: 1/8" aux
Outputs: 2 ¼" headphone, 2 ¼" aux
---
Pros
Simulates feel of a grand piano
Full three-pedal board
Cons
Might be out of some players' budgets
---
02
Yamaha CP4 Stage Piano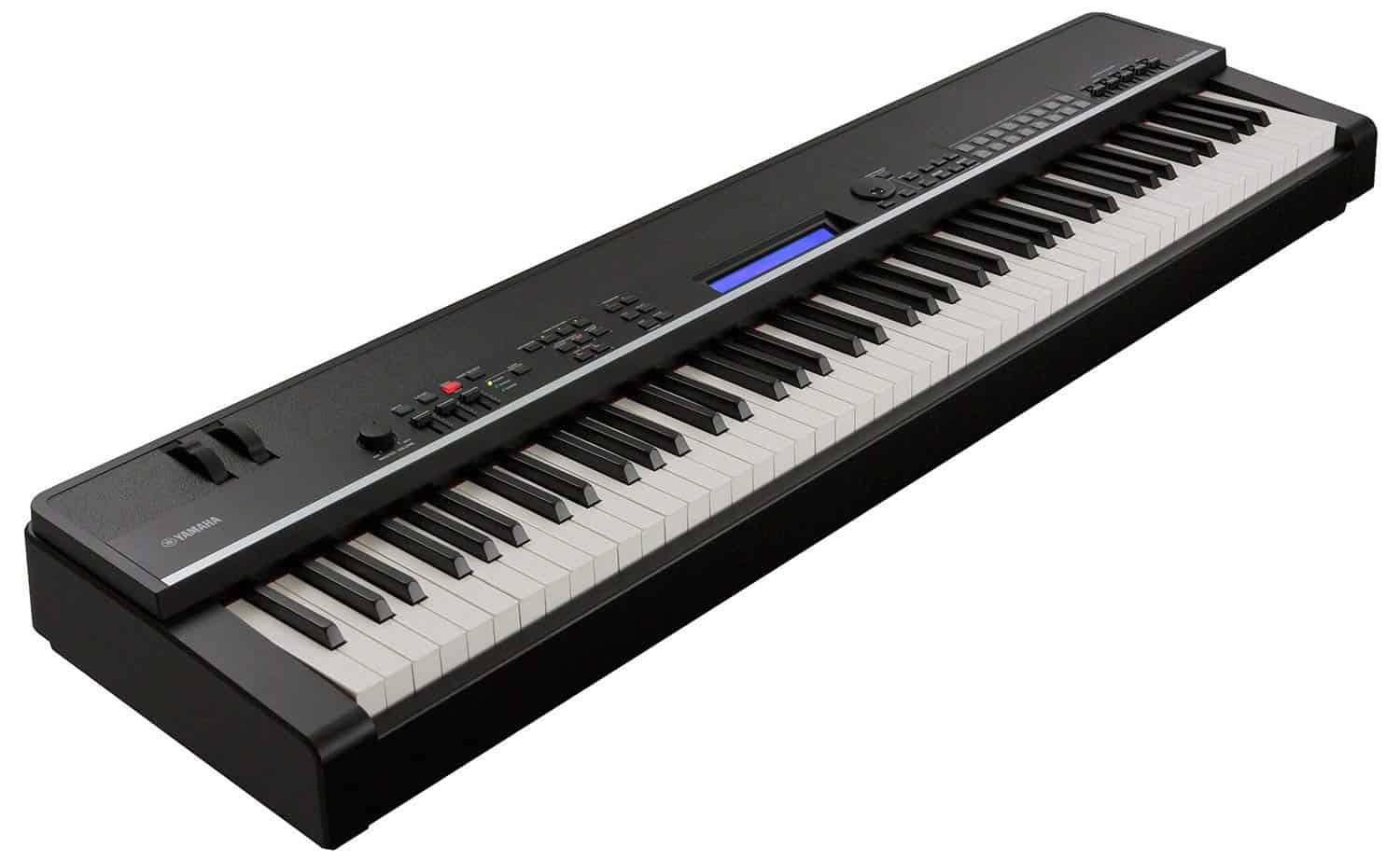 Do you like the sound and feel of the Yamaha Arius but need something more portable?
Here's your answer.
The CP4 weighs less than 40 pounds and is designed for the stage. It also has a more expansive library of voices and effects, making it a versatile keyboard for gigging pros across genres.
A lot of portable keyboards can end up feeling cheap.
That's not the case with the CP4.
The build design is solid, managing to be light without being flimsy. Once it's on its stand, you can play with your usual intensity and not worry you'll break it or knock it over.
It even uses real wood keys, with synthetic ivory overlays and graded hammer action, effectively simulating the touch of an acoustic.
If you're a composer or recording engineer, you'll probably be excited to hear this piano functions equally well as a MIDI controller.
The interface even offers an EQ fader, pitch and mod wheels, and other handy controls to make this keyboard even more versatile. It also gives you the option of using two expression pedals and has USB connectivity for easy integration into your system.

Our thoughts?
As cool as the MIDI capabilities of this keyboard are, live performers will probably be more interested in its voices and effects.
You'll get all the standard models, including a variety of vintage keyboards. It's easy to switch voices or add effects on the fly. Layering and splitting the voices is easy, too, and individual faders give you more control over the balance.
For the gigging professional, this is a hard keyboard to pass up, and well worth the extra investment.
Features:
Keys: 88
Voices: 341
Effects: 62
Weight: 38 pounds
USB: 2 (Type A and Type B)
Inputs: stereo mini jack
Outputs: 2 XLR, 2 TS, 1 ¼" headphone
Intuitive on-board interface with one-touch layer and split features
---
Pros
Pianist Styles feature creates instant accompaniments
Can control all the features with the Digital Piano Controller app
Cons
On-board controls are tricky to use
---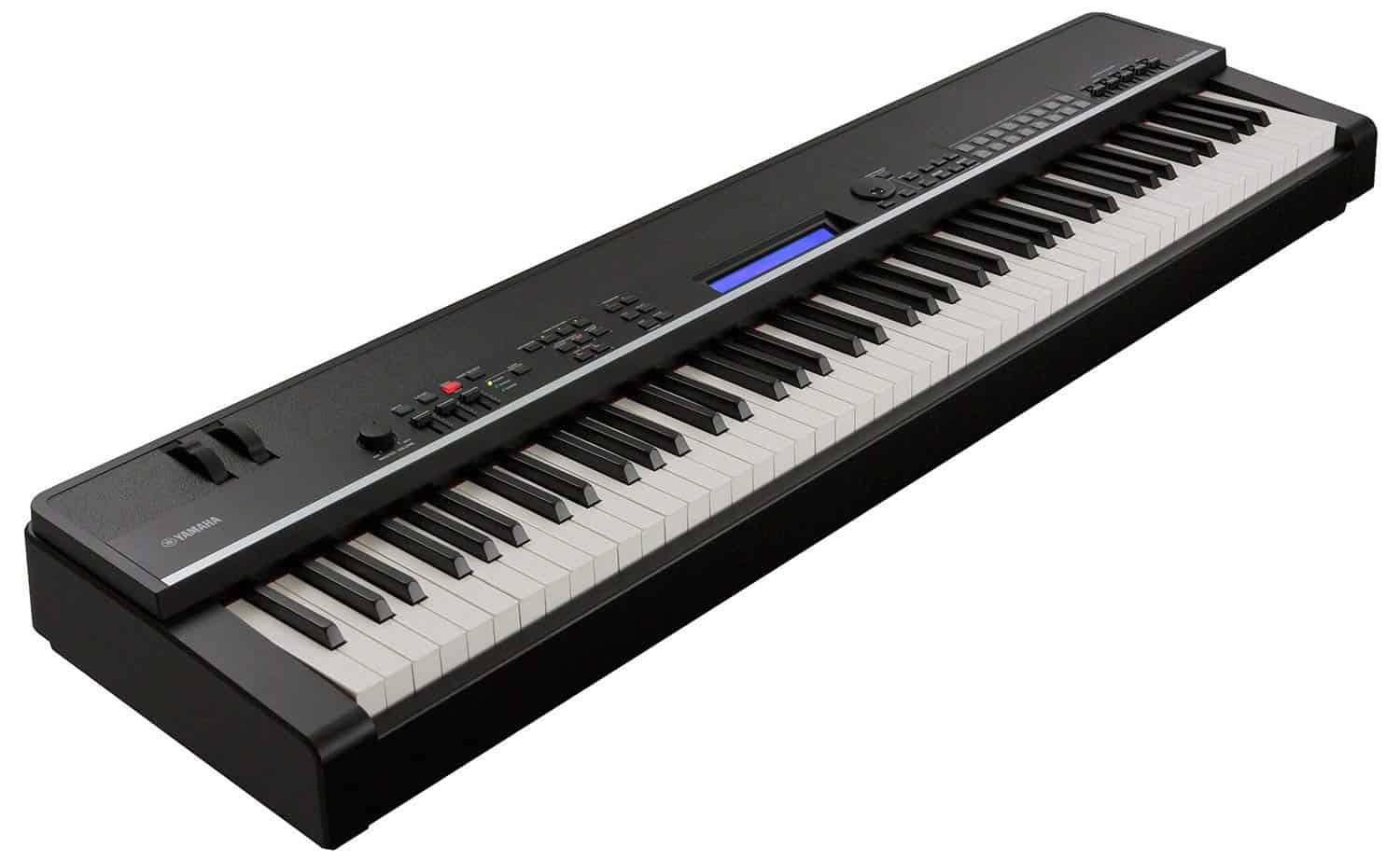 with Natural Wood Keys and Sustain Pedal
03
Casio Privia PX-160 Digital Piano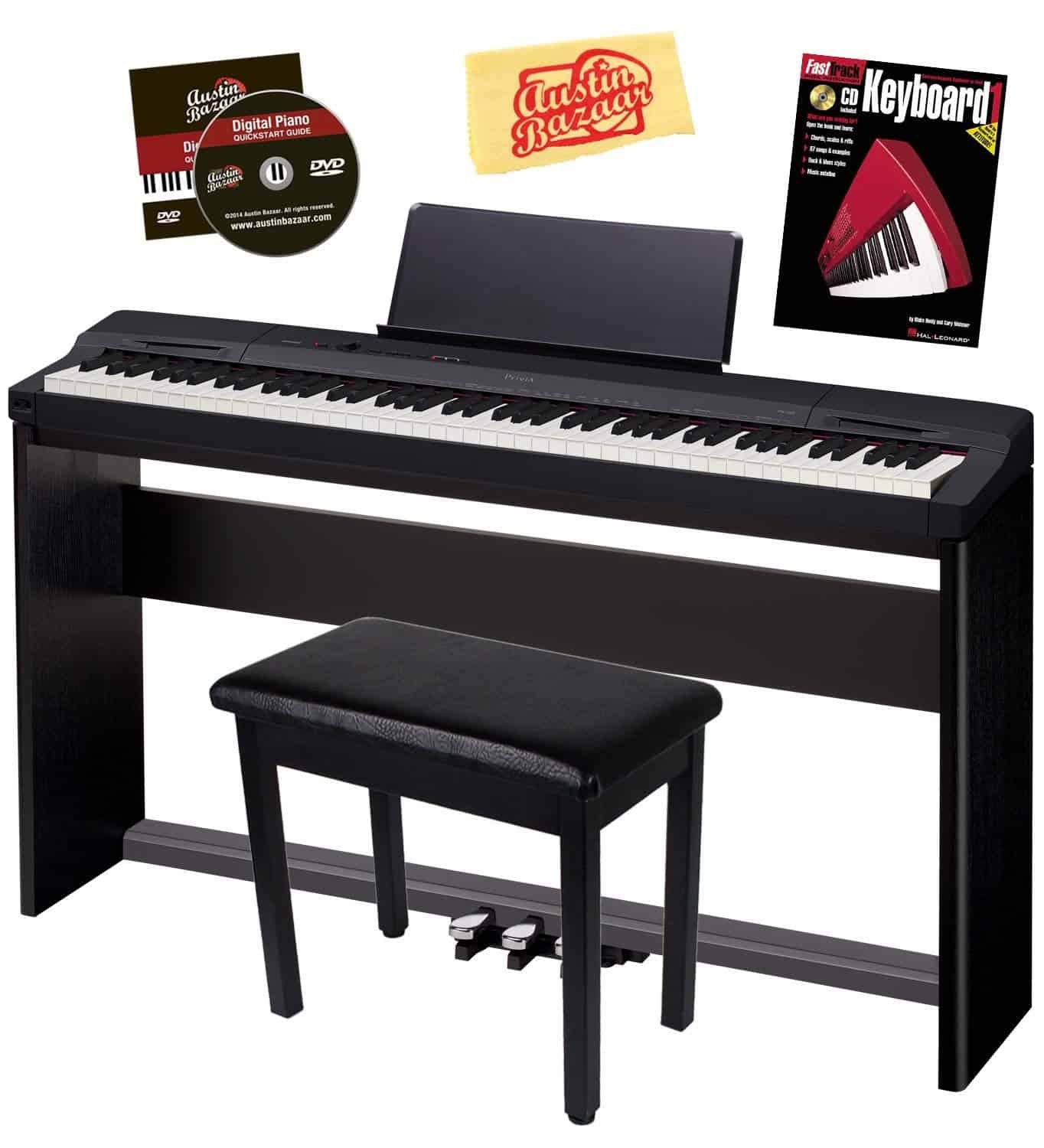 Casio pianos run the gamut from small, simple keyboards for kids to full-size digital keyboards suitable for pros.
The PX-160 is right in the middle of this range, both in terms of price and when it comes to the features and sound quality.
This makes it a good option to look at for an advancing student or serious hobbyist who's equally concerned with getting a great instrument and getting a good value.
What makes it a great value?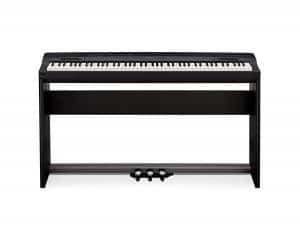 It comes with all the things you need to start playing. This includes a piano stand, a stool, an SP-33 pedal, and the power adapter. There are also an instructional book and DVD in the box, although these aren't likely to be as universally useful.
They're fine beginner piano tools, but this instrument isn't necessarily the best option for the absolute beginner.
The piano itself is an update of the popular PX-150 model, one of the best-selling options in Casio's catalog. It has 18 different voices, including both keyboard and string ensemble models.
How do they sound?
The grand piano tone is especially impressive thanks to the intelligent resonator processor, which has a more natural decay and sustain than past Casio models.
The Casio PX-160 is relatively basic in terms of features, but there are a couple of noteworthy additions.
Here's what caught our eye…
You can use Duet Mode to split the keyboard, a great option for instructors. There's also recording, transposition, and metronome functions—in short, everything an advanced student needs to push their talent to the next level.
Features:
Keys: 88
Voices: 18
Power: AC adapter (included)
Weight: 46 pounds
USB: Standard (1)
Inputs: 3 pedal inputs
Outputs: 2 ¼" headphone jacks
---
Pros
Feels natural thanks to the Tri-Sensor Scaled hammer action
Includes two-octave transposition function
Cons
Some key noise that may worsen with wear
Sand can feel a bit low for taller players
---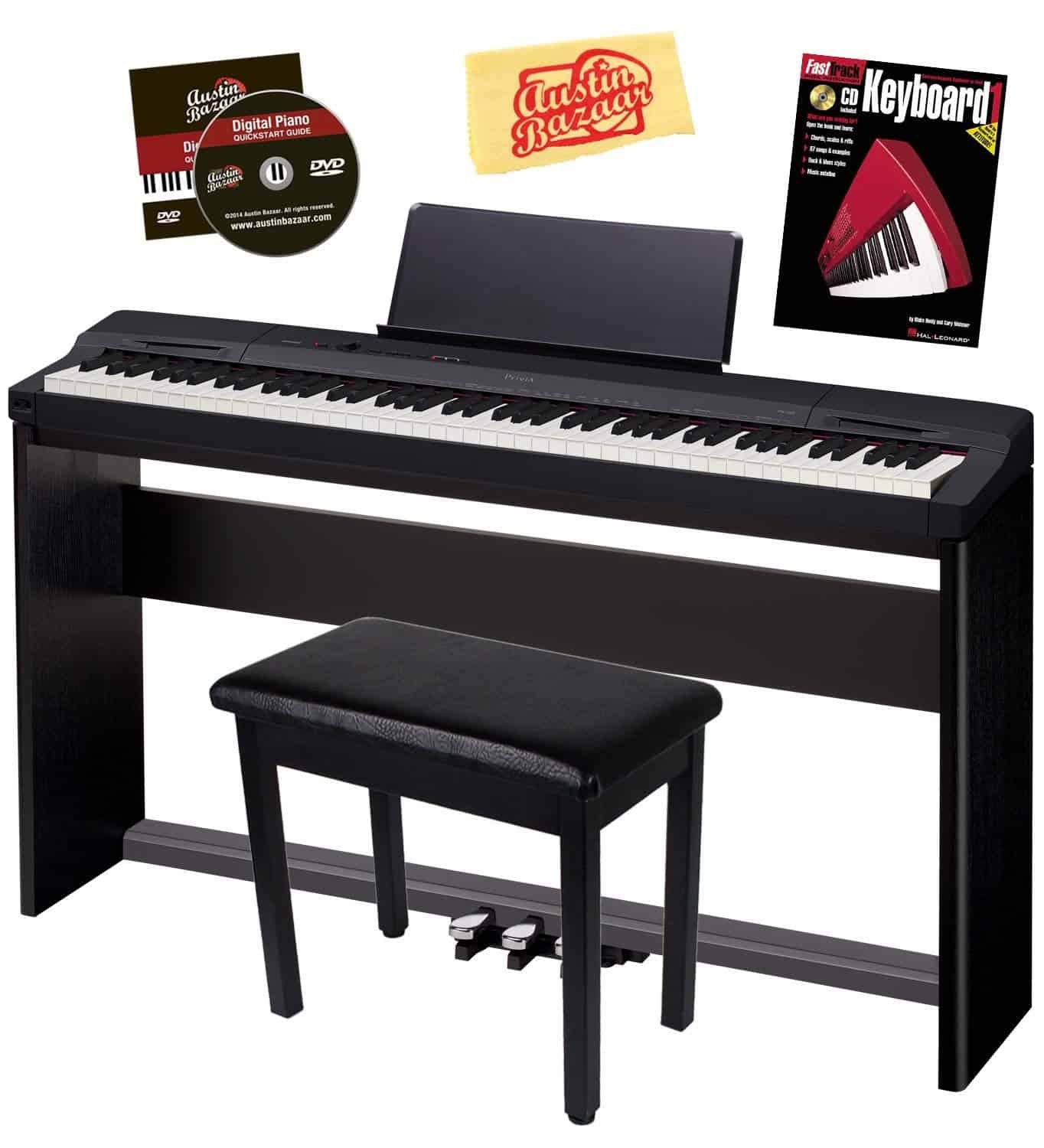 Bundle
04
Yamaha P115 88-Key Weighted Action Digital Piano

Here's another great keyboard from Yamaha, this time from their popular P-series of digital pianos.
The pianos in this line combine the company's pro-level sound and build with a user-friendly (and budget-friendly) design, making them more accessible for a wider diversity of players.
You could call this particular piano an intermediate-level model.  It represents a nice middle ground…
Not too pricey, but a viable instrument for a serious musician.
The main piano sound is modeled after one of Yamaha's top of the line concert grand pianos, using their advanced Pure CF Sound Engine. This gives it a far more musical, expressive sound than many digital pianos.
Yamaha has also improved the on-board tweeter over previous models so the high end is brighter and livelier.
In addition to the built-in speakers there's an auxiliary out so you can hook up an amp or cabinet.
To put it briefly…

It's stage ready, making it a great affordable choice for gigging musicians.
As if that's not enough, the Yamaha P-115 also has some cool features that both students and pros will enjoy.
The Pianist Styles feature is the most unique.
Choose one of the ten styles and play a chord--it will create an accompaniment figure for you to play over.
Now that's an awesome feature!
There are also a plethora of rhythmic accompaniments to choose from. Both features can be controlled either on the piano or through the Yamaha Digital Piano Controller app.
The app seems to be by far the better options—the on-board controls aren't labeled clearly, and they're not very intuitive, our only major complaint about this piano.
We love the versatility of the Yamaha P-115. It's light enough to take to gigs and sturdy enough to survive the journey, with useful included features that students, teachers, and performers will appreciate.
Features:
Keys: 88
Voices: 14
Effects: Reverb, Chorus, EQ
Power: AC Adapter (included)
Weight: 26 pounds
USB: Standard (1)
Inputs: 3 pedal inputs
Outputs: line, 2 ¼" headphone
---
Pros
Graded Hammer action and matte keys for more realistic touch
Has the sound quality and features to be used on-stage or in the studio
Cons
On-board controls are tricky to use
---

with Sustain Pedal, Black
05
Yamaha P71 88-Key Weighted Action Digital Piano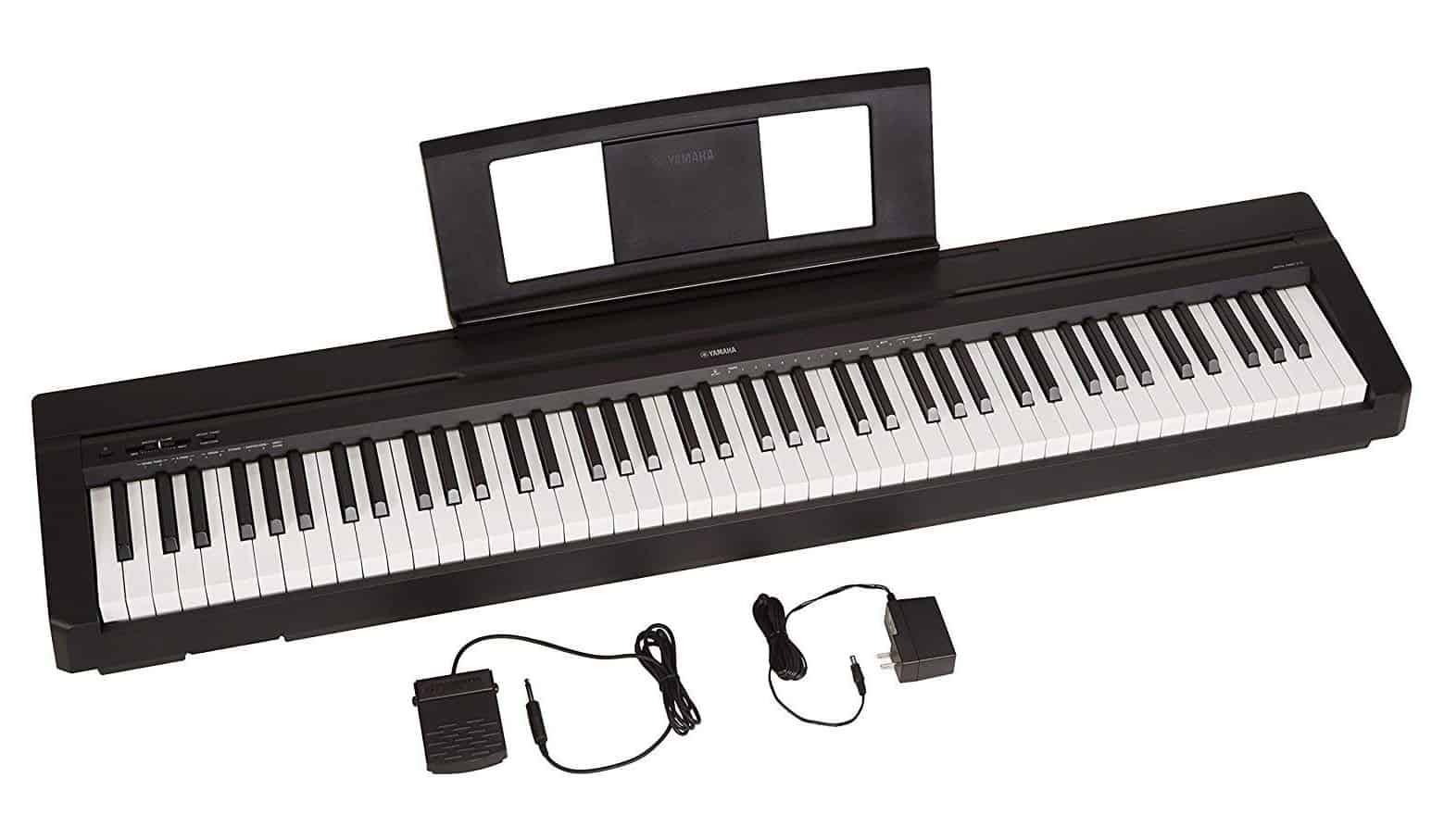 Amazon Exclusive products can be a great way to get quality equipment for a great value.
The P-71 from Yamaha is a prime example of this rule and the most affordable option from the company's "P" line of digital keyboards.
You can think of it as a slightly streamlined, low-cost version of the P115 above.
Like the other keyboards in the line it offers a full 88 keys, professional-level sound, and a rich array of features.
Far more than you might expect to get for the money.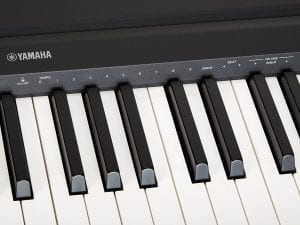 The keys on this model use a fully-weighted action, based on Yamaha's proprietary Graded Hammer Standard. This gives them the most realistic response of any keyboard you'll find in the beginner market.
The build quality is especially impressive considering how compact it is—only 12 inches deep, much slimmer than the majority of digital keyboards.
While the P71 is a great choice for students, it's equally viable as an on-stage performance instrument.
The voices are created using Advanced Wave Memory sampling, which uses a stereo image of the tone to give you a richer tone with more resonance and warmth than you'll get out of most digital pianos.
All ten voices are created using this same advanced methods, and you can even use two voices at the same time in Dual Mode.
Every Yamaha P71 comes with the power adapter and sustain pedal included. If you need more accessories, like a stand and bench, you can get them for a bit more by buying one of the bundle packages.
Whichever way you go, this is a versatile piano that's equally at home as a pro's travel instrument as it is in a hobbyist's living room.
Features:
Keys: 88
Voices: 10
Power: DC adapter (included)
Weight: 25 pounds
USB: Standard (1)
Input: ¼" pedal
Output: TRS headphone
Full keyboard of fully-weighted keys feels true to the response of an acoustic
---
Pros
Slim, lightweight design
Sounds realistic in all ten voices
Cons
On-board speakers lose sound quality at higher volumes
Not as many voice options as other models
---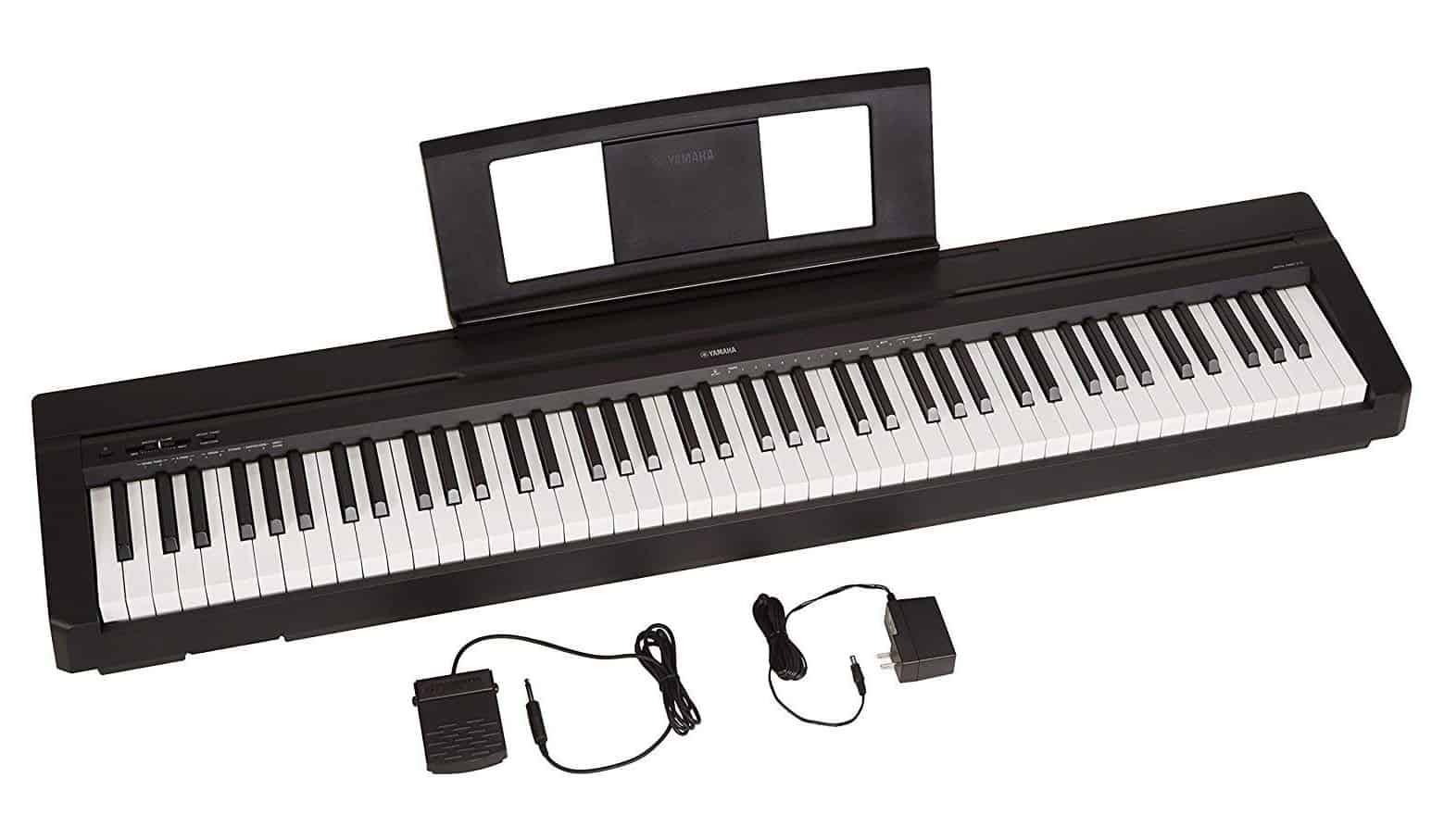 with Sustain Pedal and Power Supply
06
Korg B1SP 88 Weighted Key Digital Piano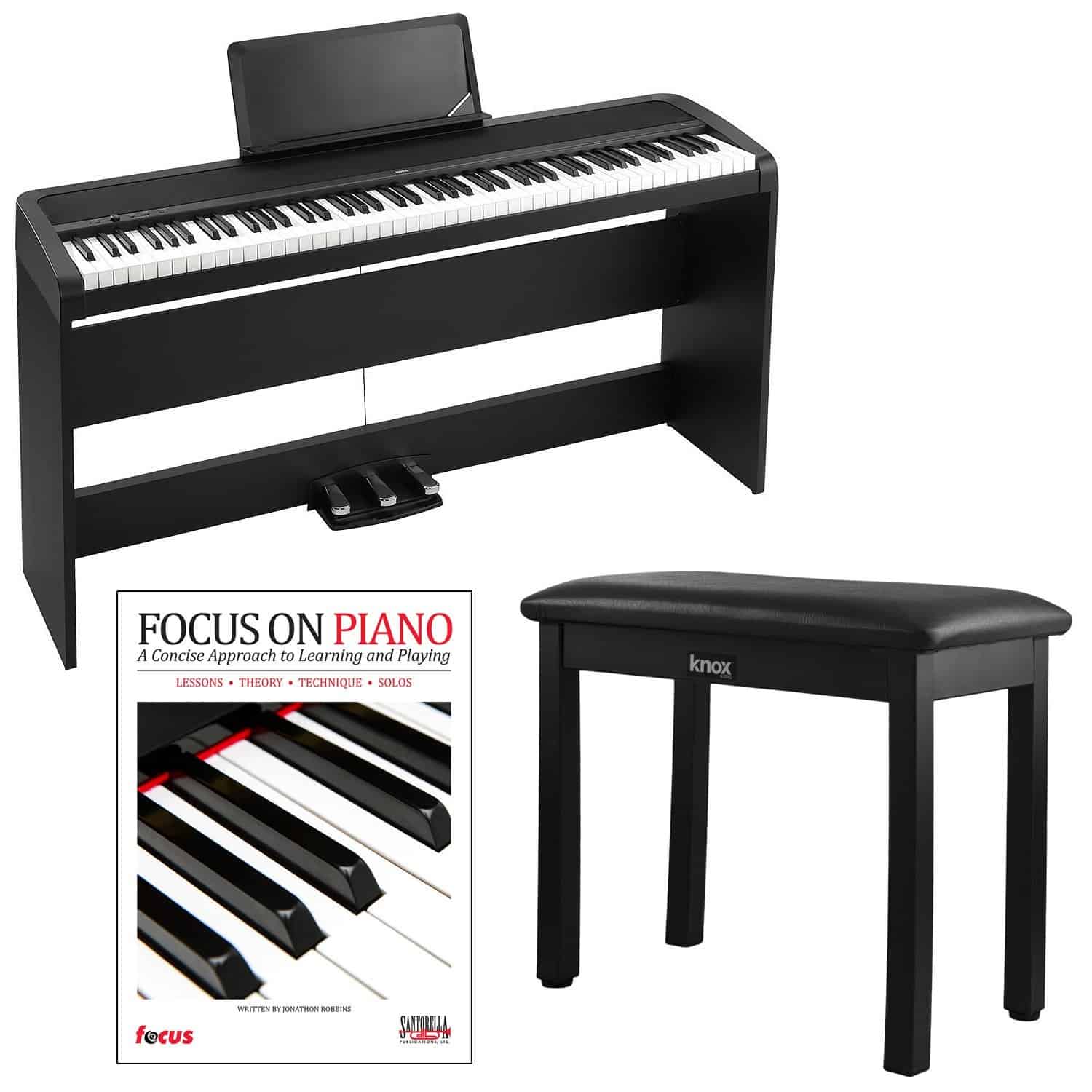 Korg is another name you'll probably see come up quite a bit as you're looking for digital pianos.
They're known best for their synthesizers, which are some of the most sought after in the industry, but they also offer more traditional digital keyboards, ranging from starter to professional models, and offer the same consistent quality in all their instruments.
The flip side?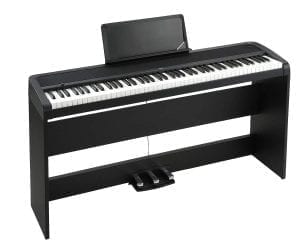 Korg instruments aren't cheap. The B1SP is one of their entry-level models, and it still relatively pricey.
What that extra money gets you is a more responsive and realistic instrument. The hammer action is weighted nicely and feels natural, and you can adjust the dynamic sensitivity to suit your style.
It also comes with a full three-pedal board, a rarity for a pedal at this price.
Here's the catch...
We were a bit disappointed they only included eight voices on this piano, all of which are variants on keyboards (five piano models, two organ models, and a harpsichord).
Korg is known for their authentic sound modeling, so it would have been nice to hear more of their range. The voices that are included do live up to Korg's high reputation, especially the main piano voice, which is rich in the low end and vibrant in the treble.
What's more...
Most companies would not consider this to be an entry-level instrument—both based on the sound quality and the price tag.
If sound quality is your main concern, this piano has it.
In terms of functionality, though, you can get the same features for less elsewhere.
Features:
Keys: 88
Voices: 8
Effects: Reverb, Chorus
Power: AC adapter (included)
Weight: 46 pounds
Outputs: 1/8" headphone/line out
Includes three-pedal board just like an acoustic piano
---
Pros
Superb modeling across the voices
Authentic playing feel you can adjust to your touch
Cons
Can get similar features and sound for less
Limited included voices and effects
---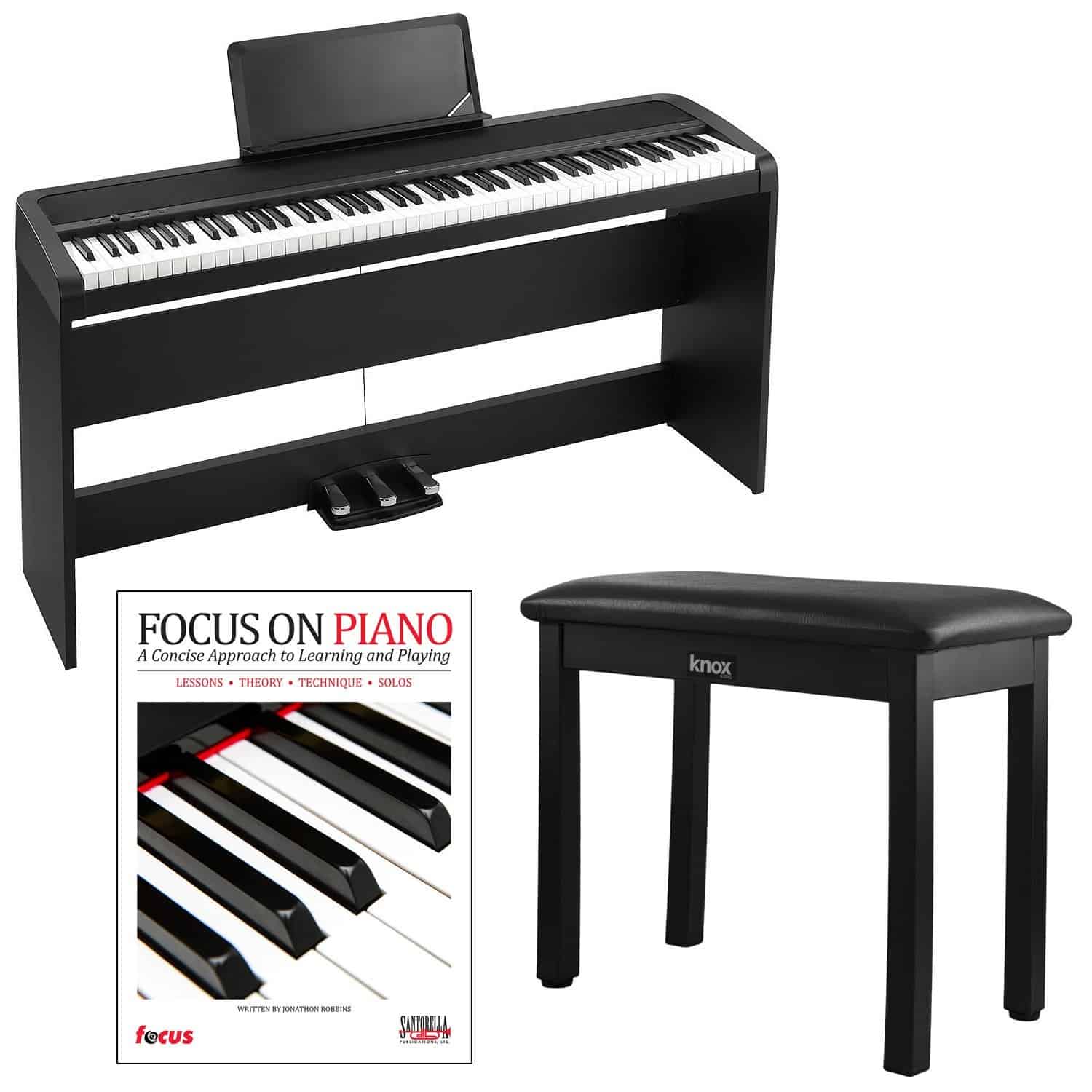 with Stand Three Pedal Board and Knox Bench
07
Yamaha YDP103R Arius Series
Yamaha has long been admired for the consistently high build quality of their instruments.
With the YDP103R, they also prove they're an innovative company.
This is a solid intermediate-level piano for the advanced student or serious hobbyist, and it takes advantage of advancements in technology to make it even more user friendly.
Like other Yamaha keyboards, the YDP103R uses a Graded Hammer Standard for the response and Advanced Wave Memory for the sound.
Combined, this means it both sounds and feels like an acoustic piano.
The pedal mechanism enhances this realism, giving you the option of half-damper control just like a baby grand and giving you more control over the musicality.
There are ten different voices included, two of which can be used at once in Dual Mode.
What really impressed us about this piano?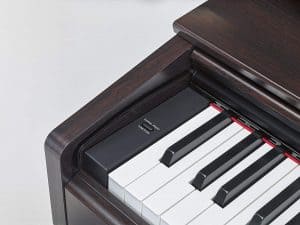 The inclusion of the Digital Piano Controller app. This app is free to install on any iOS device, and gives you easy access to a whole host of different settings that either don't exist or are hard to find on the piano itself.
You can change voices, adjust the tone, and even record yourself playing—all right on your phone.
Play live shows?
For on-stage performance, this isn't necessarily the best option.
It doesn't have line-level inputs or outputs, and professionals may find the max polyphony of 64 limiting.
For the home user, though, this piano gives you everything you need to play comfortably and sound fantastic.
Features:
Keys: 88
Voices: 10
Weight: 115 pounds
USB: Standard (1)
Inputs: ¼" pedal (3)
Outputs: headphone
Digital Piano Controller app puts settings at your fingertips
Realistic pedal control with half-damper option
---
Pros
Superb sound from all ten voices
Matte coating on keys absorbs moisture so your fingers won't slip
Cons
Polyphony and voices somewhat limited
No line inputs or outputs
---
Digital Console Piano with Bench, Dark Rosewood
08
Alesis Recital – 88-Key Beginner Digital Piano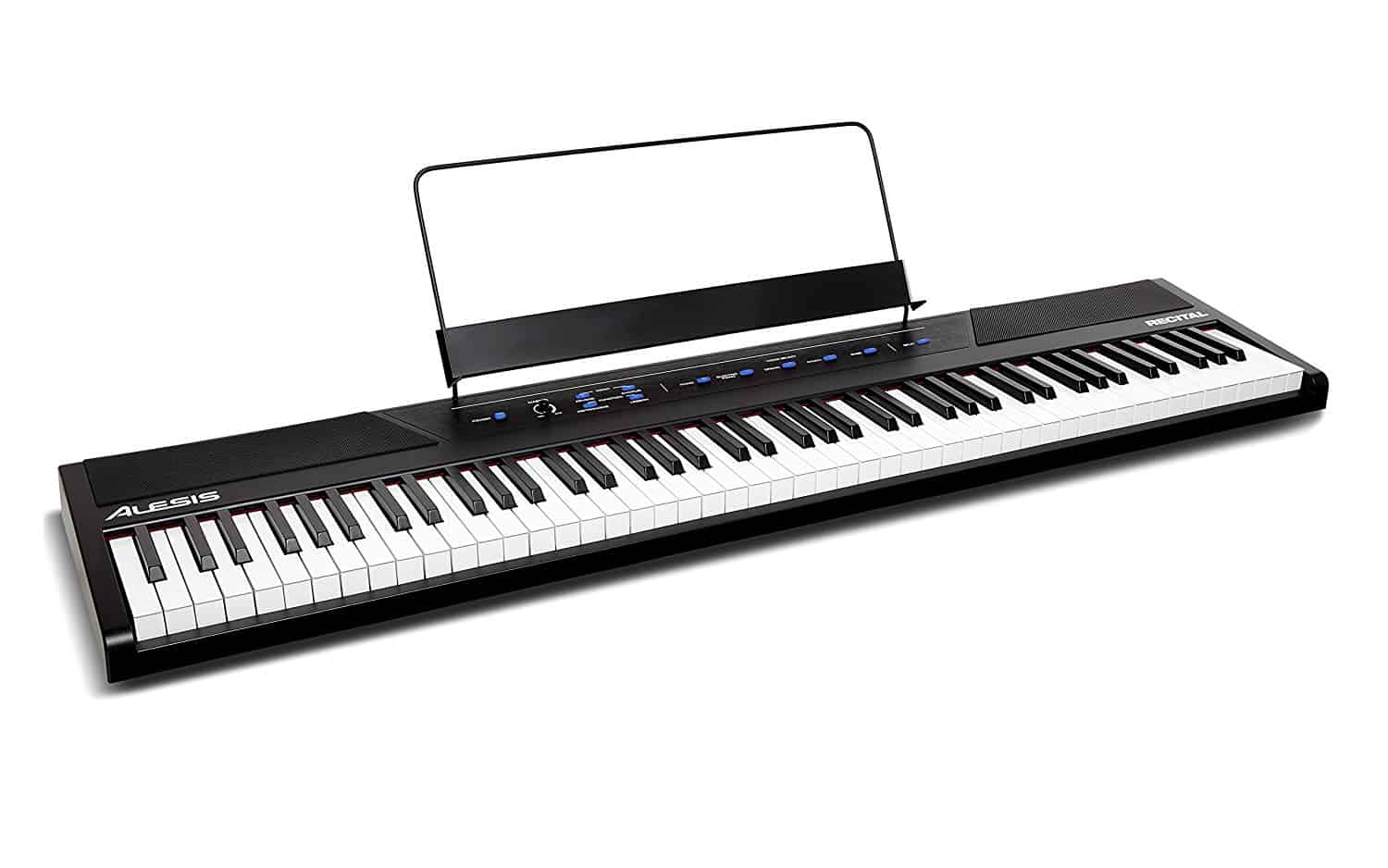 Getting a full 88-key keyboard doesn't have to mean wiping out your savings account.
With the Alesis Recital, you'll get the entire range of the piano at a very reasonable price
It's a fantastic bargain for beginning players, especially, with loads of included features aimed at students and novices.
The response on this Alesis model is admittedly not as close to a real piano as some of the other (more expensive) options on the list.
The keys are semi-weighted and have a hammer action, and the response is adjustable—a nice touch that makes it more versatile for players of all ages and experience levels.
We were impressed with the sound this piano puts out for the price.
It has two 20-watt speakers built in, which put out plenty of sound for in-home practice and play.

That being said...
It doesn't have a huge array of different voices, but the ones it does have sound realistic.
The 128-note polyphony means you won't have any trouble playing multiple lines at the same time, just like you would on an acoustic piano.
But here's where it gets good:
The student-friendly aspects of the Alesis Recital are its most impressive features. The keyboard can be split into two zones that use the same range, letting a student and teacher play together on the same instrument.
Helpful features for at home practice include a metronome and a recording mode, that lets you record and listen to your playing so you can better hear trouble areas.
The excellent value of this keyboard is just the icing on the cake that makes it the ideal digital piano for a beginning player.
Features:
Keys: 88
Voices: 12
Power: 12V DC outlet (included), 6 D batteries
Weight: 26 pounds
USB: Standard (1)
Inputs: ¼" pedal
Outputs: ¼" headphone, 2 ¼" line outs
Includes 12 different voices along with effects like chorus, modulation, and reverb
---
Pros
Incredible value for a full 88 keys
Operates on either battery or outlet power
Cons
Semi-weighted keys won't feel as close to an acoustic as pricier options
Limited amount of voices
---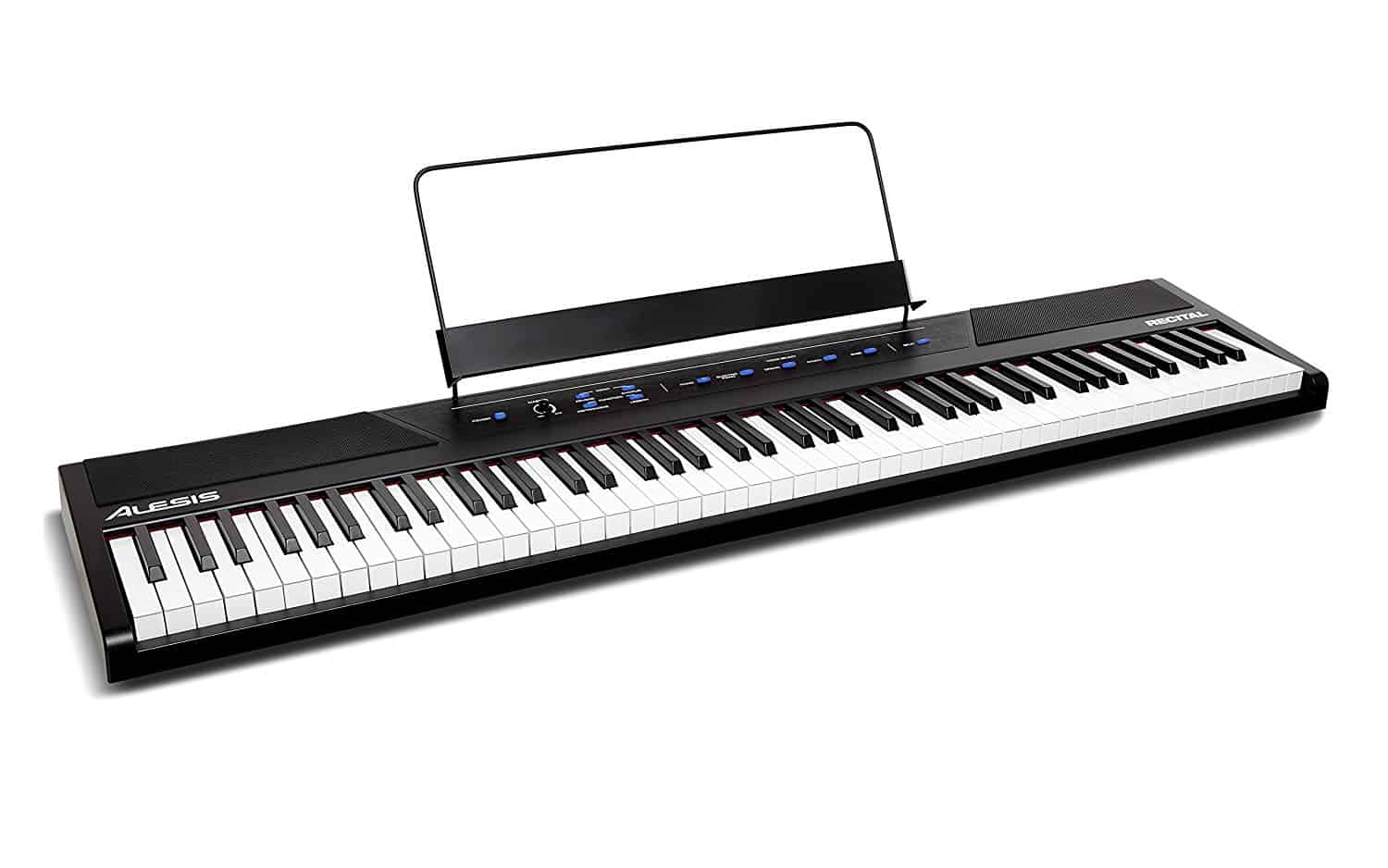 09
Casio CTK-3500 61-Key Touch Sensitive Portable Keyboard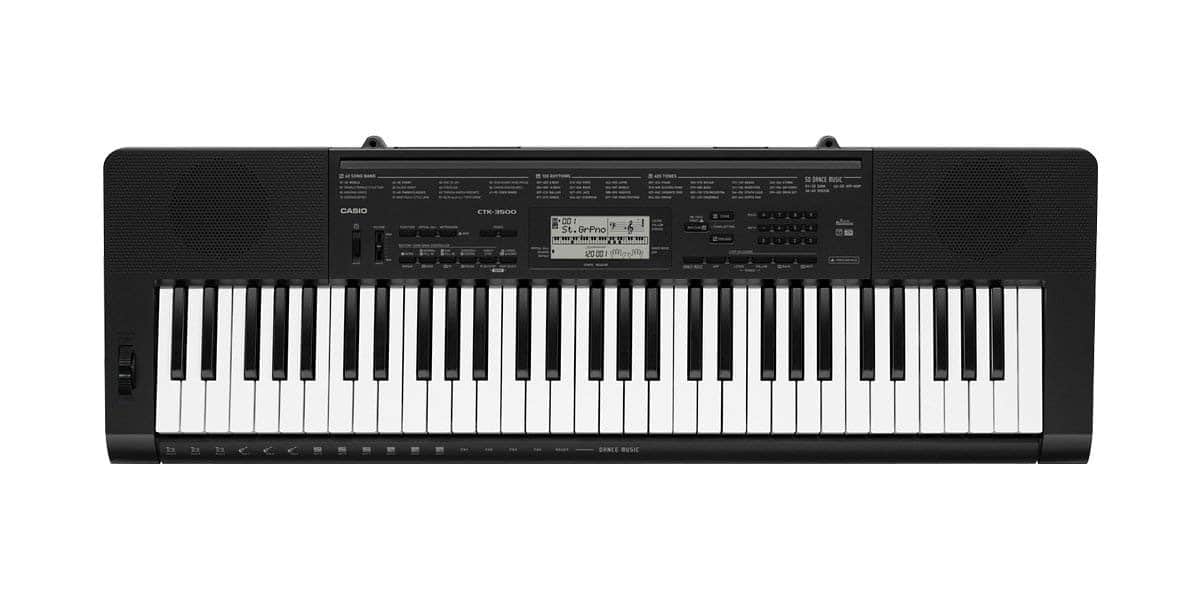 A full 88-key keyboard is typically recommended if you're serious about learning to play the piano.
But it's not your only option.
Despite the reduced range, a smaller keyboard can have its advantages. It's easier to carry around and more comfortable for young kids to play.
It costs a lot less too!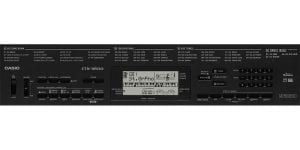 The CTK-3500 isn't just the toy keyboard you might expect when you see the price and size. Its touch-sensitive keys are responsive to dynamic and pressure changes, and there are two different levels of sensitivity to choose from so you can adjust the feel to suit your playing.
The sound is the same quality as the feel, too. The two 3.9" speakers and on-board amplification put out a good amount of volume, and have a realistic, pleasant tone.
There are features beyond the basics that make this a great choice for students, too.
The Lesson Function brings you a few helpful tools, including a fingering guide and a scoring system to track your progress. You can expand these functions by connecting your keyboard to the Chordana Play app.
This integrates with the keyboard's display, giving you a guide for playing popular songs.
But here's the kicker...
This little gem isn't just for beginners.
It's also a fantastic tool for composers, arrangers, and electronic music artists.
It has hundreds of voice options and around 150 different rhythms, between the main rhythm function and the electronica-oriented Dance Music Mode.
What's more, you can play this keyboard anywhere, thanks to its compact size and battery powered option.
For value and versatility, this piano is your answer.
Features:
Keys: 61
Tones: 400
Rhythms: 150
Power: 6 AA batteries, AC adapter (included)
Weight: 8 pounds
USB: Standard (1)
Inputs: audio in, pedal
Outputs: headphone
Dance Music mode and on-board rhythms perfect for DJs, composers, and arrangers
Connects to Chordana Play app for play guides on popular songs
---
Pros
Lessons Function gives you loads of features for beginners
Incredibly compact design
Cons
Doesn't have a full keyboard or weighted keys
---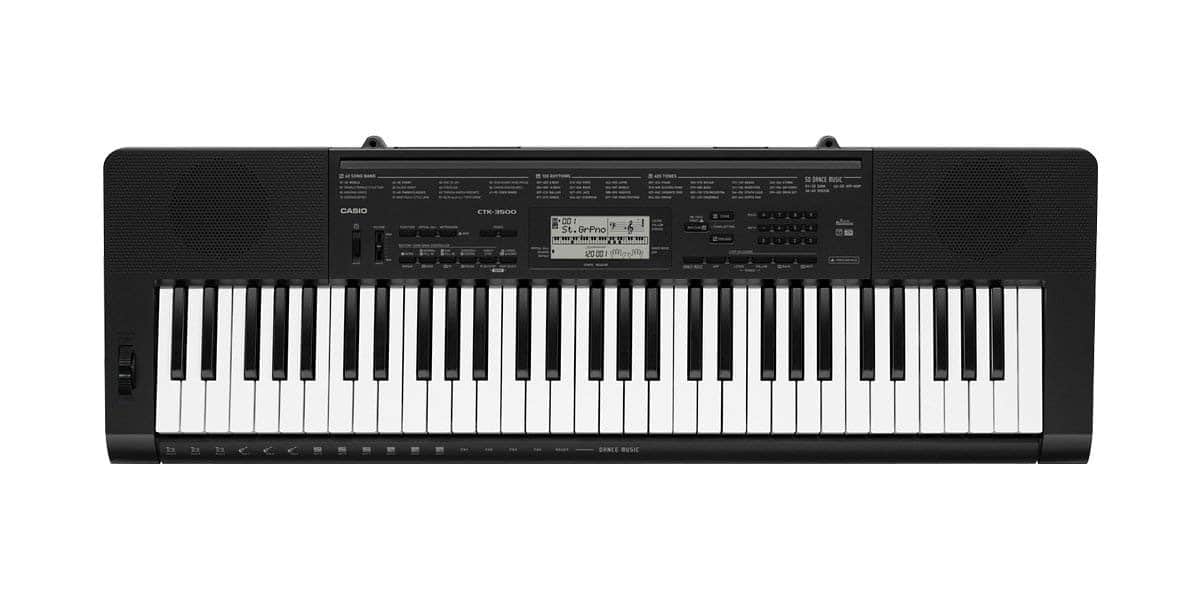 with Power Supply
10
RockJam 61-Key Electronic Keyboard SuperKit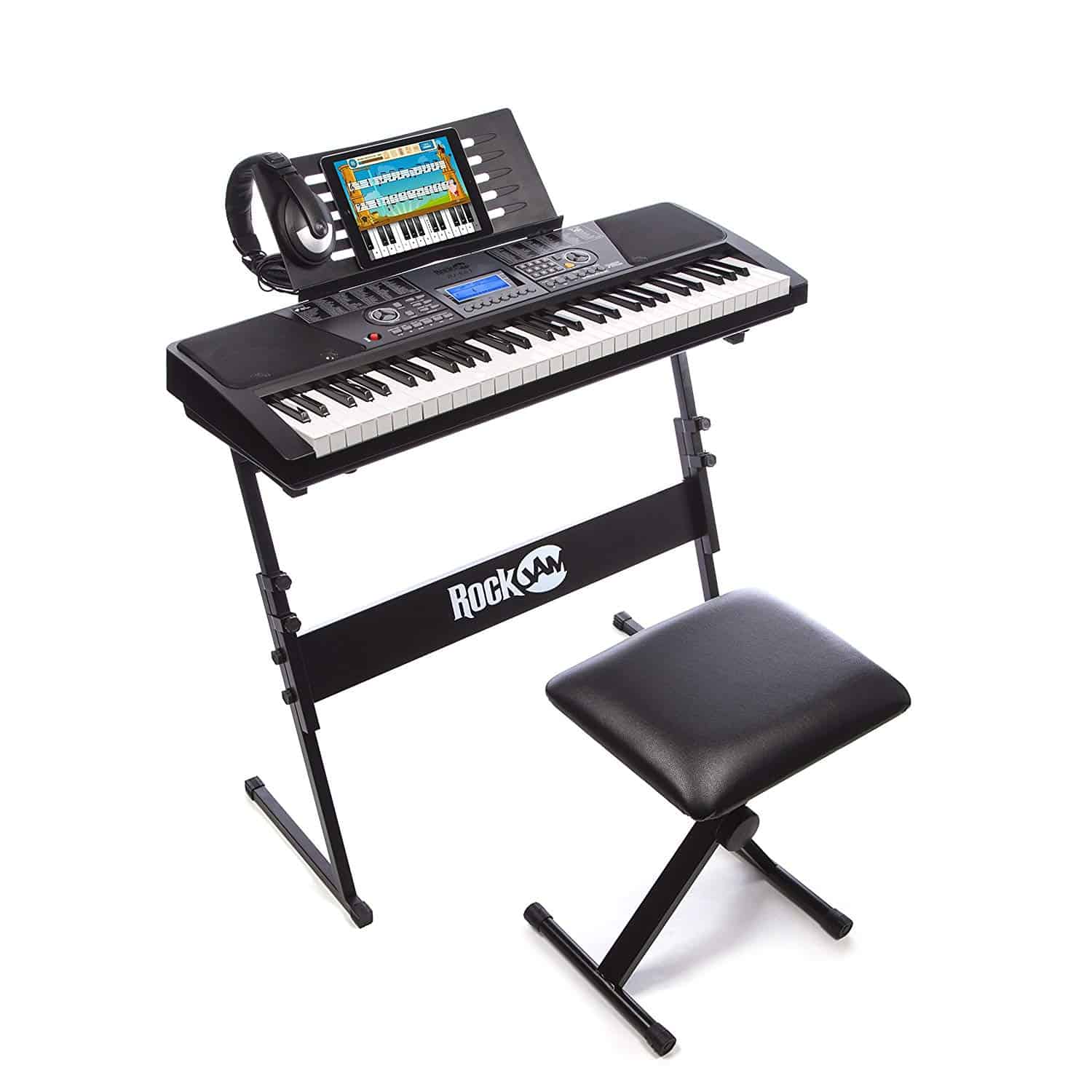 If your primary concern is getting the most stuff for the least money, this RockJam SuperKit is the hands-down winner.
Not only do you get the keyboard itself, you'll also get the power source, a keyboard stand, a playing stool, a pair of headphones, and two months of lessons.
But there's a reason this is so much cheaper than the others.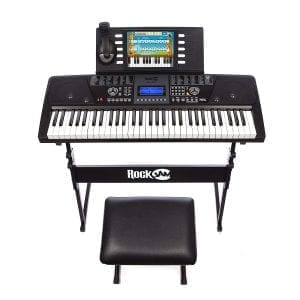 The key action isn't weighted or touch-responsive, and the sound lacks the resonance and depth that makes higher-end digital pianos sound so much like the real thing.
What's more…
It has more voices than many of the pricier pianos above—about 100 all told—but the sound quality across them is equally mediocre.
We can say this though...
While it's not performance quality, the RJ-561 is a functional keyboard.
And for what it is, it's well designed.
It comes with loads of songs you can play along with on the included Piano Maestro app. The on-piano interface is clearly laid-out, in a way that even a child can understand, with an easy to read LCD display for lessons and settings information.
If you're serious about playing the piano, you'll probably want to get one that feels and sounds more like the real thing.
But if you just want something to play around on (or a tester instrument to gauge interest before you invest too much money) you'll have a lot of fun with this RockJam keyboard.
Features:
Keys: 61
Voices: 100
Power: 6 1.5v D batteries, power source (included)
Weight: 20 pounds
Inputs: Microphone
Outputs: Headphone
Piano Maestro app and free included lessons
---
Pros
Lowest price on the list
Interface is easy to navigate
Cons
Not the most durable build
Keys aren't weighted
---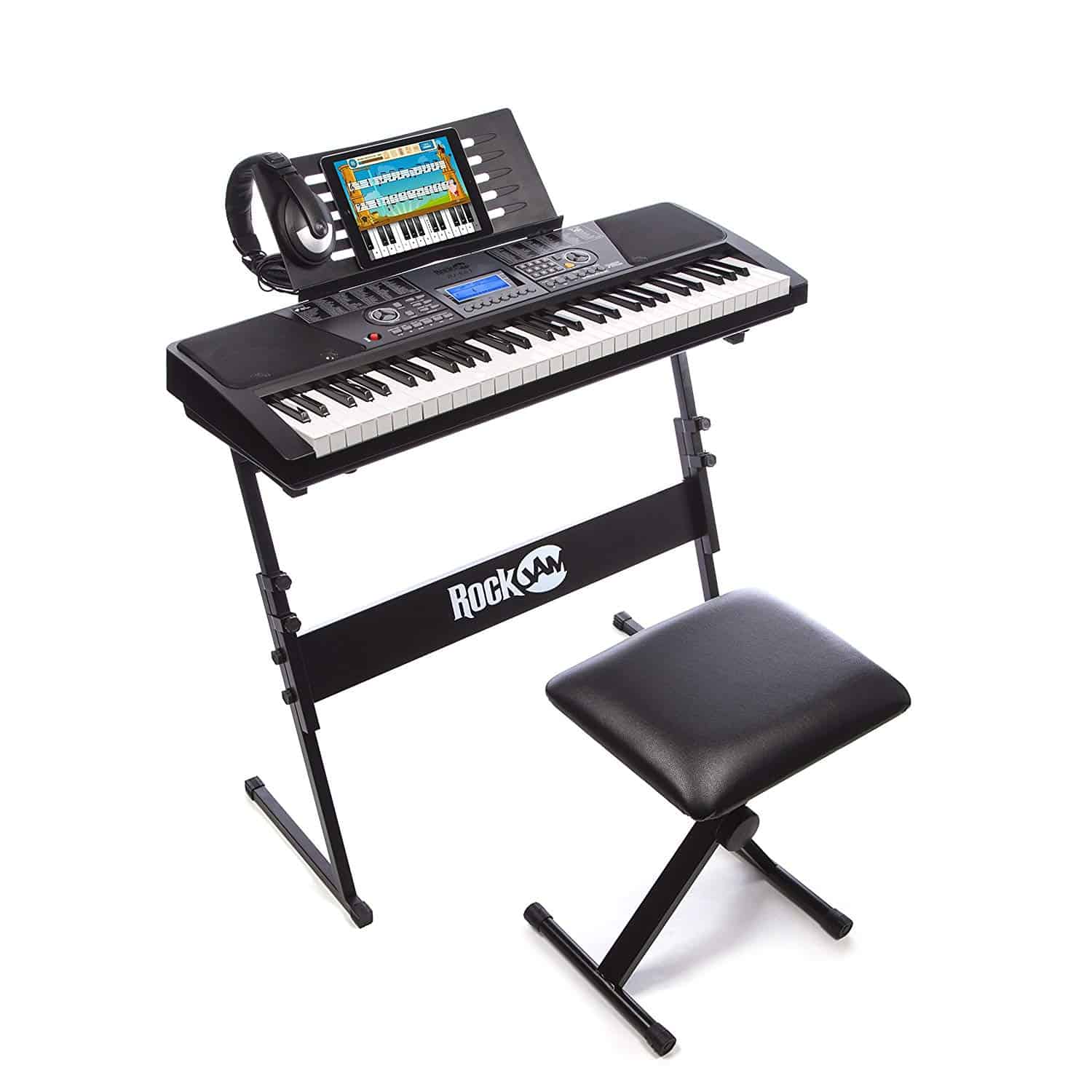 with Stand, Stool, Headphones & Power Supply
Set-up And Placement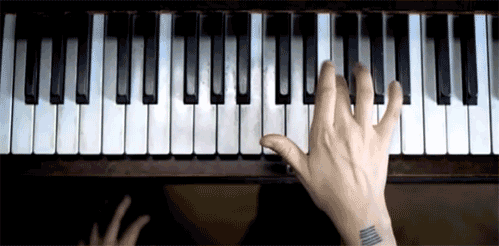 The digital piano itself will need little in the way of set-up out of the box before you can start playing it.
Sounds great, right?
Just plug in the adapter (or put in the batteries) and hit the power button. In fact, you should take this step before you setup the stand or think about where you want the piano to go.
Once it's powered on, plunk a few notes, adjust the volume, and take a quick tour through the voices.
If anything seems like it's not working at any of these steps you can contact the company's service department and find out how to get it repaired or replaced before you've gone through all the effort of getting it set up on its stand.
Not that setting it up is too difficult…
If the piano is going in a home, studio, or other stationary location, you'll need to figure out exactly where that will be.
Even the larger digital pianos are significantly lighter and more compact than upright models, so finding a place to put them isn't as much of a hassle.
Having said that, there are still some things you'll need to keep in mind when you're deciding where the instrument should go.
The most important thing is to put the piano somewhere it won't topple.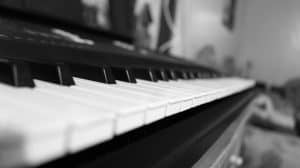 Digital pianos are very top-heavy, so putting the back flat against a wall is ideal. This should give the instrument enough support without the use of additional bracing hardware.
Just as important is to make sure the floor under the piano is flat and level.
Carpets shouldn't pose a problem, especially for the heavier models meant for in-home use. You may want to put a thin rug under the piano if you're putting it in a room with hard floors, to prevent any wear or damage to the floors.
The piano itself isn't the only thing you should think about when you're deciding where to put your instrument.
Visualize yourself playing the instrument, too.
Determine where the bench will be, and make sure you won't feel cramped when you're playing. If the piano's in a room that gets a lot of traffic, avoid putting it close to doorways or other places people might be walking by, so you can play uninterrupted without getting jostled.
Also, pay attention to the light sources in the room.
If the light's too bright, it might be tricky to read the piano's LCD display screen; too dim, and you'll have a hard time reading sheet music.
But that's just part of the story…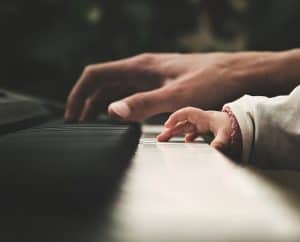 The physical positioning of the piano in your home is the most important step, and you theoretically could jump right into playing once the instrument is plugged in and on its stand, but there are a couple other things you'll want to check to give yourself the best playing experience.
First off, you want to check to make sure the bench and piano are set to the right height.
Sit down on the bench and rest your hands on the keyboard.
Your wrists should be flat, with your arms straight and parallel to the ground. If they're not, you'll need to make some adjustments.
You can usually change the height on either the piano stand or the bench. The bench will be easier to adjust, and should be used for fine-tuning the positioning.
If the piano is drastically out of position, though, you'll need to make your adjustments on the stand itself.
Do this:
Always remove the piano from the stand before making adjustments, even small ones, to prevent accidents or damage to the instrument.
Tip
There are a few different styles of stands out there, from a simple cross-brace design to the semi-enclosed wooden bases you'll find on the high-end Yamahas above.
Generally, the more permanent the stand is designed to be, the fewer adjustments you'll be able to make, and the more you'll need to rely on adjustments in the bench.
If a wide height adjustment range is something you need—for players who like to switch between sitting and standing, or if it will be used by both kids and adults—a piano with a simpler stand design may be a better option.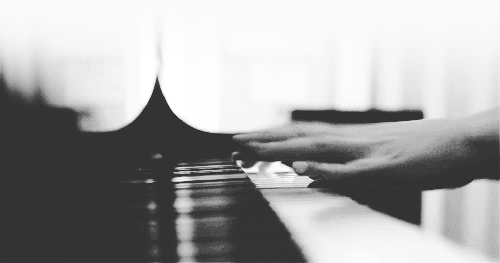 After you've made your adjustments, sit back down at the bench and test it out.
Your feet should be planted comfortably flat on the ground.
If your piano came with expression pedals, you should be able to reach them easily, without straining.
Also, make sure you're able to see and access all the controls on the interface above the keyboard, and that you're able to easily see your music stand if you'll be using one.
This pre-checking might all seem kind of tedious, but it will help prevent a lot of frustration down the line—and can even prevent injury.
Having your hands or arms at an angle while you're playing can lead to shoulder, elbow, and wrist strain.
Because your muscles will be tense, or will need to make more of an effort to strike the keys, you'll tire out more quickly and may even feel sore afterwards.
Especially if you're a beginner, it's important to make sure you're positioned correctly from the start to ensure long-term playing success.
So What's The Best Digital Piano?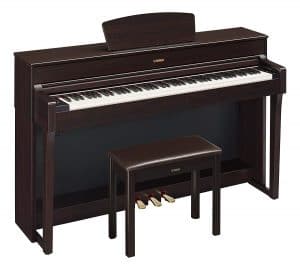 You've probably gotten this feel by now, but this is a very subjective decision.
It comes to questions like how you intend to use the instrument, whether portability is a factor, how many voices or effects you need, and whether you want to take advantage of features like recording or layering.
We've talked a little bit here about which of these factors are likely to be important to which kinds of users. Figuring out the answers to those questions for yourself is really the trick to getting the most out of your instrument.
For many players, though, the absolute highest sound quality isn't a necessity. If you're just starting out, something like the Yamaha Arius–the product we rank as Best of the best– might feel like overkill.
You can get a durable and highly playable instrument for far less money if you decide to go with a beginner or intermediate model. In that case, we suggest you check out the piano that earned the title of Best for the money…