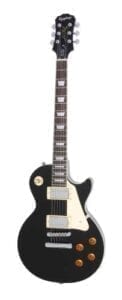 There's a reason you're shopping for the best electric guitars under $500 and you know finding a quality instrument in that price range can be a bit tricky. Maybe you're just starting to get into music and don't want to spend a whole lot of money on an instrument until you know whether you're going to stick with it in the long term.
Or maybe...
You're a professional musician who needs an inexpensive backup instrument for gigs at rowdy venues you'd rather not take your main guitar into.
Pretty much every guitar you find in this price range will be considered an entry-level instrument. Just because that's what it's labeled, though, doesn't mean it won't sound good enough to play on stage. In fact, as you'll see from the list below, there are quite a few options that are suitable for players of all ages and playing levels.
Good news:
We've hand-picked nine of our favorite affordable electric guitars. Check out the full reviews below to help you pick the one that's right for you.
Buyer's Guide
The Low-Down on Low-Cost Guitars
There are two brands that you'll see over and over when you're looking for affordable guitars: Epiphone and Squier. The low-cost versions of well-known guitar models put out by these companies are a great place to start looking.
But they're certainly not your only option.
Buying a guitar from a reputable brand—like any of those that are featured on the list above—is the best way to make sure you still get an instrument that's playable and durable when you're looking at a lower price point.
Buyer's Guide: Easily Pick The Best Electric Guitar Under $500
When you're buying a low-cost instrument, there are a few things you should keep in mind. Even the best electric guitar under 500 dollars will not be able to stand up, sound-wise, against more expensive instruments right out of the box. You can make adjustments to turn a cheap guitar into a monster, however, by upgrading things like the strings, pickups, and even hardware like the bridge and tuners.
Luckily…
This doesn't mean you can't use the hardware or pickups that come installed on a cheap guitar; they're perfectly functional for beginners, or as practice instruments.
It does give you some adjustment options, though, if you want to tweak the sound and feel of your instrument.
When you're buying a new guitar, you want to pay the most attention to the parts you can't upgrade. Make sure the body is well-constructed. The neck should be straight and firmly attached, with no wiggling. You also want to make sure the frets are even and smooth, and that the strings are straight with even tension.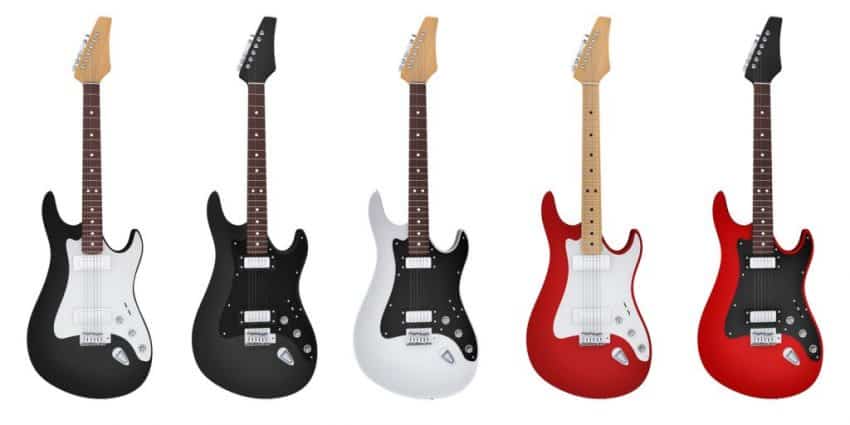 Pickups
The pickups on an electric guitar are one of the main factors responsible for their sound. There are two broad categories of pickups that you'll find on this list: single-coil and humbuckers. Single-coil pickups are wired differently from humbuckers, so when you're looking for new pickups, you'll want to match the type that originally came on your instrument.
But before you get carried away…
Changing types requires costly rewiring that's just not worth it for an instrument in this price range.
Both single-coil pickups and humbuckers have a wire wrapped around a pin which interacts with the magnet, producing the sound. The difference is a single-coil pickup has one, while a humbucker has two. This produces a different effect, as you can see from the chart below.
Single-coil pickups
Advantages: Brighter sound, better overtones, more definition on attacks
Disadvantage: Generate an electrical hum or buzz
Top picks with single-coil pickups: Squier Telecaster, Squier Stratocaster
Humbuckers
Advantages: No extra noise, more output (heavier and louder), warm and dark tone
Disadvantage: Can sound muddy
Top picks with humbuckers: Yamaha RevStar, Epiphone Les Paul Studio
And lastly, you're going to need a guitar tuner to make sure you're getting the most from your new axe. You can read our full reviews on the best guitar tuners to help you make the best purchase–check it out, here.
The Awards For The Best Electric Guitar Under 500 Bucks Go To…