Finding the Best Hunting Arrows For You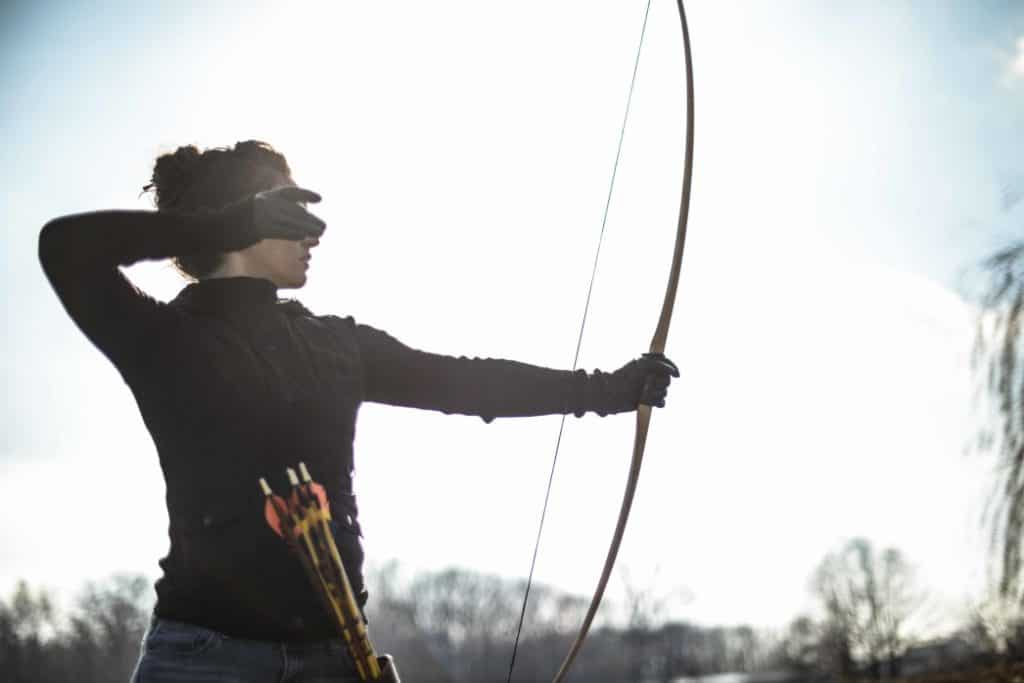 The world of hunting arrows can be difficult to navigate. In addition to normal length and weight specifications, there are a slew of arrow specifics for which there is little to no standardization. Arrow spine ratings, for instance, will vary in meaning from manufacturer to manufacturer.
This makes arrow purchases much harder to predict.
But, fear not!
Bestazy is here to give you advice on how to accurately assess how an arrow will shoot with your bow! (For recurve bow advice, see here.)
It is hugely important you end up with arrows that are meant to be shot with your bow. The quality of your arrows won't be noticeable unless they are shot from a matching bow.
Think about it like this:
No matter how nice your shoes are it won't matter if they don't fit your feet.
Or, if you like food, no matter how good the pizza, you can't appreciate it if you aren't hungry.
Or, no matter how fun the video game, you can't play it on a slow computer.
Okay, I think you see where I was going with that…Let's move on!
Arrow and Draw Length Specifications
The main features to consider as you match arrows to your bow are the draw length and arrow length.
You'll want to know your bow's draw length before you start looking at arrows. Your bow should have specifications on this available from the manufacturer. It's important when you buy a bow to consider your personal draw length, as well.
Why is that so important?
If your arrows length is too short, it simply won't fit the bow. When your bow is at its full draw, the arrow will fall from the back of the stabilizer. The arrow will then hit the ground or hang from the bowstring, attached at the nock.
Don't get caught holding a limp arrow.
An arrow that's too long for a bow's draw length will be shootable, however, you'll see a more dramatic reduction in accuracy than an early morning tinkle.
This is obviously less than ideal.
A longer arrow will result in a less stiff spine. However, it's not worth the issues it will likely cause in your archery form.
If you want that decreased stiffness, you will need to buy a bow meant for that.
Spine Rating
Once you know what length of arrow you should be shooting, you'll want to narrow it down by spine rating.
What's a spine rating?
The spine rating refers simply to the stiffness of the arrow. However, in practice, the desired spine rating will depend on several factors.
First, let's look at the ratings themselves.
A spine rating will usually run anywhere from 200 to 600.
But there's a catch.
There's no real inherent meaning to how stiff an arrow with, say, a 340  spine rating would be. These spine ratings are usually taken by shooting an arrow and measuring the bend on impact.
What methods are used to take this measurement differ from manufacturer to manufacturer. For this reason, a spine rating is going to refer to a stiffness that is manufacturer specific. So, consider the spine rating as more of a guiding range than a true measurement of stiffness or flexibility.
How do you find the right stiffness?
Exactly how stiff you want your arrow depends mainly on what effect you want your arrow to have and what weight your bow draw is.
A more firm arrow will make less noise, and would also be preferable for a bow with a higher draw weight. More flexible arrows can't hold up to the power of a high draw weight.
A flexible arrow would be useful for a low draw weight, as the arrow will be able to fly further and faster with less power. This is because a flexible arrow will also generally be a lighter arrow (see: Arrow Weight) .
At the end of the day, finding the right spine is going to be a game of trial and error. You can get pretty darn precise by finding ways to stay informed.
For example…
You could, oh, I don't know, continue reading a well-researched buyer's guide you found online.
But shooting your bow is the best way to make sure you're using the right type of arrow. There are several well respected honing guides online.
Just remember this:
As a general rule, arrows will shoot left if they are too flexible and right if they are too stiff.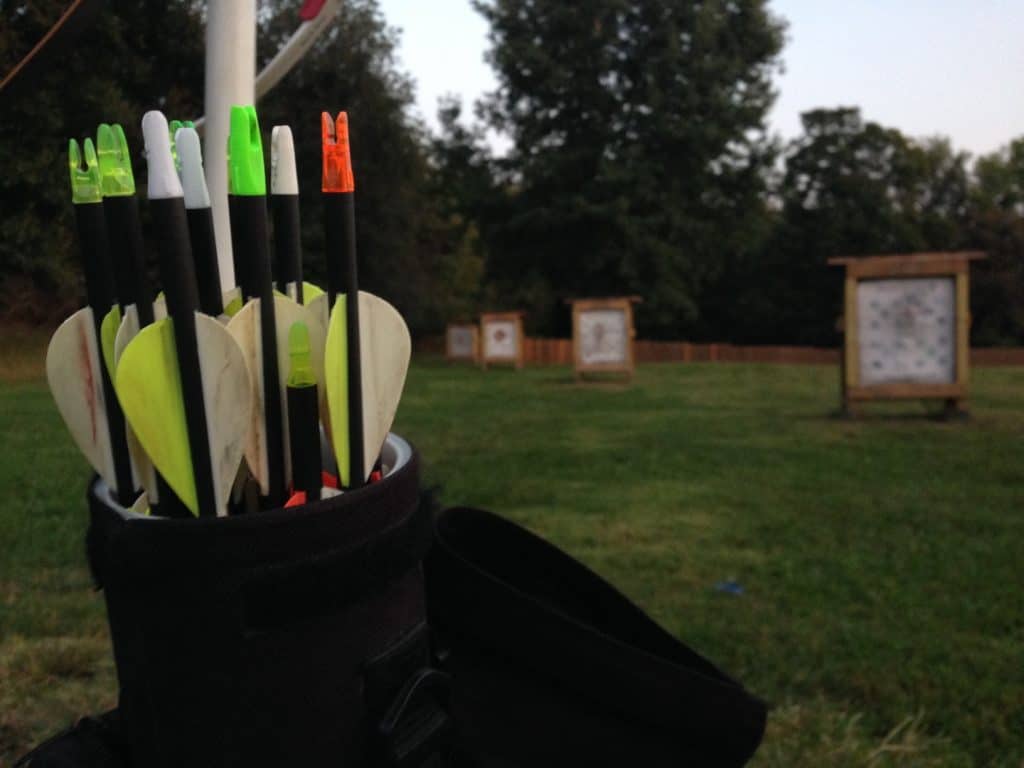 Straightness Factor
The straightness factor (also referred to as the straightness tolerance) is a measurement of how straight an arrow is guaranteed to be.
This factor is easy to access.
How so?
A more straight arrow is a better arrow.
Understanding the measurements and how to read them can require some study, however. A straightness factor will be given in terms of a maximum measurement. So the measurement given is a promise, not an average.
Nearly all arrows will fall between a straightness factor of +-.001" and +-.006". An arrow with a +-.001" straightness tolerance is considered elite, while an arrow of +-.006" is for beginners.
When buying arrows, it's worth it to consider how an arrows' straightness is measured.
While the measurement itself is standardized, the method is not. The most accurate straightness tolerance measurements are taken with lasers.
Arrow Weight
The arrow weight is another crucial thing to consider in your search.
A heavier arrow will generally have better penetrating power.
A light arrow can be shot faster and from a more mobile bow.
Which is best?
What arrow weight you want depends both on your bow and what you're hunting.
It's important to remember your arrow weight may mean different things for different arrows. A short arrow that weighs 18 grams is much "heavier" than a long arrow that weighs the same amount.
Similarly, arrows with higher spine ratings also skew heavier.
For this reason, you never want to consider arrow weight as the primary guide when buying arrows.
Once you've narrowed things down by spine and length, that's when the weight becomes useful.
If you're hunting a larger animal, you'll probably want the power heavier arrows pack. Additionally, experienced bowmen and women may want to go with a heavier arrow on windy days.
If you're hunting something quick and small, you'll want an arrow that's equally maneuverable and fast.
Consistency
Consistency may be the most important thing to keep in mind as you buy arrows. All your arrows are going to slightly differ no matter how high quality they are. Keep a close eye on the weight tolerance and straightness factor to ensure each arrow is fletched to be as similar as possible.
Even small differences in weight, flexibility, length, or straightness can create wildly different results down range.
Other Factors
Arrow width will also play a role in how an arrow shoots and impacts.
A more thick arrow is less likely to be flexible. It also reduces the penetrating power of your arrow.
A skinny arrow or bolt will have less surface area and thus less friction, so it will glide into your target with ease.
Vanes and feather are one of the last things you should consider.
But, truth be told…
They still matter quite a lot to the consistency of your arrows.
Larger vane will act as wings and guide your arrow along a straighter path. They'll also cause the arrow to be more affected by wind, however. You may find larger vanes are more prone to damage, as well.
Vanes may also be helical, which is always a bonus. An arrow with helical twisted vanes or feathers will spin as it flies. This increases accuracy and penetration.
Hunting Arrow Reviews
Each of the following arrows are finely crafted. As long as they match your bow, they will shoot excellently and with precision.
That being said, some arrows rank more highly than others–even among the elite.
Here are Bestazy's favorite arrows on the market in 2018:
You Should Also Know…
Several other pieces of information may also be of use to you, and you won't want to miss it.
Bolt or Arrow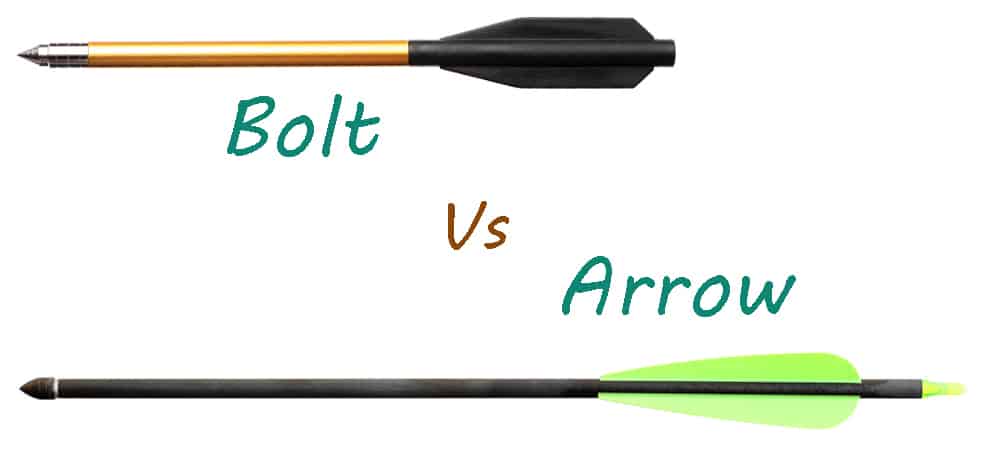 Always double check you're buying the right equipment.
Some links given don't even discuss whether they are meant to be shot from a cross or recurve bow. You'll want to carefully assess you're in fact buying arrows for bows and bolts for crossbows.
Safety
Hunting is always going to be dangerous.
You are using a weapon to kill things, after all.
Knowing that, you need to ensure that you are being safe with all your equipment to limit your risks.
Two major malfunctions can occur from using the wrong bow.
Many, many people have been shot through the hand by using an arrow that's too short.
If you pull it back and it falls out of the stabilizer, it would only take one wrong move to put the arrow through your hand.
Ouch!
You do not want that to happen.
The second thing to look out for regards spine ratings.
Using an arrow with a high spine rating in a bow with a heavy draw weight can cause the arrow to fracture or explode.
This creates a bunch of tiny pieces that are each, individually (all two million), serious and imminent threats to your ability to see.
When using a highly flexible arrow, make sure it is safe for your bow.
Inserts
Most modern high-quality arrows and bolts do not include inserts (the arrowhead).
This is because most people want to customize that part of the arrow for themselves.
In addition to buying arrows, you will need to buy inserts.
Cutting
In addition to inserts, some arrows will also require a cutting before they can be accurately shot.
In these cases, you'll need to find your local hunting shop. Here, they'll measure your bow's draw length to ensure your arrows are cut to the proper length.
If you try to use these arrows as shipped, you'll find your arrow far too long and flexible.
Accurate or Precise
Accuracy and precision are often used synonymously, but they actually mean two different things.
The accuracy of your arrow will depend on whether or not it goes where you want it to. A straight arrow will be more accurate because you have more control over where that arrow goes.
Precision is determined by grouping.
This is arguably far more important than accuracy.
Precision refers to the predictability of your arrows. Even if you miss the bull size, if your arrows are in a tight group, they are probably quality.
This is why a gunman's shot is often judged by grouping–regardless of your sights, a steady hand will have a tight grouping.
Don't bolt yet, you'll want to know this next part!