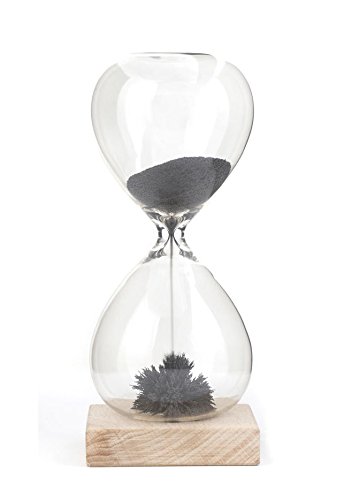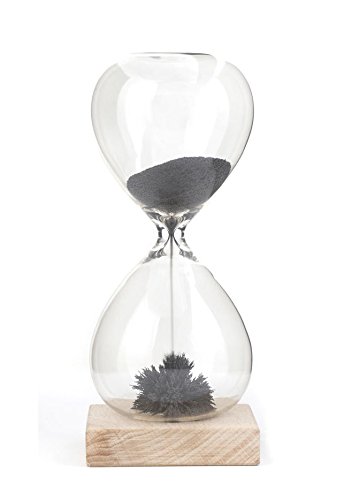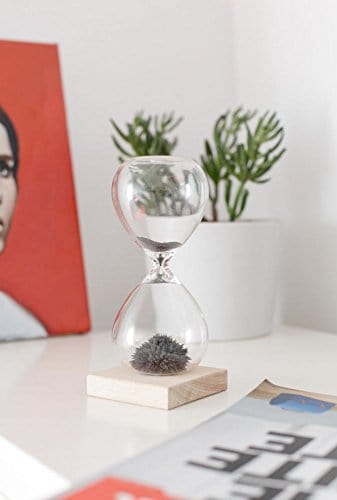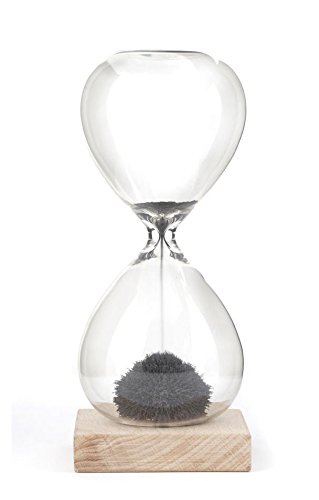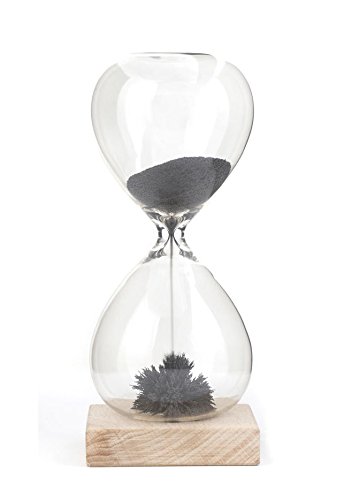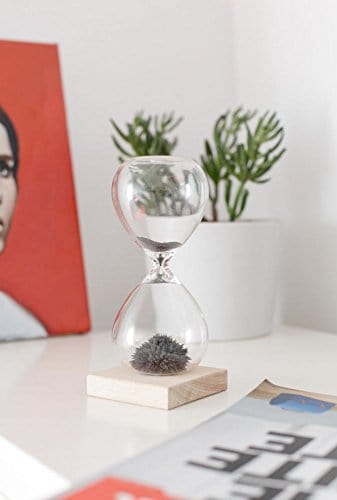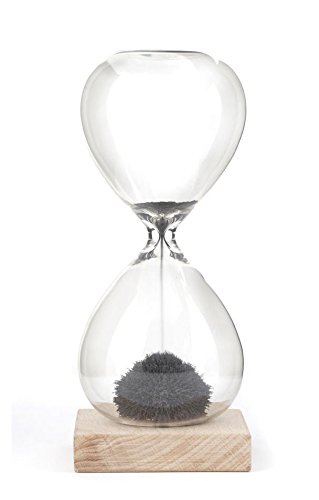 Kikkerland Magnetic Hourglass
Beautiful stalagmite magnetic hourglass
Ferrous sand, combined with hidden magnet, create beautiful stalagmites
One minute countdown
Elegant wooden base
Measures 6.5 by 2.8 by 2.8-inches
Magnetic Hourglass [Review 2022]
There's no way to track time that's quite as mesmerizingly beautiful as with this unique hourglass. Placed on an elegant wooden base, it uses a hidden magnet to pull down ferrous sand. While falling, the sand creates lovely stalagmites you can admire for a lot longer than the one-minute countdown.

Kikkerland Magnetic Hourglass
Beautiful stalagmite magnetic hourglass
Ferrous sand, combined with hidden magnet, create beautiful stalagmites
One minute countdown
Elegant wooden base
Measures 6.5 by 2.8 by 2.8-inches
Features
Accurate one minute timer

Hidden magnet creates magical stalagmite sculptures

Attractive wooden base
Dimensions
6.5 x 2.8 x 2.8 inches

4 ounces
There's nothing more attractive than magnets.
This is an hourglass that last for a minute so should technically be called a minute glass, but that's beside the point. This is cool. The only thing you'll do in that minute is stare intently at the magnetic sand dripping and stacking on itself inside the glass.
You know that hourglass in the Wizard of Oz? This is like that, but if a robot with impeccable taste designed it.
And think of all the one minute things you could time! How many push-ups you can do in a minute… how many handstands you can do in a minute… how long can you hold your breath for a minute… it's hours of minutes of fun!
Also good products
Bestseller No. 1
Yoya Toys Liquimo - Liquid Motion Bubbler for Kids and Adults (3-Pack) - Hourglass Liquid Bubbler - Timer for Sensory Play, Fidget Toy - Stress Management - Cool Desk Décor
A MESMERIZING GIFT FOR THE LITTLES ONES! – Let your kids improve their visual awareness and tracking skills with an awesome Liquid Motion Bubbler that will keep kids entertained for hours at a time! Our bubblers work by letting gravity guide the colored droplets from top to bottom at a slow and steady speed!
EFFECTIVE & EXCITING SENSORY TOY! – If your little boy or girl is suffering from symptoms of ADHD, autism or hyperactivity, rest assured that our Liquid Hourglass Toy will help your kid relax and remain focused with its slow and rhythmic tempo.
INFINITE HOURS OF TRANQUILITY & FUN! – No batteries or power needed! Simply flip it over and it will start all over again and again! Contrary to fidget spinners and similar sensory toys, these liquid motion bubblers will actively work to relieve your stress and provide you with hours of calming entertainment at home or even at the office!
THREE DIFFERENT COLORS, MULTIPLE USES! – Sure, our liquid bubblers can be gifted to your kids for hours and hours of fun, but they can also be used by adults to manage their stress or even as decorative pieces on your desk or office!
LOVE IT OR YOUR MONEY BACK! – Give our colorful hourglass bubblers a try and if they don't put a smile on your face, simply get in touch with us and we'll make it right. After all, your purchase is covered under our 30-Day Money Back Guarantee, although it's highly unlikely that you'll be needing it!
Sale
Bestseller No. 2
Timer, Kitchen Timer, Timer for Kids, Digital Timer for Cooking, Egg Timer, Magnetic Desk Timers for Teacher, Classroom, Toothbrush, Exercise, Bathroom, Oven, Baking, Table, Productivity - 2 Pack
You must want a reliable timer to know when to start or stop clearly. Here is the best-selling timer in 2022! This new digital kitchen timer features Loud/Silent switch, On/Off switch, Larger Screen and Buttons with clear markings for ease of use. It can count both up & down. Instead of counting in your head, it is time to start your new routine here!
The Loud / Silent switch is a whole-new surprise! Alarm buzzer will beep loudly in large spaces, allowing you to hear clearly in another room. Makes it a must-have kitchen timer for cooking safely! Besides, this digital stopwatch timer with silent switch works perfectly for kids and teachers. When countdown to 00:00 on desktop, only the red light will flash quietly without startling students in classroom.
The built-in Memory setting offers convenience to avoid having to reset it each time. Fast forward to set 60 minutes by pressing and holding the minute button for over 3 seconds. As a basic countdown timer for time management, you deserve it! [ Max Count Range: 99 minutes 59 seconds ]
SIMPLE TO OPERATE | The strong magnet, durable kickstand and hanging hole make this simple timer easier to position where it should be. Easy to glance the big digits on its large screen from any angles. Whether you're cooking eggs in the kitchen, or you want to set a timer for kids in classroom / at homework, this portable timer comes in very handy!
This 2022 upgraded version magnetic timer comes with AAA battery and a large On/Off switch. Long last for years! This electronic timer is #1 recommended for food cooking, eggs boiling, kids time management, classroom study, excercise / workout timing, oven baking. You will be proud to use this great timer for years to come! [ You will get: 2 Pack* Digital Timers (upgraded version) + 2 Pack* AAA Batteries! ]
Bestseller No. 3
Christmas Gifts for Women, Men, or Couples! USA Hand Crafted Cutting Boards Make For Great Personalized Gifts, Wedding Gifts, Christmas Gifts, Anniversary Gifts, Or Bridal Shower Gifts!
Best Christmas Gifts 2022 - Our Circle Design Ranked #1 for Handmade Cutting Boards, Taking Pride in Producing Quality Hand Crafted, Hand Sanded, and Deeply laser engraved Boards to reach the BEST!
Gifts for Women or Gifts for Men - This anniversary gift for couple can last for 20+ years. A token of your love on display in your kitchen for years to come!
If you are looking for The Perfect anniversary gifts for him, Anniversary Gifts for her, or a custom wedding gift you have come to the right place! USA handmade cutting board Laser Etched!
100% customer satisfaction guaranteed! With thousands of handmade cutting board reviews, Naked Wood Works is the place for quality USA handcrafted products. Thank you for considering us!
Shop Small - Naked Wood Works is a small Family-Owned Business Based in Broken Arrow OK(USA!). Thank you for considering us, and a huge thank you to all of our supporters and true fans!
Bestseller No. 4
2 Pack Digital Kitchen Timer for Cooking Big Digits Loud Alarm Magnetic Backing Stand Cooking Timers for Baking White
Kitchen Timers with big buttons, large digital display, loud buzzer and clean bright look(Battery Not Included)
Clear and Loud alarm, you will easily be able to hear this alarm in another room, and the alarm will stop auto after 30seconds when you in busy
Cooking timer with Strong Magnetic back 2.0 retractable stand and hook for hanging, can be positioned in variety of locations, like table, refrigerator, dry erase board and wall hooks
Maximum time is 99 minutes 59 seconds, meet the need of home perfectly. You can save the battery with ON/OFF switch
Memory Setting: You do not need to set the countsown time every time, it will remeber your last time and you only need to press "ST/SP" button