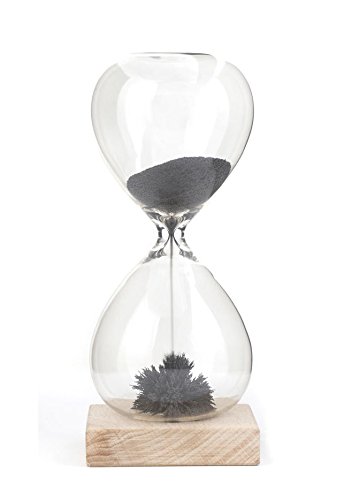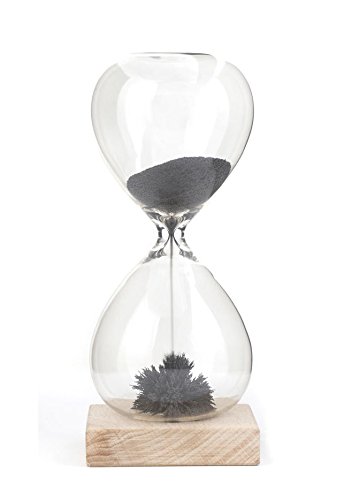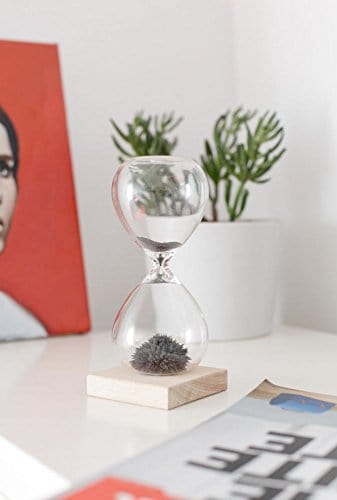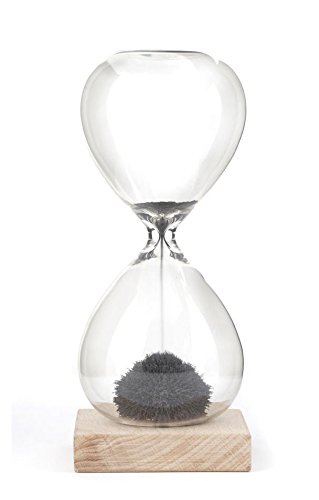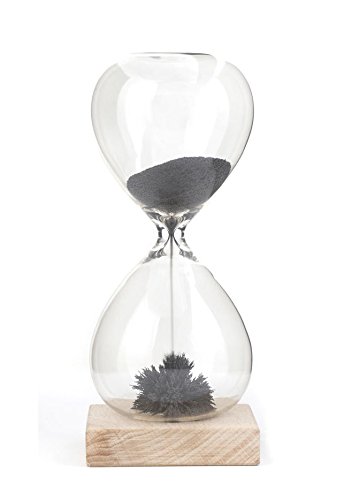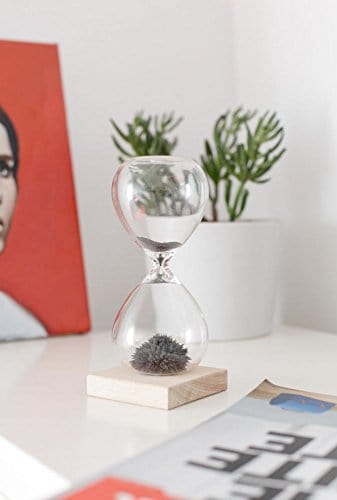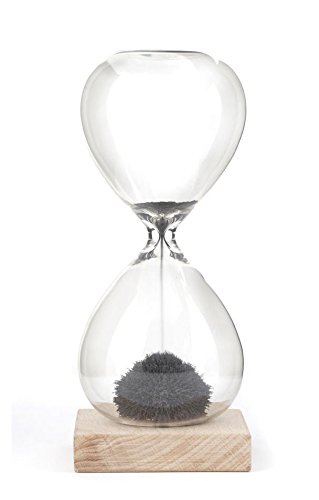 Kikkerland Magnetic Hourglass
Beautiful stalagmite magnetic hourglass
Ferrous sand, combined with hidden magnet, create beautiful stalagmites
One minute countdown
Elegant wooden base
Measures 6.5 by 2.8 by 2.8-inches
Magnetic Hourglass [Review 2023]
There's no way to track time that's quite as mesmerizingly beautiful as with this unique hourglass. Placed on an elegant wooden base, it uses a hidden magnet to pull down ferrous sand. While falling, the sand creates lovely stalagmites you can admire for a lot longer than the one-minute countdown.

Kikkerland Magnetic Hourglass
Beautiful stalagmite magnetic hourglass
Ferrous sand, combined with hidden magnet, create beautiful stalagmites
One minute countdown
Elegant wooden base
Measures 6.5 by 2.8 by 2.8-inches
Features
Accurate one minute timer

Hidden magnet creates magical stalagmite sculptures

Attractive wooden base
Dimensions
6.5 x 2.8 x 2.8 inches

4 ounces
There's nothing more attractive than magnets.
This is an hourglass that last for a minute so should technically be called a minute glass, but that's beside the point. This is cool. The only thing you'll do in that minute is stare intently at the magnetic sand dripping and stacking on itself inside the glass.
You know that hourglass in the Wizard of Oz? This is like that, but if a robot with impeccable taste designed it.
And think of all the one minute things you could time! How many push-ups you can do in a minute… how many handstands you can do in a minute… how long can you hold your breath for a minute… it's hours of minutes of fun!
Also good products
Sale
Bestseller No. 1
Timer, Kitchen Timer, Timer for Kids, 2 Pack Digital Timer for Cooking, Egg Timer, Cute Magnetic Desk Timers for Classroom, Teacher, Toothbrush, Exercise, Oven, Baking, Table, Productivity
You must want a reliable timer to know when to start or stop clearly. Here is the best-selling timer in 2023! This new digital kitchen timer features Loud/Silent switch, On/Off switch, Larger Screen and Buttons with clear markings for ease of use. It can count both up & down. Instead of counting in your head, it is time to start your new routine here!
The Loud / Silent switch is a whole-new surprise! Alarm buzzer will beep loudly in large spaces, allowing you to hear clearly in another room. Makes it a must-have kitchen timer for cooking safely! Besides, this digital stopwatch timer with silent switch works perfectly for kids and teachers. When countdown to 00:00 on desktop, only the red light will flash quietly without startling students in classroom.
The built-in Memory setting offers convenience to avoid having to reset it each time. Fast forward to set 60 minutes by pressing and holding the minute button for over 3 seconds. As a basic countdown timer for time management, you deserve it! [ Max Count Range: 99 minutes 59 seconds ]
SIMPLE TO OPERATE | The strong magnet, durable kickstand and hanging hole make this simple timer easier to position where it should be. Easy to glance the big digits on its large screen from any angles. Whether you're cooking eggs in the kitchen, or you want to set a timer for kids in classroom / at homework, this portable timer comes in very handy!
This upgraded version magnetic timer comes with AAA battery and a large On/Off switch. Long last for years! This electronic timer is recommended for food cooking, eggs boiling, kids time management, classroom study, excercise / workout timing, oven baking. You will be proud to use this great timer for years to come! [ You will get: 2 Pack* Digital Timers (upgraded version) + 2 Pack* AAA Batteries! ]
Sale
Bestseller No. 2
YoYa Toys Liquimo - Calming Liquid Motion Bubbler - 3 Pack - Sensory Bottles for Kids and Adults - Hourglass Water Bubbler Timer - Handheld Water Game - Sensory Toys for Autistic Children
DISCOVER THE MAGIC WITH YOYA TOYS LIQUID MOTION BUBBLER: Sensory Bottles for Kids, Colorful, Calming, and Captivating. Enhance Visual Awareness and Tracking Skills. Relive the retro nostalgia of the 80s and 90s with our liquid motion bubbler toys. Share the joy with friends or pass down these cherished games to your kids as vintage stocking stuffers. It's a calming blast from the past that brings happiness to everyone!
EFFECTIVE & EXCITING SENSORY TOY! – If your little boy or girl is suffering from symptoms of ADHD, autism or hyperactivity, rest assured that our Liquid Hourglass Toy will help your kid relax and remain focused with its slow and rhythmic tempo.
INFINITE HOURS OF TRANQUILITY & FUN! – No batteries or power needed! Simply flip it over and it will start all over again and again! Contrary to fidget spinners and similar sensory toys, these liquid motion bubblers will actively work to relieve your stress and provide you with hours of calming entertainment at home or even at the office!
VERSATILE SENSORY TOY: The perfect gift for kids aged 8-12 on birthdays and Christmas, an exciting and engaging experience for boys aged 5-7, a delight for children aged 10-12, and a world of exploration and wonder for toddlers aged 3-4. This toy offers endless enjoyment and stress relief for adults, making it a fantastic decorative piece for desks and offices with multiple uses.
LOVE IT OR YOUR MONEY BACK! – Give our colorful hourglass bubblers a try and if they don't put a smile on your face, simply get in touch with us and we'll make it right. After all, your purchase is covered under our 30-Day Money Back Guarantee, although it's highly unlikely that you'll be needing it!
Bestseller No. 3
Digital Kitchen Timers, Visual timers Large LED Display Magnetic Countdown Countup Timer for Classroom Cooking Fitness Baking Studying Teaching, Easy for Kids and Seniors Black
【Rotary timer & easy operation】:AVINIA big digital timer is quick easy to adjust a time only by twisting outer ring, and one touch button to just start/stop time countdown countup (timing range 0-99 minutes),designed for kitchen,classroom,fitness,meeting and more, whether we are elderly or kids, this rotate timer, we can easily control and use it.
【Multiple scenes use】:what will this twist timer bring to us?Eg,as a kitchen cooking timer,you will say goodbye to over-raw or over-cooked steaks, even you more like a pro! as kids timer, to grow children's awareness of time, reminding kids to balance games and learning, also be teachers timer, students timer, classroom timer, exercise timer, barking timer, meeting timer, game timer, egg timer, gym timer,BBQ timer .
【Continuous light & Big digits】:Three levels brightness are respectively " CONSTANT BRIGHTNESS MODE " , " DIM MODE " and " LIGHT OFF " ,for satisfying different requirements, According to ambient light setting a mode what you need, caring about your eyes and enjoying LED big digits. what a smart visual timer!
【Loud alarm & Magnetic】:Three levels alarm sounds from silence up to 90dB.Loud alarm ensures the sound heard in another room, smart time reminder, we will no longer worry about over-cooking or forget something what we should have done but didn't.Strong magnets on back can firmly stick on refrigerator,oven,blackboard and any iron walls, to facilitate 1hand operate.
【 Energy saving & 365 days Guarantee】:Powered by 3 AAA batteries; if timer doesn't run and without any operation, display brightness will turn dim then light off in a few seconds. Don't worry it will not consume energy in the sleep mode. Each AVINIA TIMER has a full-year quality guarantee and detailed instructions manual, please rest assured to order.
Bestseller No. 4
6 Pack Small Digital Kitchen Timer Magnetic Back and ON/Off Switch,Minute Second Count Up Countdown (Multicolored)
FUNCTION:99 minutes 59 seconds counting up/down digital magnetic kitchen timer with setting memory.Push and hold button over 3 seconds then the time will fast forward.
LOUD ALARM: Features loud and clear but not deafening sound to be heard from another room,it continues 60 seconds if you don't press it.
PLACEMENT: You can pull back the retractable stand to sit on any flat surface or use the magnet on the back to attach to a fridge door or Put it on the neck(use a rope).
POWER SAVING MODE:Save the battery with ON/OFF Switch.(battery is not included).
LARGE READOUT: Large Screen 2.2 x 1.18 inches. bold digits for easy readability from anywhere in the kitchen.