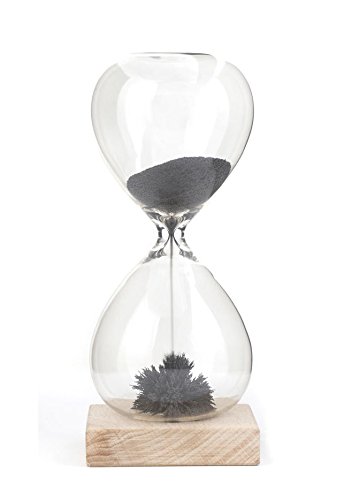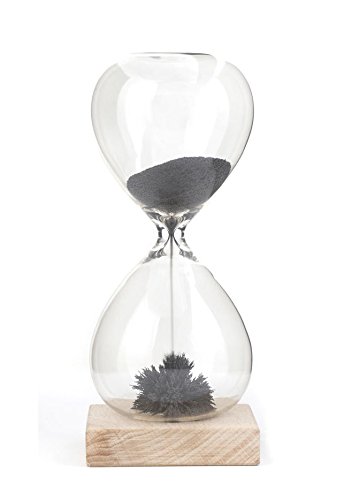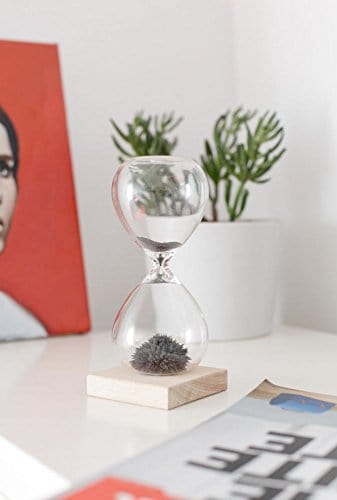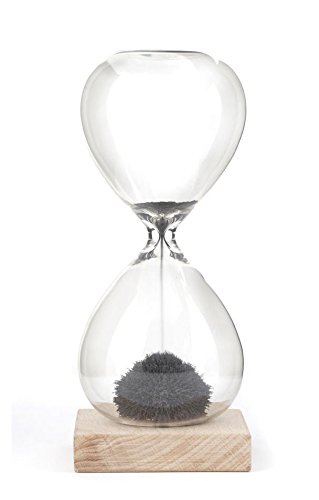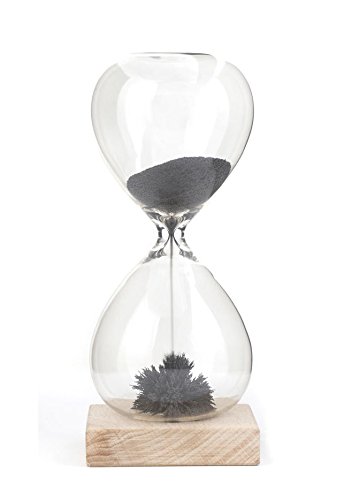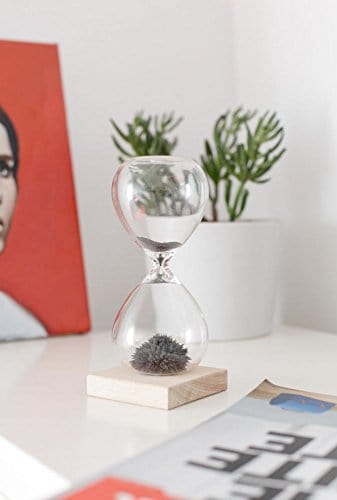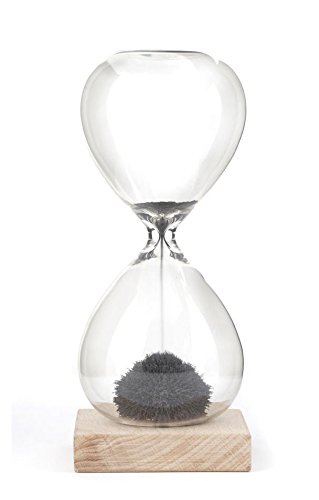 Kikkerland Magnetic Hourglass
Beautiful stalagmite magnetic hourglass
Ferrous sand, combined with hidden magnet, create beautiful stalagmites
One minute countdown
Elegant wooden base
Measures 6.5 by 2.8 by 2.8-inches
Magnetic Hourglass [Review 2023]
There's no way to track time that's quite as mesmerizingly beautiful as with this unique hourglass. Placed on an elegant wooden base, it uses a hidden magnet to pull down ferrous sand. While falling, the sand creates lovely stalagmites you can admire for a lot longer than the one-minute countdown.

Kikkerland Magnetic Hourglass
Beautiful stalagmite magnetic hourglass
Ferrous sand, combined with hidden magnet, create beautiful stalagmites
One minute countdown
Elegant wooden base
Measures 6.5 by 2.8 by 2.8-inches
Features
Accurate one minute timer

Hidden magnet creates magical stalagmite sculptures

Attractive wooden base
Dimensions
6.5 x 2.8 x 2.8 inches

4 ounces
There's nothing more attractive than magnets.
This is an hourglass that last for a minute so should technically be called a minute glass, but that's beside the point. This is cool. The only thing you'll do in that minute is stare intently at the magnetic sand dripping and stacking on itself inside the glass.
You know that hourglass in the Wizard of Oz? This is like that, but if a robot with impeccable taste designed it.
And think of all the one minute things you could time! How many push-ups you can do in a minute… how many handstands you can do in a minute… how long can you hold your breath for a minute… it's hours of minutes of fun!
Also good products
Sale
Bestseller No. 1
Secura 60-Minute Visual Countdown Timer, 7.5-Inch Oversize Classroom Visual Timer for Kids and Adults, Durable Mechanical Kitchen Timer Clock with Magnetic Backing (Blue)
🙅‍♂🔋NO BATTERIES REQUIRED🔋🙅‍♂ - Premium mechanical countdown timer for cooking, meetings, teaching, playing games, doing homework, and more! Completely mechanical—no batteries needed!
🕧A COUNTDOWN TIMER HAS MANY PRACTICAL USES – Improve time management, increase productivity with daily tasks, and more! Examples: test taking, managing playtime, bedtime routines, setting timeouts, and making sure teeth are brushed long enough. Excellent tool to help children understand the passage of time visually. Recommended for parents and all teachers—especially special education and K-12 teachers. It is not intended for use by children.
🕧PERFECT FOR ALL ABILITIES – The countdown clock can help those with special needs. As the time elapses, the bright blue disc disappears. The visual design aspect of this timer helps ease transitions and encourages independence and increased productivity for people of all abilities.
🕧SMALLER FOOTPRINT WITH MULTIPLE PLACEMENT OPTIONS – 1) Features two powerful magnetic backing panels making it ideal to place on refrigerators, ovens, utility cabinets, whiteboards, and more! 2) The two foldable legs on the bottom can open up for placement on flat surfaces like desks and countertops. 3) Easily wall mounted.
🕧EASY TO USE – Simply turn the control knob clockwise to expand the bright blue disk—making it easy to see the time count down visually. Note: To activate the timer before each use, turn the control knob clockwise to the 55-minute position, then turn it counterclockwise to the desired time.
Bestseller No. 2
Secura 60-Minute Visual Timer, Classroom Classroom Timer, Countdown Timer for Kids and Adults, Time Management Tool for Teaching (Blue & Blue)
🕑 Time Management -- What can you get done in 60 minutes? Improve time management, perform tasks effectively, complete your work, and encourage productive learning with the Secura 60-minute visual classroom timer.
🕑 Easy to Use -- Turn the dial clockwise to adjust the time. To turn the timer off—simply turn back to zero. Requires 2 "AAA" batteries (Not Included).
🕑 Kid friendly -- No distracting ticking. Secura visual timer feature a blue disc making it easy for children to understand the passage of time visually. Set the tone to loud or low, and the alarm time to 3 or 60 seconds.
🕑 Applications -- Great for classroom, home, and office settings. Makes an excellent classroom timer, countdown timer, study timer, toddler timer, kids timer, silent timer, kitchen timer, timer clock, time tracker, and more!
🕑 Two-year Guarantee -- We provide a two-year warranty. If you have any questions about our products, please feel free to contact us and we will try our best to address them.
Sale
Bestseller No. 3
Digital Kitchen Timers, Visual timers Large LED Display Magnetic Countdown Countup Timer for Classroom Cooking Fitness Baking Studying Teaching, Easy for Kids and Seniors Black
【Rotary timer & easy operation】:AVINIA big digital timer is quick easy to adjust a time only by twisting outer ring, and one touch button to just start/stop time countdown countup (timing range 0-99 minutes),designed for kitchen,classroom,fitness,meeting and more, whether we are elderly or kids, this rotate timer, we can easily control and use it.
【Multiple scenes use】:what will this twist timer bring to us?Eg,as a kitchen cooking timer,you will say goodbye to over-raw or over-cooked steaks, even you more like a pro! as kids timer, to grow children's awareness of time, reminding kids to balance games and learning, also be teachers timer, students timer, classroom timer, exercise timer, barking timer, meeting timer, game timer, egg timer, gym timer,BBQ timer .
【Continuous light & Big digits】:Three levels brightness are respectively " CONSTANT BRIGHTNESS MODE " , " DIM MODE " and " LIGHT OFF " ,for satisfying different requirements, According to ambient light setting a mode what you need, caring about your eyes and enjoying LED big digits. what a smart visual timer!
【Loud alarm & Magnetic】:Three levels alarm sounds from silence up to 90dB.Loud alarm ensures the sound heard in another room, smart time reminder, we will no longer worry about over-cooking or forget something what we should have done but didn't.Strong magnets on back can firmly stick on refrigerator,oven,blackboard and any iron walls, to facilitate 1hand operate.
【 Energy saving & 365 days Guarantee】:Powered by 3 AAA batteries; if timer doesn't run and without any operation, display brightness will turn dim then light off in a few seconds. Don't worry it will not consume energy in the sleep mode. Each AVINIA TIMER has a full-year quality guarantee and detailed instructions manual, please rest assured to order.
Bestseller No. 4
TIME TIMER Home MOD - 60 Minute Kids Visual Timer Home Edition - for Homeschool Supplies Study Tool, Timer for Kids Desk, Office Desk and Meetings with Silent Operation (Lake Day Blue)
TIME MANAGEMENT — The 60-minute learning clock assists with organization and concentration among tasks. The desk timer is ideal for kids and adults to improve time management and productivity while completing activities
SPECIAL NEEDS — The countdown analog timer can be understood intuitively by all ages and abilities, incluiding those with autism, ADHD or other learning disabilities. The visual timer provides a calm transition for every activity and ease workload during stressful situations
EASY TO USE — The homework timer features 4 different removable silicone covers (not included) that encourage a creative and energetic environment for all ages and abilities. Each available color can be assigned to a different learning timer for a designated activity, such as gym timer, homework timer, kitchen timer, study timer or work timer
OPTIONAL AUDIBLE ALERT — The timer for kids provides an optional alert feature for sound-sensitive environments to avoid distractions and interrumptions while doing your activity. This option is ideal for activities such as doing projects, reading, studying or taking tests
PRODUCT DETAILS — The school desk timer requires 1 AA battery (not included). You can choose from more available colors — cotton ball white, lake day blue, dreamsicle orange and pale shale (not included)