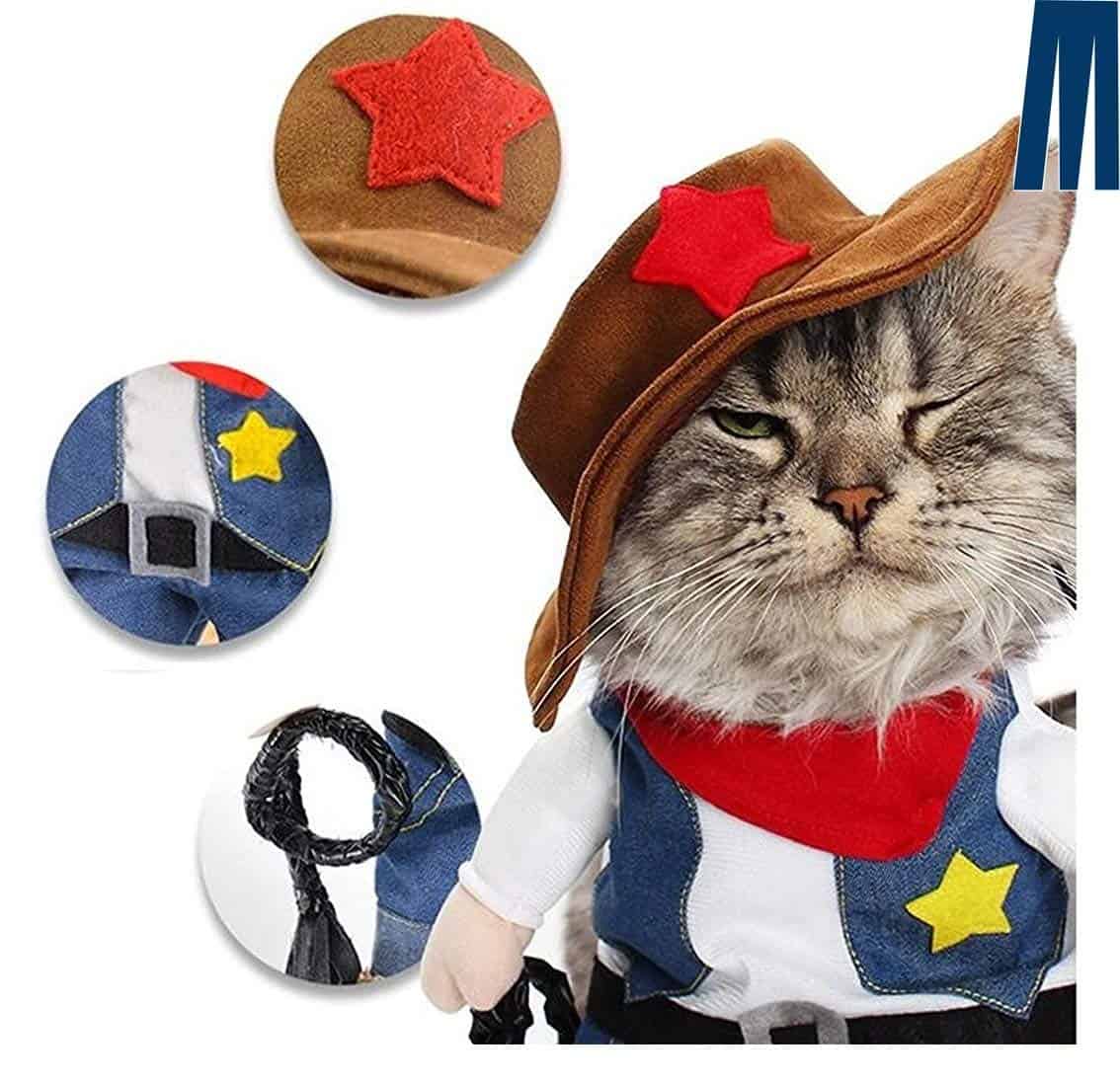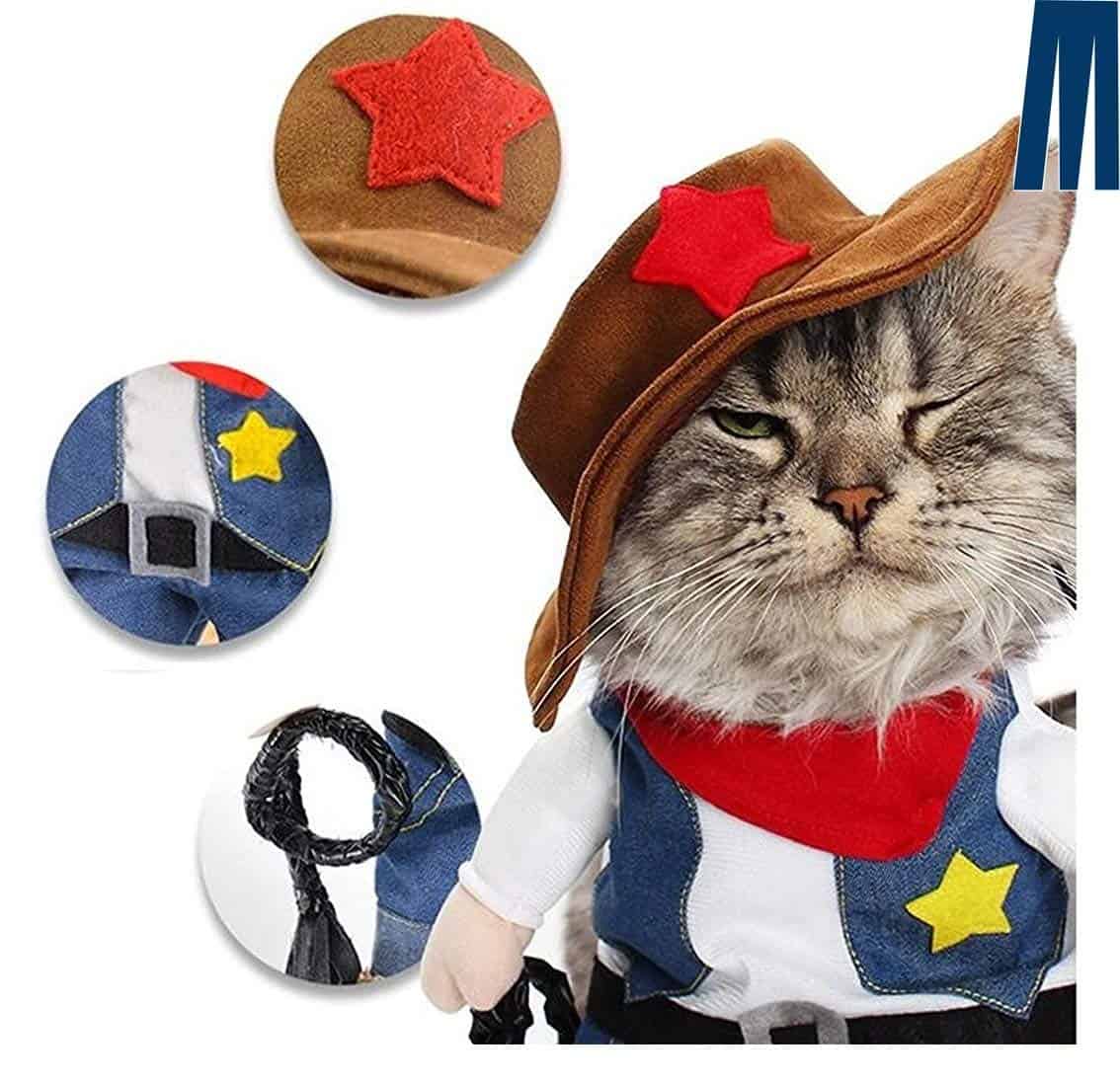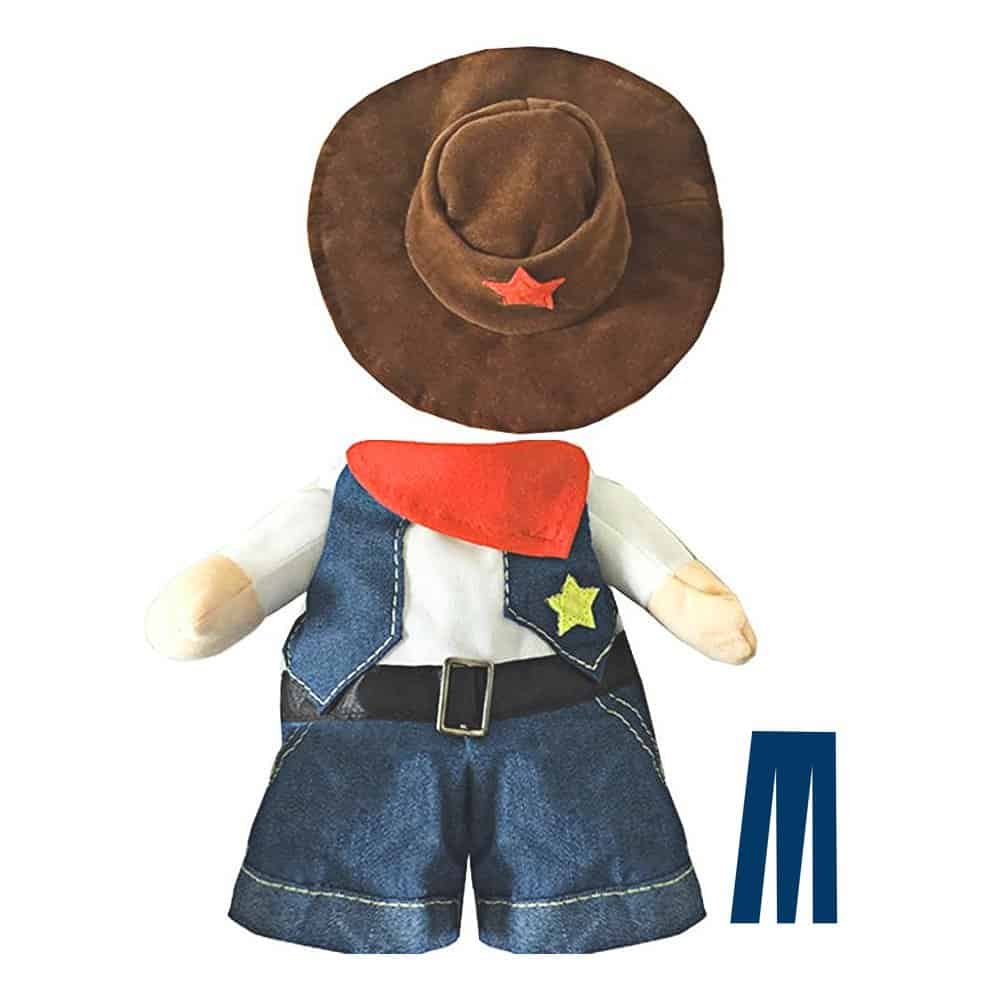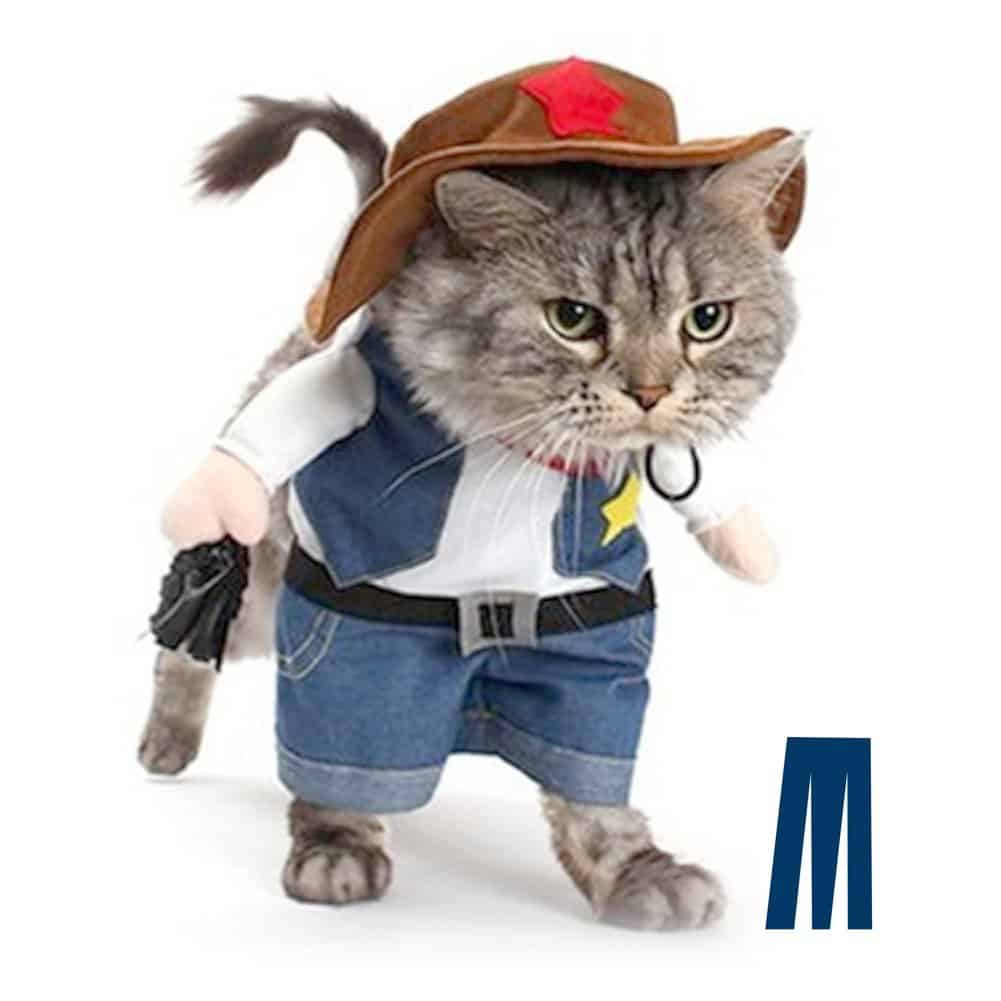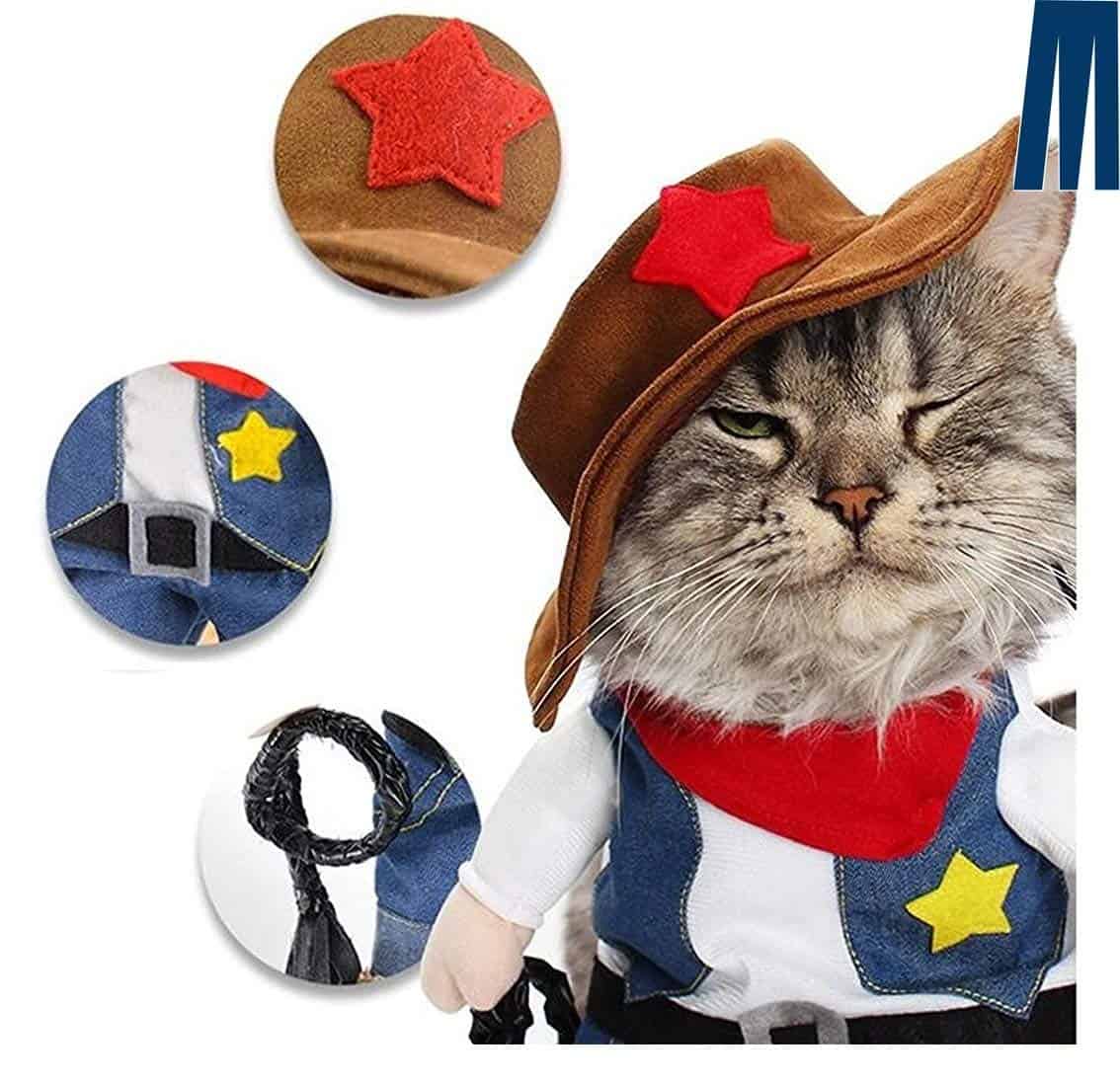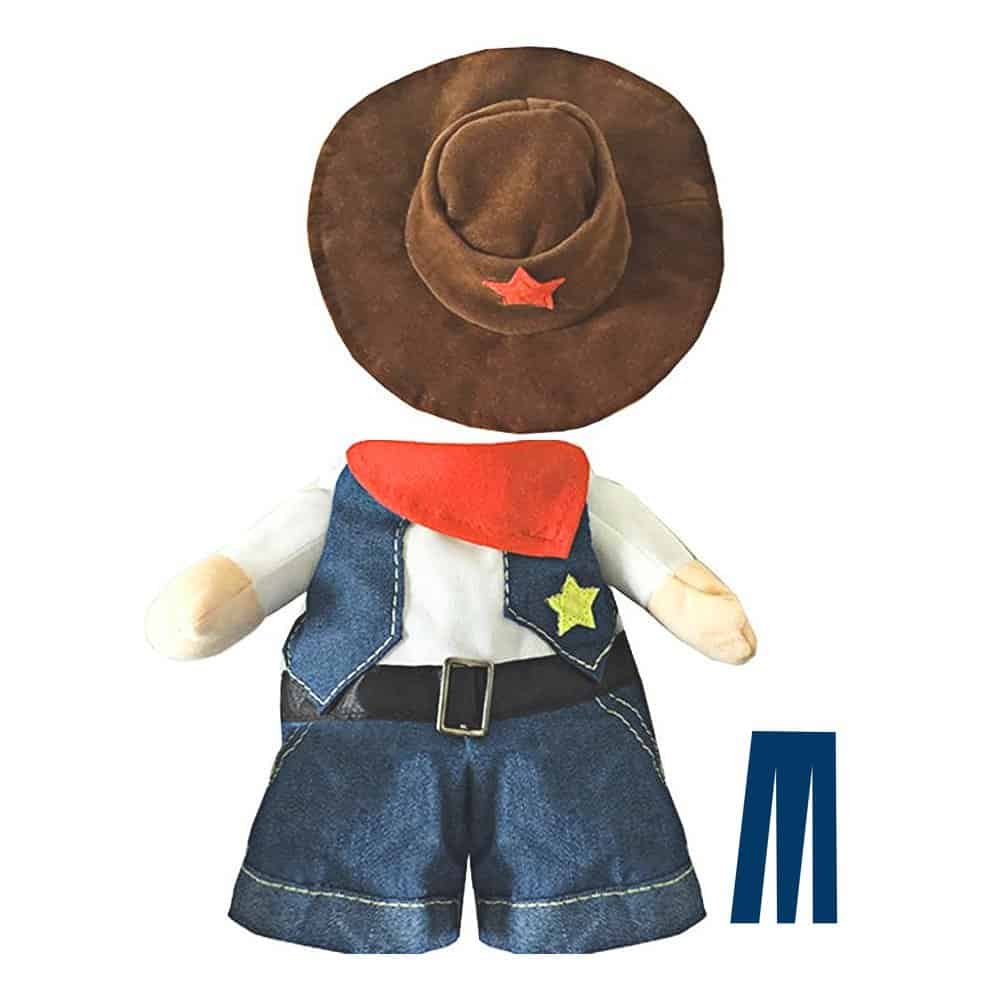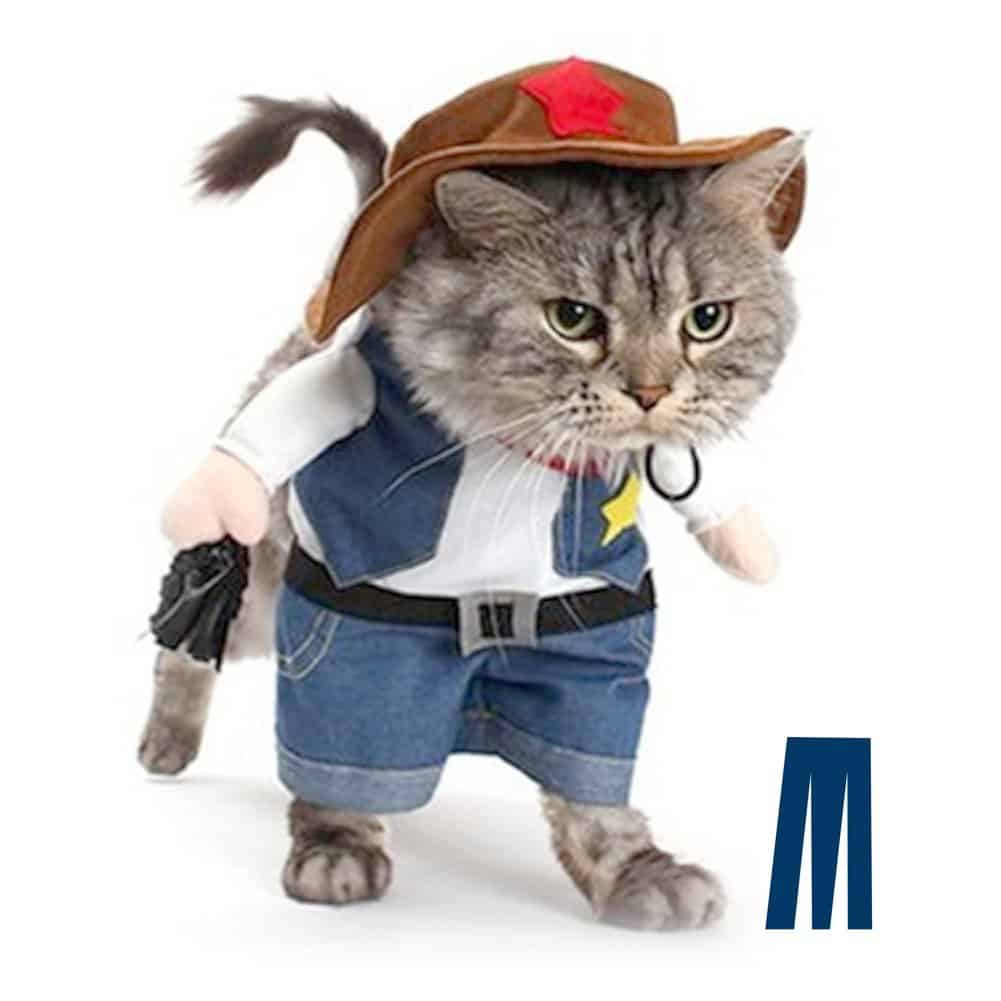 Mikayoo Pet Outfits [Review 2022]
If clothes make the man, do they make pets, too? If so, you're in for a real treat! This cat outfit includes a sheriff onesie and a hat with a badge. They're easy to put on, so you don't have to worry about your pet getting mad at you. And then they can go exercise their right to boss everyone around.

Mikayoo Pet Dog Cat Halloween Costumes,The Cowboy for Party Christmas Special Events Costume,West Cowboy Uniform with Hat,Funny Pet Cowboy Outfit Clothing for Dog cat(M)
"WOW~",What a little cute and adorable Uniform! Whether you walk your dogs/cats, or take them to the party, this is the best clothing for you, especially in such a season.
The material is polyester fiber, very comfortable to wear.
You will be willing to take many many photos with your pets, and post on your page.
PAY ATTENTION TO THE SIZE: you'd very carlfully to choose size.
There, SIZE S: (neck 11",chest 11"-15", Fit Cat); SIZE M: (neck 12.5",chest 15"-17.7", Fit Cat or Small Dog);SIZE L: (neck 14",chest 17"-19", Fit Cat or Small Dog);SIZE XL: (neck 16",chest 19"-21",, Fit Small Dog).How to measure them? Please read the following description.
Features
Comfortable polyester fiber fabric

Velcro closures

Instantly makes pets Instagrammable
Dimensions
Small: Neck 11″; Chest 11″-15″, Fits a cat

Medium: Neck 12.5″; Chest 15″-17.7″, Fits a Cat or Small Dog

Large:: Neck 14″; Chest 17″-19″, Fits a large Cat or Small Dog

X-Large: Neck 16″, Chest 19″-21″, Fits a Small Dog
You have the right to remain fluffy!
Cats have their own inbuilt clothes – their fur – but they long to be able to dress up like their human captors.
Now you can treat you cat by turning them into the Sheriff of your house. Watch him lasso up all the mice, Watch him ride a dog into town. Watch him pop down the saloon for a bowl of milk. Your cat will be the talk of this ol' dusty town in no time.
These are so cute I'm getting three of them! And I don't even have a cat.
And if you don't like cats, buy them an outfit to show them who's boss. Oh yeah, Mr, Whiskers, you're going to lie around the house all day? Well I hope you enjoy looking like an idiot.
Also good products
Bestseller No. 1
HQ Professional Temporary Tattoos Sheet - Face, Waist, & Leg Tats - 16 Total - Costume / Cosplay
Super Realistic Professional HQ Temporary Face & Leg Tattoos - Perfect for your Halloween Costume / Cosplay
A 5" x 7" Sheet of 16 Professional Temporary Tattoos - Lucky You, Rotten, Puddin, Mr. J, Hearts, Diamonds, Scratch Counts, I Heart Puddin, and more!
Easy to Apply & Remove - Waterproof and Long Lasting
Only the Highest Quality Temp Tat Inks - 100% Hypoallergenic
MADE IN THE USA
Bestseller No. 2
Dog Grooming Kit Clippers, Low Noise, Electric Quiet, Rechargeable, Cordless, Pet Hair Thick Coats Clippers Trimmers Set, Suitable for Dogs, Cats, and Other Pets (Gold)
★QUIET MOTOR AND LOW NOISE - The clipper is made of high-speed and quiet motor. The working noise is lower than 50db. It makes your pets feel easy and no afraid of cutting hair any more.
★RECHARGEABLE BATTERIES - Rechargeable clippers can make it flexible for you. It is no problem to use when charging, don't worry, and it is safe and will not stop working.
★SAFE AND SHARP BLADE - It is suitable for the most skin-friendly grooming experience, and thanks to the precision-cut titanium blades, there's no uncomfortable pulling at your pet's hair.
★EASY TO USE AND ADJUSTABLE - We have 4 guard combs(3mm/6mm/9mm/12mm). The adjustable clipping comb is applicable for clipping hair of different lengths; and the detachable guide combs make for quick, easy comb changes and increased versatility.
★PAY ATTENTION - Using the scissors to cut the hair shorter first if your pet has a extremely long and thick hair cause it will make the clippers get stuck and stop working.
Bestseller No. 3
Native Pet Organic Pumpkin for Dogs (16 oz) - All-Natural, Organic Fiber for Dogs - Mix with Water to Create Delicious Pumpkin Puree - Prevent Waste with a Canned Pumpkin Alternative!
PREVENT & RELIEVE DOG DIARRHEA: Our pumpkin dog fiber supplement is designed by a leading veterinary nutritionist to ensure effective doses of fiber to help (not hurt!) the digestion process. A better option than expensive or ineffective dog diarrhea medicine!
NO MORE WASTED CANNED PUMPKIN: Our organic pumpkin powder is the perfect replacement for canned pumpkin puree dogs are used to eating. Our powder can be customized for your dog's size and will replace all those uneaten cans!
3 ORGANIC INGREDIENTS & MADE IN NORTH AMERICA: Our recipe uses only organic pumpkin, pumpkin seed, and apple powders to create a high fiber supplement for dogs that provides all-natural digestive support and relief.
EASY MIXER & TOPPER: Our recipe is all-natural fiber solution that's poured over dry kibble or mix with water to create a delicious pumpkin puree that dogs will go crazy for every time!
RISK FREE PROMISE: If you aren't satisfied, we will fully refund your purchase, no questions asked!
Bestseller No. 4
Pet Cat Bat Wings for Halloween Party Decoration, Puppy Collar Leads Cosplay Bat Costume,Cute Puppy Cat Dress Up Accessories
♪ONE SIZE: Chest 36-42cm(14-17in), neck 24-36cm(9-14in), adjustable size fit most cats
♪Made of Black felt cloth,complete interpretation of the mysterious and cool bats
♪Weight:1.1oz,Lightweight and had no sense of restraint for the cat or puppy
♪Great Halloween gift for your cat,Not just yourself, your cat needs Halloween too.
♪Funny Bat Wings appearance, very cute and will win a lot of admiration,increasing festive atmosphere