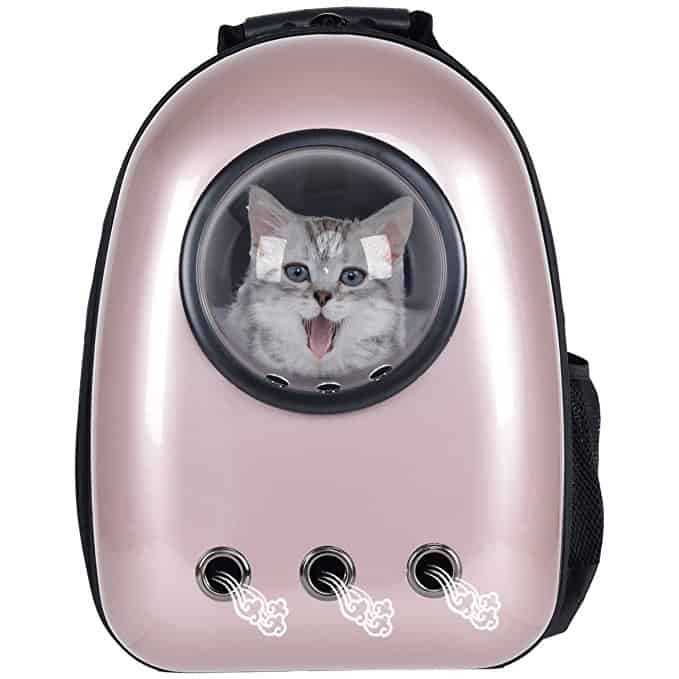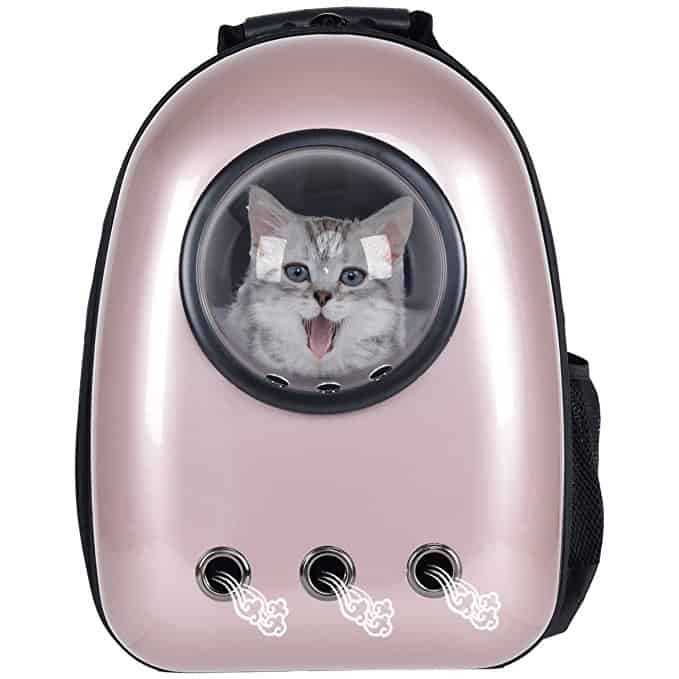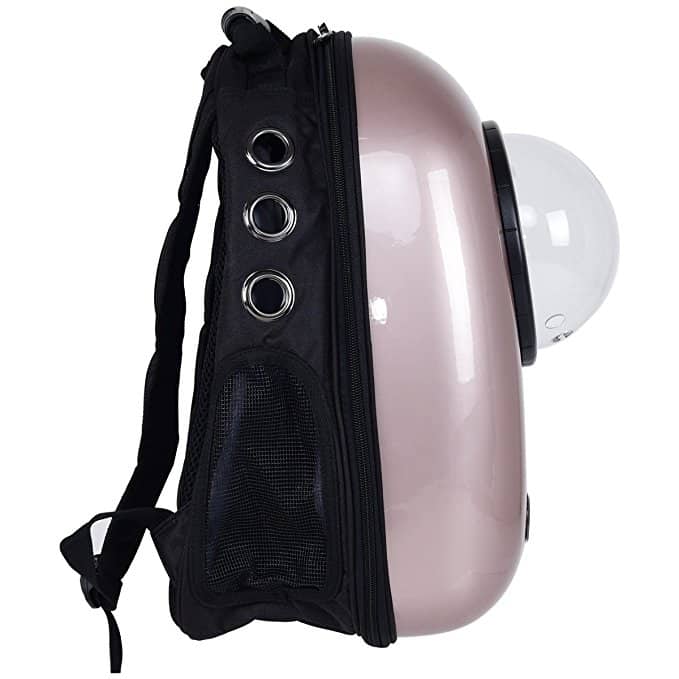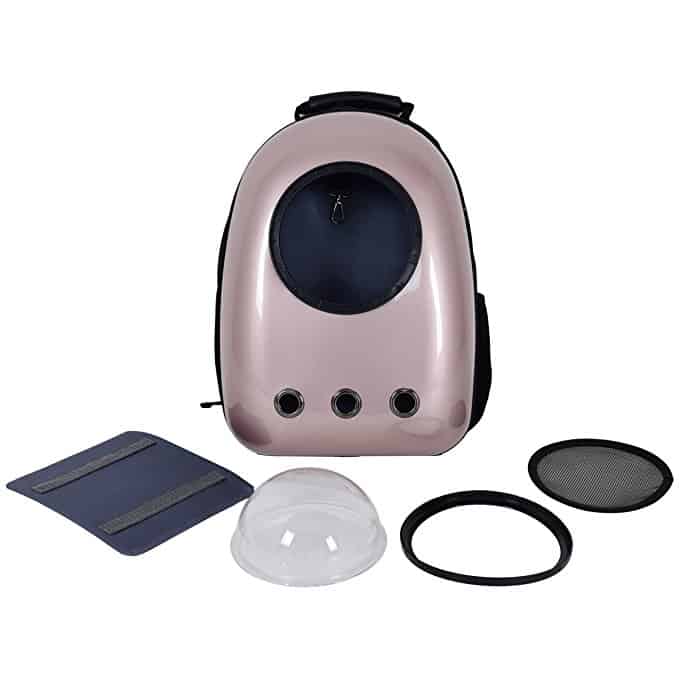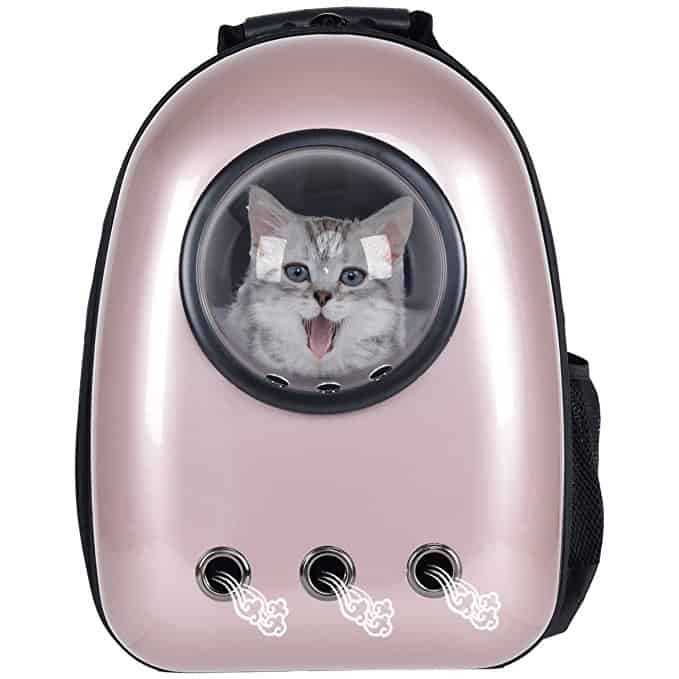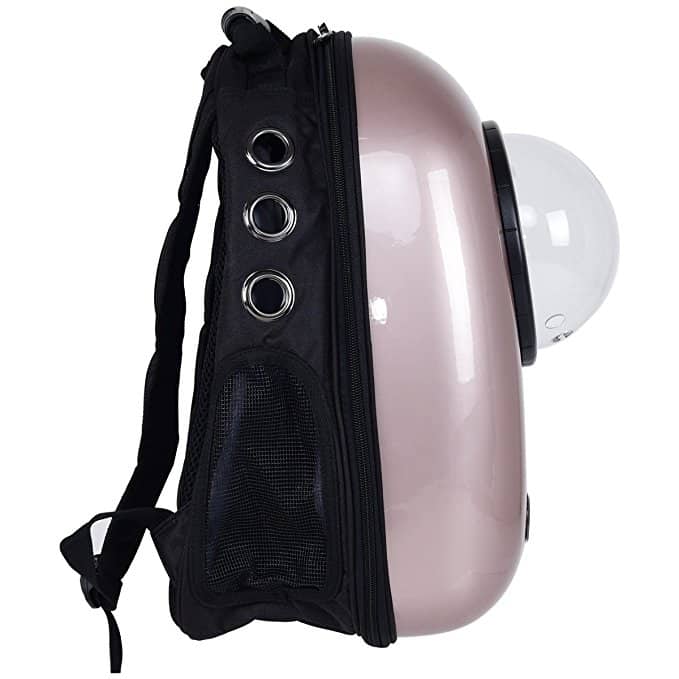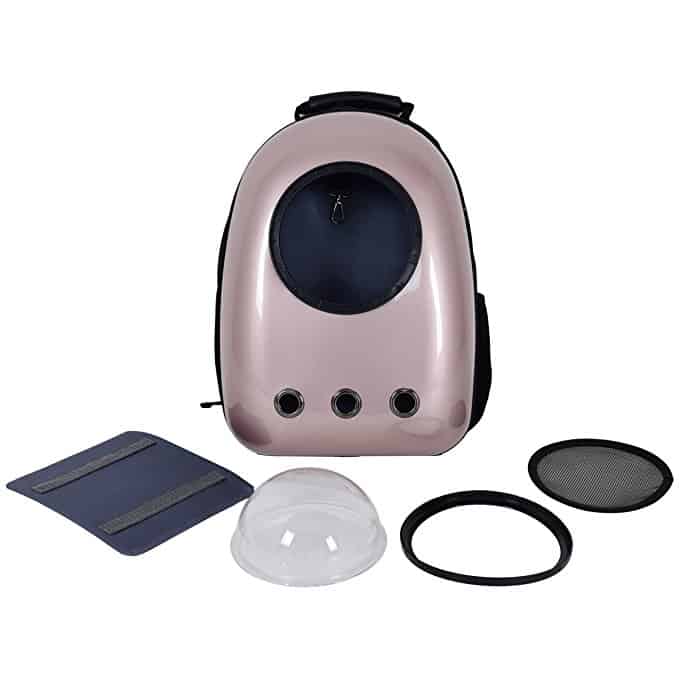 Astronaut Pet Travel Bag [Review 2021]
Houston, we have a problem – this carrier contains no treats whatsoever! But apart from that, it's a comfy spot for your pet to lounge in while you do all the work. The interior has a buckle strap for added safety, while the air holes and removable cover make sure your furry friend never lacks fresh air.

Features
Available in 6 colors

Breathable and comfortable

Includes cover
Dimensions
15.7 x 11.8 x 11 inches

3.7 pounds
I have lost many a struggle trying to get a cat into a carrier box to take him to the vet.
I had so many scratches on my arms that people thought I was a junkie.
But now there's a backpack that pet love to travel in. It has a cool porthole, like being on a boat or in a rocket to the moon.
This backpack is breathable so your pet can keep breathing, but also thick enough that they won't scratch you through it. It is the perfect way to transport them t0 the vet, or to the… i don't know, where else do you take pets? The cattery over summer!
They'll love thinking they're an astronaut. Like a furry little Neil Armstrong.
Also good products
Bestseller No. 1
JEBBLAS pet Capsule Carrier Astronaut Pet Cat Dog Puppy Carrier Travel Bag Space Capsule Backpack Breathable
360 degree Circulating porosity,Don't worry about your cat or dog getting muffled.
Fashion and practicality go hand in hand.Space capsule designing makes the bag cute, fashion,lightweight design without weight feeling,you will be the focus of the crowded .
Made of selected canvas + hign density acrylic material,exterior breathable hemispherical transparent cover helps ease pet anxiety. Note:There is a layer of protective film on the backpack, pls tear it off when you received it.
Dimension: 12.6 "L x 11.5 "W x 16.5 "H. (32x42x29cm)Carrier Weight:2.7 Pound fits pet UP to 14 pounds cat and 11 pounds dog.Suitable for front carrier bag or backpack, or single-hand carrying. Best choice for travelling, walking, hiking, hang out
unique Window design: transparent cover with a good view, breathable replaceable mesh panel, makes the bag cute, fashion.Small pets such as small cats and dogs can be easy to keep in carriers
Bestseller No. 2
Astronaut Capsule Breathable Pet Cat Puppy Travel Bag Space Backpack Carrier Bags,brown
Comfortable, Organized, Streamlined Backpack🎒 Closure Type:zipper,Gender:Unisex,Technics:Embossing,Item Type:Backpacks
Good Backpack Work🎒 Style:Fashion,Model Number:3 Call 00571%,Exterior:NONE,Lining Material:Polyester
Good, Strong, Lightweight Backpack🎒 Capacity:36-55 Litre,Decoration:NONE,Backpacks Type:Softback
An Everyday Back Pack Work & A Solid Carry Traveling!🎒 Pattern Type:Cartoon,Carrying System:Air Cushion Belt,Interior:Interior Slot PocketMain Material:COULD,Handle/Strap Type:Soft Handle,Rain Cover:No
Excellent Backpack🎒 This Bag Has Really Good Quality Material For The Price. Perfect For School, Work, And Travel. Zippers Run Smooth And Are Easy To Use.
Bestseller No. 3
Pet Backpack Carrier Bubble Bag,Transparent Space Capsule Astronaut pet Backpack for Cats, Puppies and Small Dogs Dual Purpose Cover, Pet Travel Bubble Bag,Camping and Hiking Backpack
Item Dimension: 13 "L x 11 "W x 16.5 "H. Carrier Weight:2.65 Pound fits pet UP to 14 pounds cat and 11 pounds dog.
Dual Use Cover - The bubble cover can be disassembled, and it is matched with another ordinary cover to maximize the function. You can change the cover required by the backpack according to different occasions.
Functional & Well made:This backpack is designed with ventilation holes on both sides, one side can be opened, and the other side can put some small things. With transparent material, pets can watch the scenery outside the bag as well. Also made a special waterproof design, even if it is rainy, do not worry about your pet getting wet. And there are many ventilation holes on the backpack, allowing pets to breathe freely in the bag.
Space Capsule Design - the unique space capsule design makes your pet look more eye-catching, the material is very light, and the capacity is large and easy to carry.
Go Out With Your Pets - Suitable for front carrier bag or backpack, or single-hand carrying. The Best choice for travelling, hiking, and Camping or hanging out . You can use this bag , carry the pet to meet up with friends or even date ,which will add charm to you
Bestseller No. 4
ACDZKJ Astronaut Window Bubble Carrying Travel Bag Breathable Space Capsule Transparent Pet Carrier Bag Dog Cat Backpack
Transparent design, let your pet see the sunshine and scenery of the world from the outside. There are several vents on the side of the backpack to provide adequate air circulation for your pet to breathe comfortably
Soft zipper, easy to open and close, durable and practical.
The widest ergonomic shoulder strap allows you to easily carry pets. Its perfect for traveling, walking, hiking and outing.
This pet backpack is firmly structured, providing ample room for your pet to move around.
Breathable and comfortable, pet bag is easy to carry around and safe for your pet.