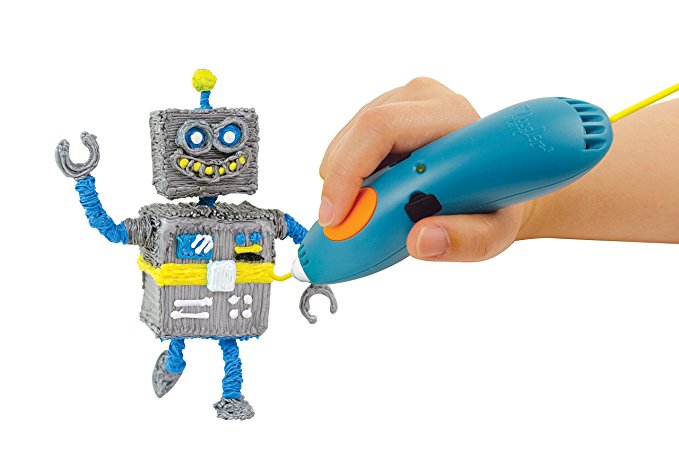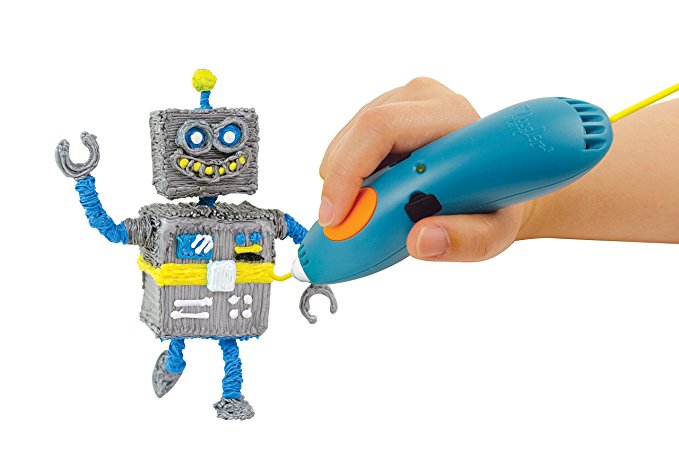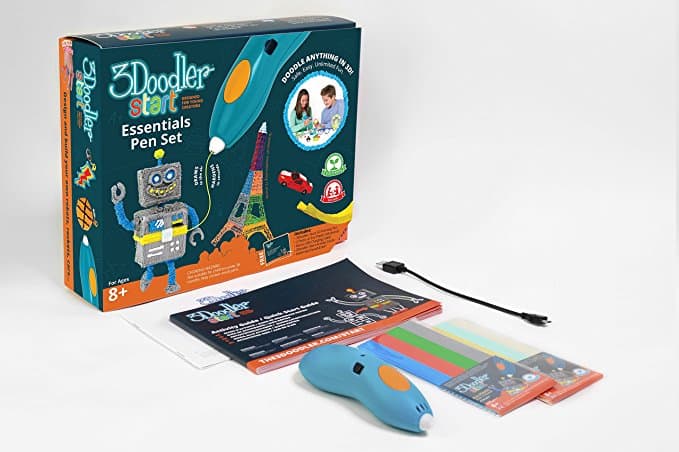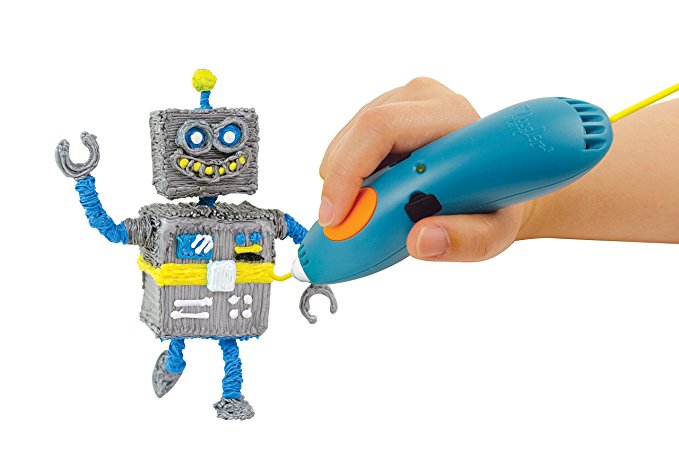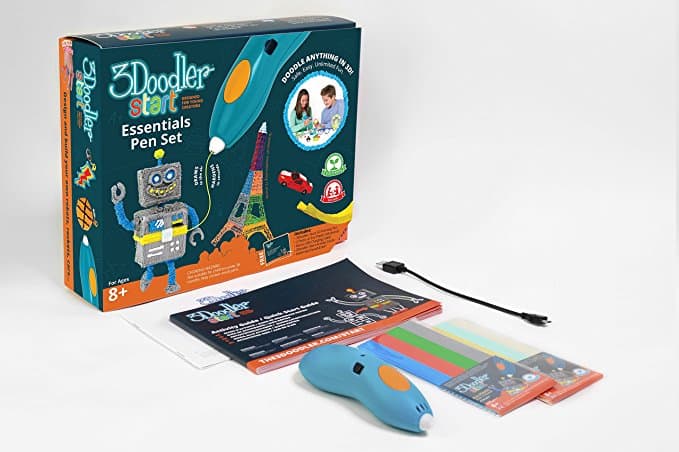 3D Printing Pen Set For Kids [Review 2021]
When we were kids, we had to entertain ourselves with MS Paint. Now, kids can literally paint in the air with this 3D printing pen! It's completely child-friendly, can work with many colors and is great for developing their creativity. Just give them this cool gadget and watch them soar!

Features
Kit includes everything you need

Ages 8+

Safe and easy for kids to use
Dimensions
5.5 x 1.2 x 1.2 inches

8.3 ounces
Drawing is so two dimensional. Until now!
Introducing the 3D Printing Pen. Now you can bring your creations to life like you're Doctor Frankenstein himself.
This pen draws on paper, but magically draws upwards as well.
This is more of a game changer than when reptiles sprouted wings and were like "cool, I can fly now".
If I had this when I was a kid it would have blown my mind.
Heck, it blows my mind right now!
Imagine the 3D figures you could create with this. You could draw a house, then park your toy car in the garage.
You're only limited by your imagination.
Give one to the budding artist in your life and watch them bring their wildest fantasies to life right in front of your very eyes.
Also good products
Sale
Bestseller No. 1
3D Pen Filament 320 Feet, 16 Colors,Each Color 20 Feet, Bonus 250 Stencils eBooks - 3D Pen/3D Printer PLA Filament 1.75mm, High-Precision Diameter and Kids Safe Refill
【320 feet in total, 16 colors 20 feet each color】 16 colors PLA filament to scribble your 3D artistic masterpiece idea. A great gift set for your kids and art lover to have fun with crafting and drawing.
【1.75 mm Filament, compatible with MYNT3D】 Universal compatible with most 1.75 mm 3D pens and printers(Dimensional Accuracy +/- 0.05 mm).
【Non-toxic and Safer to kids】 Compared to ABS, PLA Filament is Non-Toxic and safer to kids.
【Free-Ebooks】 On the seventh day after the parcel has been sent out, we will send the password and website of the E-books to every customer who ordered dikale 3d pen filament. We only can contact you from "contact buyer" button on the order details. However, there is no "contact buyer" button for some orders. So if you haven't received our email, please contact us
【TRUSTWORTHY MERCHANT】 30 Days Hassle Free Returns and 24-hour response service are friendly offered. We stand behind the quality of everything we sell. If you are not entirely happy, please send email to us.
Bestseller No. 2
SCRIB3D P1 3D Printing Pen Bonus Set - Includes SCRIB3D P1 3D Pen, 3 Starter Colors of PLA Filament, Stencil Book + Project Guide, Charger, and a Bonus 10-Pack of PLA Filament (45m Filament Total)
[A GIFT FOR THE WHOLE FAMILY] Create, Draw, Doodle, and Build in 3D with this affordable yet high grade 3D pen. The new SCRIB3D P1 3D Pen helps improve spatial thinking, creativity & artistic skills. Great for quality family time and as a practical tool for handmaking gifts or decorations, or for everyday fixes around the home. The P1 Pen features a stepless speed function designed for optimal speed control no matter the task - whether slower intricate projects or faster infill work.
[READY-TO-USE BONUS KIT] Includes 13 colors of PLA filament: 3 colors x 5 meters each, and 10 colors x 3 meters each for a total 45 meters of PLA color to keep you doodling for ages! Also includes power adapter, step-by-step manual, and a free stencil guide. Just plug in, heat it up and enjoy the fun of creating three-dimensional masterpieces. Works best when used with SCRIB3d filament.
[BEGINNER FRIENDLY & EASY TO USE] Features an ergonomic design, larger buttons, a LCD screen for clear mode/temperature display and indicator lights. The P1's ceramic nozzle and premium motor ensure safety and high performance without clogging. Also equipped with 2 minute auto sleep function after 3D doodling stops.
[MULTI-FUNCTIONAL] The SCRIB3D P1 Pen is temperature adjustable to accommodate multiple types of filament: PLA (160-210℃, 320-410°F) or ABS (210-235℃, 410-455°F). Unlike other 3D printing pens, the P1 has an easy-to-use stepless speed slider, designed for optimal speed adjustment. Perfect for any task, from slow & intricate projects to faster infill work. PLA is great for printing directly onto surfaces. ABS is best used for drawing in the air as well as for first-time users. Both are designed t
[SAFE & RISK FREE PURCHASE] Built in safety features, anti clogging features, and intititve controls ensure a seamless Doodling experience. 1 year guarantee and responsive customer service. Buy with 100% confidence. If there are any quality issues or you need getting started tips, please feel free to contact us and we'll be happy to help.
Bestseller No. 3
3D Printing Pen Mat, 3D Pen Filament Refills, 12 Colors PLA 3D Printer Refill Pack and Pen Mat Set with 4 Silicone Finger Caps, Best Gifts for Kids and Adults
[3D MAT with VARIOUS PATTERNS]✿ 3D Printing silicone design mat includes basic various draw: animal, grids, triangle, rectangular etc. Draw precise perfect patterns and lines, easily create more interesting 3D works and the thickness of the 3D pen pad is appropriate, so most of the 3D pen filament can fit well.
[UNIVERSAL 3D FILAMENT] ✿3D pen filament diameter is 1.75mm, universal compatible with various 3D pens on market, easy to press and fit the 3d pen nozzle inside, will filament not move when working with 3D pen.
[LARGE SIZE & 12 COLORS] ✿Large size 16.4 x 10.9 inch green 3D pen silicone mat with various patterns and lines models. 12 Colors PLA filament diameter is 1.75mm, 10 feet for each color, total 120 feet, safe to use and can produce beautiful without bubbles patterns.
[SAFE & ECO-FRIENDLY] ✿The mat is made of environmentally friendly silicone.Heat resistance up to 270 °C(518° F). Won't stick printing filament can removed from design mat easily. 3D pen filament is made of no paint, non-toxic eco-friendly PLA filament,silicone finger caps can protect your fingers when you need to remove a little filament from the very hot tip of the pen.
[NOTE] ✿The product contains 12 colors of PLA filament refills, pen mat set, 4 silicone finger caps. After receiving the goods, please free to contact us if you have any question.
Bestseller No. 4
3D Pen Mat, 16.6 x 7.7 Inches Large 3D Printing Pen Mat Silicone Basic Template with 4 Finger Protectors, 3D Pen Drawing Tools, Gift for 3D Beginners/Kids/Adults (Blue Set 1)
【Safe Material】 The silicone mat heat resistant can protect your desk from being burned when using 3d pen. Inspire unlimited imagination and creativity to create different kinds of crafts according to your preference.
【Product Detail】These 3D printing pen mats are blue, bright color makes them more attractive. The sizes of the mats are 16.6*7.7*0.08 inches and 11.2*7.9*0.08 inches, they can be chosen according to your actual needs.
【4 Free Finger Caps】Comes with 4 free finger caps, which can supply protection for your fingers from scald with wearing this, especially for the children or the beginners.
【Various Shapes】There are so many various kinds of shapes are available from the drawing template, which can help to make your craft. You can also use these basic templates to assemble more different shapes.
【Practical Gifts】This 3D drawing template makes it easier to make beautiful shapes and lines, suitable for children and adults. It is a practical gift for 3D pen drawing beginners, children and 3D pen artists.