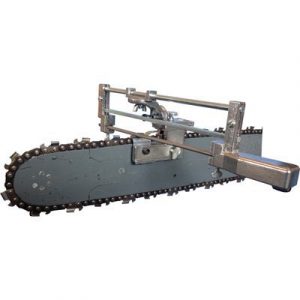 If you own a chainsaw, you understand the amount of sheer power packed in this mechanically powered cutting tool. When the chain wears out, you remain with three options: getting a new chain, taking the chain for re-sharpening at your local vendor, or, find yourself the best chainsaw sharpener and do the work yourself.
Buying the correct chainsaw sharpener that meets all your needs is easy business if you know what you are looking for. There are many things to consider, from the size of your chain down to the different brands of sharpeners that currently fill the market.
We took the initiative to look for some of the best chainsaw sharpeners out there that anyone can use, and we landed on a few. Out of all the hundreds of brands, we were able to narrow down to the best nine that had the qualities we were looking for.
Buyer's Guide
What Is The Best Chainsaw Sharpener For You?
Typically…
Chainsaw blades are surrounded by a chain made up of cutters and depth gauges, (also called rakers). The cutters are the teeth that cut the workpiece, while the rakers are responsible for maintaining the depth which the cutters reach, hence making the process smooth and consistent. During maintenance, the rakers will need occasional filing and the teeth will need to be regularly maintained via sharpening.
To land on the best chainsaw sharpener for your needs, you'll have to consider your preferences and go for what suits you best.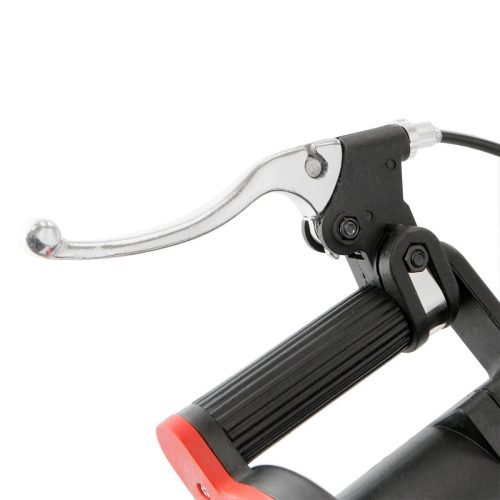 For instance:
If you rarely use your chainsaw, you can go for one of the cheap hand file sharpeners available if you do not mind the additional physical labor. If you sharpen your chainsaw/s regularly and want a more time efficient method, electric bench mounted sharpeners would be your best pick for getting your cutters back to their original condition.
Most of these can be adjusted to achieve different sharpening angles and accommodate different chainsaw sizes. They are also much faster compared to hand files and manual sharpening devices.
Lastly…
You can consider a manual sharpening unit that clips into the chainsaw's guide bar and sharpens each tooth individually by turning a crank. Manual units have the advantages of portability and maintaining the precise sharpening angle, unlike when using a hand file. However, they are more labor-intensive and less efficient compared to electric units.
THE WINNERS
Buyer's Guide: How To Choose The Best Chainsaw Sharpener
Chainsaws are convenient and powerful tools, but only when the rakers are smooth and the teeth are sharp. Otherwise, the chain will take more effort to cut through the wood that it would have otherwise buttered through.
This increases the risks of the chain getting stuck in the workpiece and causing a kickback. Kickback is a fast reverse reaction that jolts the guide bar towards the operator during operation and can be very dangerous. It occurs when the chain touches an object at the nose or tip of the guide bar while in operation, or when the wood pinches the saw chain in the cut–hence getting stuck.
And another thing…
A crisp, sharp chain will reduce the time it takes to make each cut while using less power. By cutting faster, you also benefit by saving money and energy when using a battery or gas powered chainsaw.
Finally…
Sharpening your chainsaw blade regularly reduces the rate of wear and tear with each subsequent use.
Let me explain…
When using a blunt blade, your cuts will be slower and less accurate, the blade will get stuck more often, and give more kickback before getting the job done. This is bound to cause a lot more wear and tear and dull the teeth even further. Keeping your chain sharpened regularly is arguably the most important chainsaw maintenance activity.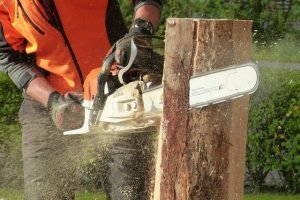 Do you want to learn how to sharpen your own saw?
If you are a newbie at sharpening these chainsaw chains, even thinking about it can seem like too much already, but it's easier than you might think at first. Chainsaw sharpeners are designed specifically to sharpen chainsaw blades using the least mental and physical effort.
Here's what you need to know:
Notable Features To Lookout For In Chainsaw Sharpeners
Type of sharpener – manual or electric?
Chainsaw sharpeners can be broadly categorized as either manual or electric. The manual tools include handheld sharpeners that are portable and straightforward to operate, though they are labor intensive. This makes them great only for occasional use.
On the other hand…
Electric sharpeners are convenient for more frequent use since they sharpen quickly and with very little effort once everything is set-up right.
All that being said:
If you do your cutting at home, an electric sharpener could work best. But, if you move around a lot, portability will be a factor, hence a sharpening kit may be more practical. It's light and does not need electricity to operate.
We will look at the various types of sharpeners in more detail later in the article.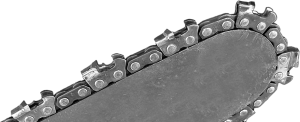 Chainsaw sharpeners have to be the right size to sharpen your chain correctly, and they range from small, medium, to large. Some sharpeners can only sharpen chains with specific pitch sizes while some are designed to sharpen multiple sizes by adjusting from ¼  to ¾ -inch. Most electric chainsaw sharpeners can be adjusted to fit any desired chain size.
Be sure to confirm that the sharpener you pick corresponds to the pitch of your chain.
Mounting and Installation
When working with large sharpeners, it's best to mount the tool on a firm surface for stability and accuracy. If you use your chainsaw frequently, the best move would be to go for a mountable sharpener over a hand-held one due to the improved speed and accuracy.
The amount of money you're willing to spend will largely determine the type of sharpener you'll end up with. Before overspending or underspending, however, you should consider how frequently you plan to use the sharpener.
Yet…
If you only need it for occasional use, then look for the most affordable but quality model. But if you'll use it frequently, it's advisable to get a tool that can handle the heavy use in terms of durability and speed.
Build quality
When buying any product, the quality of the materials used to assemble it should always be a concern. Well-built appliances last longer, are safer, and more accurate.
This cannot be more true for chainsaw sharpeners.
Therefore, check the grinding disks and files to see if they can withstand heavy-duty use and be sure to watch online videos to see how different models perform under pressure.
Chainsaws are dangerous tools because they have razor-sharp teeth and can also be moved around freely.
As a result…
It's important to look for the necessary safety features such as safety guards. Especially when looking to buy motor-powered sharpeners.
If you move a lot when using your chainsaw–such as when working in the woods, or from place to place–the portability of your sharpener will be a huge concern for you. Portable sharpeners are normally lightweight and can be connected to a 12-volt battery in case they need electricity to work.
A Thorough Review Of The Most Efficient Chainsaw Sharpeners:
How to tell when it's time to sharpen your chainsaw
As shown above, there are many factors that work in combination to dull the blade in your chainsaw.
Weirdly…
One of the biggest culprits is the dirt and debris the machine collects when in storage. Irrespective of the cause, blades should be sharpened as soon as they get blunt.
Which begs the question…
How soon is soon enough for sharpening your blades? Here are a few pointers to guide you:
When the chainsaw stops self-feeding
Chainsaws are designed to self-feed, meaning they get deeper with every subsequent cut stroke. When yours stops self-feeding, hence requiring you to apply pressure, then it might be time for sharpening.
When the debris produced is fine like dust
When your blades are sharp, they tend to produce clean and square wood chip kinds of debris. If you notice your saw producing fine debris, like saw-dust, sharpening may do the trick.
When the blades appear shiny
It might look great, but trust me, when your chainsaw blades have a gleam; it's usually a sign of too much wear and tear, which simply translates to blunt teeth. Be sure to look out for this sign and get your sharpener as soon as you notice it.
It does not stop there…
Continued use of your chainsaw even after the signs mentioned above have manifested themselves will lead to faster deterioration of the tool. Take sharpening the blades as part of the chainsaw's regular maintenance and it will serve you for a long time.
As with any task, you'll need the knowledge and the right tools to do the job right.
What you need to know:
Part of keeping a chainsaw effective and well-maintained is by sharpening its chain whenever it's required. This will ensure your saw is working to its full potential, will not undergo unnecessary wear and tear, and will also be safe to use.
Regular sharpening also prolongs the lifespan of your chainsaw by not overworking the engine, saving time and lowering the risks of jamming, kickbacks, and flying debris. While there are different ways to achieve this, the most efficient one is using dedicated chainsaw sharpeners.
These machines come in all shapes, colors, and sizes, ranging from manual and electric sharpeners to hydraulic ones and even more. Therefore, you can find anything that fits your needs without making a dent in your wallet. Chainsaw sharpeners can be categorized as follows:

Handheld chainsaw sharpeners
As the name suggests…
These are simply small, rounded, handheld files designed to sharpen one chainsaw tooth at a time by running it over the tip of the chain. Today, there are many small and cheap electric sharpeners available, rendering most hand files useless since they take too much time and effort to complete the job. However, they still come in handy, especially for those in need of mobility, not to mention the affordable prices.
When using files, keep in mind different chains require file sizes of different diameters. Most manufacturers sell these in sets. Check to see if the files match the pitch of your chain. Also, it's difficult to get a uniform sharpening on all teeth on the blade due to its manual nature. Users are advised not to distort the cutting angles of their machines while using hand files.  
Bar mounted guide chainsaw sharpeners
Bar mounted chainsaw sharpeners are kind of between the handheld and electric models, in that they are not powered by a motor, but they are more efficient compared to hand files.
These tools fit onto the bar guide on your chainsaw, so the teeth can be run through for sharpening by using knobs that can set both the filing angle and depth.
Most will need a flat and stable mounting platform for the best performance such as a table, wall, or bench. Once set up, most bar mounted sharpeners have a crank system that moves the chain through the sharpener.
It's true…
These type of sharpeners are very efficient and accurate compared to hand files and they cost less than electric models. However, they still need to be mounted on another surface and are more labor intensive compared to electric models. Learn more about Electric Knife Sharpener and Electric Pencil Sharpener.
Electric chainsaw sharpeners
The electric chainsaw is the fastest, more modernized version of the chainsaw sharpener. This type is loved by professionals and enthusiasts alike due to its speed and ease of use. All you need to do is hook it to your chainsaw bar guide, make the necessary adjustments, and power it on.
Most electric sharpeners are designed to sharpen a range of different chain sizes. This is a huge advantage over the handheld and bar mounted models. It's also easy to get a uniform and accurate sharpening every time with these sharpeners.
Therefore…
If you need to sharpen your chainsaw regularly, you cannot go wrong with a good electric sharpener.
However, due to how they are built and how they work, electric sharpeners should be used while wearing the correct protective equipment such as helmets, ear protection, goggles, and gloves. These sharpeners also tend to be more expensive on average compared to other types, but not always.
The Best Chainsaw Sharpener Award Goes To…
Can you really afford to not own a chainsaw sharpener if you already own a chainsaw machine?
I think not.
Fortunately, we found the best chain sharpener we think will work great for most people. After all our testing and research was over with, here's the sharpener that wowed us the most: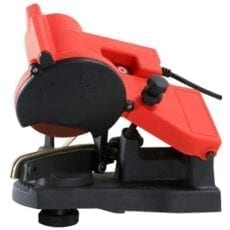 Best of the best
Buffalo Electric Chainsaw Sharpener
When the chain of your chainsaw wears out, you only have three options: getting a new chain, taking the chain for re-sharpening at your local vendor, or, find yourself the best chainsaw sharpener and do the work yourself.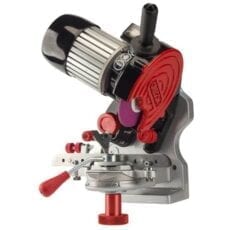 Most Buying
Oregon 410-120 Bench or Wall Mounted Saw Chain Grinder
When the chain of your chainsaw wears out, you only have three options: getting a new chain, taking the chain for re-sharpening at your local vendor, or, find yourself the best chainsaw sharpener and do the work yourself.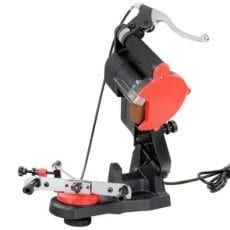 Best for the money
XtremepowerUS 85W Mini
When the chain of your chainsaw wears out, you only have three options: getting a new chain, taking the chain for re-sharpening at your local vendor, or, find yourself the best chainsaw sharpener and do the work yourself.