Buyer's Guide to Mattress Toppers for Back Pain
What is a mattress topper for back pain?
Just to be clear…
A mattress topper for back pain is NOT just a regular mattress pad, protector, or encasement. It's also not a body pillow for hugging, although they're also great sleep aids for alleviating aches and pains.
So, what is it?
A mattress topper for back pain is a thick pad you sleep on top of that supports and cushions your body. It does so by keeping it aligned in order to prevent strain on your back.
You should be able to sleep in your preferred position–back, side, or stomach–without causing pain in your back (or anywhere else in your body).
What else can it do?
Depending on the model, a mattress topper for back pain can improve the support of a mattress that's too soft or adds softness to a mattress that's too firm. The end goal is a comfortable night of sleep and pain-free start to your morning.
Why should I use one?
Good question!
Is a mattress topper for back pain really necessary?
Or is it just another extra accessory that won't help?
Why not just purchase an entirely new mattress?
Even if you feel the beginning twinges of back pain–from sleeping, a non-sleeping injury, or just life in general–you may want to nip it in the bud. One way is by investing in a mattress topper to ease back pain–at least during sleeping hours (which also, of course, affect how you feel during waking hours).
Reason 1: To prevent, ease, and hopefully alleviate back pain.
A good mattress distributes a body's weight evenly across the mattress' surface.
"A well-designed mattress often possesses the ability to minimize high-pressure points [e.g., back, shoulders, and hips] applied onto the body." If your mattress doesn't do this, look into a mattress topper that conforms to, cushions, and supports your body to relieve these pressure points.
Reason 2: To protect the mattress.
As we mentioned, a mattress topper for back pain isn't a mattress cover. Nonetheless, it does provide a layer of shielding against external elements (e.g., dust, dirt, etc.).
Reason 3: To refresh an old mattress.
If your aging mattress is salvageable and not so worn out to be harmful, the mattress topper can help it last longer or prolong its lifespan. A topper can add firmness to a mattress that's become too soft.
Reason 4: To keep the sleeper cool.
Some mattress toppers are designed to reduce heat generated by sleeping bodies. While some contain cooling gel, others are composed of layers with holes to allow ventilation and air circulation.
Ideally, these features absorb and disperse body heat for comfortable, sweat-free, and ultimately quality sleep.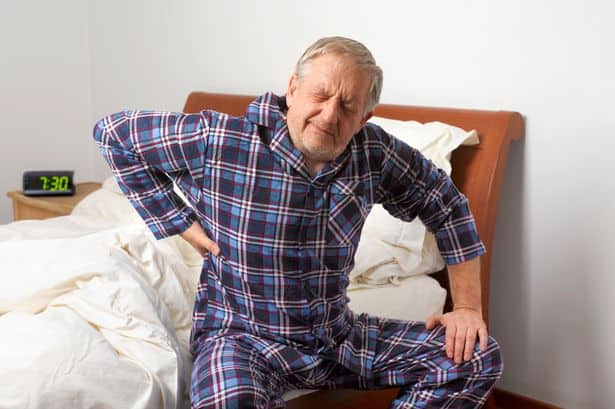 What To Look For In A Mattress Topper For Back Pain
Several factors to scrutinize when examining different models include:
Thickness: Most mattress toppers designed for mitigating back pain are between two and four inches thick.Be careful: don't automatically assume thicker is better. While a thicker mattress topper may provide more support when you lie on it, it can also either sink/flatten easily or be too solid to conform to your body's shape.Likewise, thin toppers aren't necessarily worse. You just also need to pay attention to the next factor, the topper's density…
Density: Mattress toppers densities range from two to five or more pounds per cubic foot.Toppers on the low end of density (e.g., two to three pounds per cubic foot) feel plush and comfy but may not provide enough back support for your back, which can exacerbate any pain.Higher density (five pounds or more per cubic foot) mattress toppers can feel rigid and may prevent your body's aforementioned high-pressure points (and protruding parts like the buttocks) from sinking to allow proper spine alignment.Aim for medium density toppers, which distribute body weight and relieve pressure points.
Tips for Reducing Back Pain While Sleeping
Even after finding the best mattress topper for your back, maintaining a proper sleep position that keeps your ears, shoulders, spine, and hips aligned is important. Try these tips from the University of Rochester Medical Center to maintain good posture in bed when sleeping:
On your back: Place a small pillow behind or under your knees to reduce stress on your spine and support the natural curve in your lower back.
On your stomach: Put a flat pillow under your stomach and pelvis area to keep the spine in alignment. Also, use a flat pillow for your head or sleep without a pillow.
On your side: Place a firm pillow between your knees. This prevents the upper leg from pulling the spine out of alignment as well as reduces stress on the hips and lower back. Pull your knees up slightly toward your chest. You could put a rolled towel or small pillow under your waist to help support your spine.
In all cases: Always make sure the pillow under your head is at the right height/thickness to keeps your head, neck and spine aligned.
To see a slideshow of the three sleeping positions, visit this page by the Mayo Clinic.
Filling gaps between your body and the mattress with a pillow
Moving the entire body as one unit (i.e., keeping ears, shoulders, and hips aligned; not twisting or bending at the waist) when turning in bed
Pulling in your belly, tightening your core, and pulling your knees toward the chest when you roll
Time to get up!
For getting out of bed, the National Sleep Foundation advises, "Avoid sudden, jerky movements and also try not to bend forward from the waist when getting out of bed, as this can hurt your back. Instead, roll over onto your side and push yourself up using your hands while swinging your legs over the side of the bed."
Up and at' em!
Also, regular exercise helps to strengthen and stretch your back. Make your core stronger and more flexible to reduce the chance of back pain that disturbs your slumber. Work those abs!
Grab a trampoline or get real spicy and try out a Zumba class.
Feelin' fancy? Two words:
Repurposing Old Mattress Toppers
Once your mattress topper has outlived its usefulness, don't just throw it out. Disposing of the foam topper in the garbage can be detrimental to the environment.
First:
Check to see your local recycling center accepts memory foam products or…
Second:
Look for mattress disposal site by Bye Bye Mattress, a program of the Mattress Recycling Council.
Or …
Third:
See if your manufacturer takes back used foam bedding through buy-back or disposal agreements.
If you wish to repurpose your old mattress topper, here are some clever and practical creations to try:
Pet beds
Seat cushions for patio furniture, lawn chairs, old sofas, loveseats, etc.
Gardening knee cushion
Padding for wheelchairs (inquire with local nursing homes and rehab centers)
Ottoman or footrest topping
Neck pillow (cut and rolled up)
Lumbar support pillow for cars and desk chairs
Bed or body pillow
Poolside cushions or a bath pillow (covered with waterproof fabric, like an old vinyl tablecloth)
Padding under sleeping bags, especially outdoors
Beanbag chair or toy stuffing
Stuffing under costumes
Bath or dishwashing sponges
Packaging material
Finally,
If your topper is still in good condition (you just no longer need it or upgraded to another model), donate it to a homeless shelter or charity.
Grab a Great Night's Sleep!
Sleep isn't a small matter–you need to slumber comfortably and wake up refreshed and pain-free, ready to start your day! Selecting the best mattress topper for back pain will help prevent and alleviate aches and strains. Just be sure to investigate the model's specifications as well as user feedback to find the right one for you.