Buyer's Guide to Bunk Beds
Why buy a bunk bed? People like bunk beds for a myriad of reasons:
●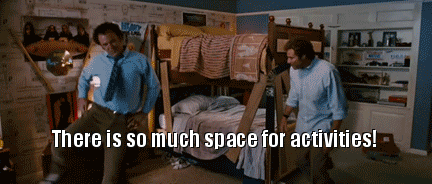 to give siblings sharing the same room more space and privacy
● to save space in homes like apartments, townhouses, etc.
● to provide houseguests (if several are visiting at the same time) more places to crash
● because bunk beds are fun!
Let the fun begin!
First, ask yourself a few questions to determine generally what kind of model to investigate:
1. Who will have the privilege of snoozing in the bunk beds?
Will kids be occupying the bunk beds? If so, how old are they? How long will they share a room? When they outgrow the bunk-bed arrangement, can you separate the two levels into individual, freestanding beds? Or will houseguests (of any age) sleep in the bunk beds?
2. Where do you plan to put the bunk beds?
Measure the space where you plan to set up the bunk beds before you research models. Then, you already know which ones would fit. Don't forget to consider ceiling height: sloped ceilings and ceiling fans can make placement tricky.
3. How important is style?
Think about how important it is the bunk bed fits in with surrounding décor. If young children are going to use it, will its style still suit older kids and teenagers? If the bunk bed unit will be in the guest room, perhaps you'll want a more elegant style.
Factors to Consider
After answering the above-listed questions, you're ready to dive into the sea of bunk-bed designs, sizes, and features. When investigating different models, consider these factors:
Safety
Bunk beds are fun, but they can be dangerous. The American Academy of Pediatrics (AAP) advises that children under the age of six not sleep on the top bunk. At any age, the person occupying the upper bunk can fall, either from the top bunk itself or while climbing up to or down from it. The person on the bottom bunk could be hurt if the upper level collapses.
So, what does this mean?
If your kids aren't much over six years old, look for bunk beds with an upper bunk that's not too high. Also, scrutinize each model for a strong and sturdy, well-built frame.
Construction Materials
Most bunk beds are made of wood or metal. You'll want strength and durability. Both wood and tubular metal frames fulfill these qualities. In our research, however, we found users prefer wood over metal for longevity. Also, users note wood beds tend to be less slippery and cold than a metal bed. Both factors are important for safety and comfort.
How do I look?
For buyers concerned with style, wood again seems to win over metal. Manufacturers create bunk beds in popular and elegant wood-based styles, like Shaker, Mission, etc., which may suit guest rooms.
The bottom line…
The advantage of tubular metal frames, nonetheless, is their tendency to be more economical than wood frames. And while metal may not offer the same classic look as wood does, we've seen some cool-looking, curved metal designs.
Size
First, decide who'll sleep in the bunk beds. Second, measure the space where you plan to place the bunk bed. Now you're ready to choose among the various bed size and mattress combinations. When most people hear "bunk beds", they think of:
Twin on Twin: one twin-size mattress/bed sits atop another twin-size mattress/bed. This size is great for kids.
Two less traditional but increasingly popular sizes include:
Twin on Full: one twin-size mattress/bed is stacked above a full-size mattress/bed. This combination may be right for two children of different sizes and ages. The younger kid sleeps on the top bunk while the older kid snoozes on the bottom level.
Full on Full: one full-size mattress/bed is positioned atop another full-size mattress/bed. Understandably, this largest model is the most expensive and requires the most space. Many parents don't want to spend the money or devote so much space to a bunk-bed unit, so many stick with the twin-on-twin or twin-on-full option. The full-on-full size, though, may be most comfortable for adults.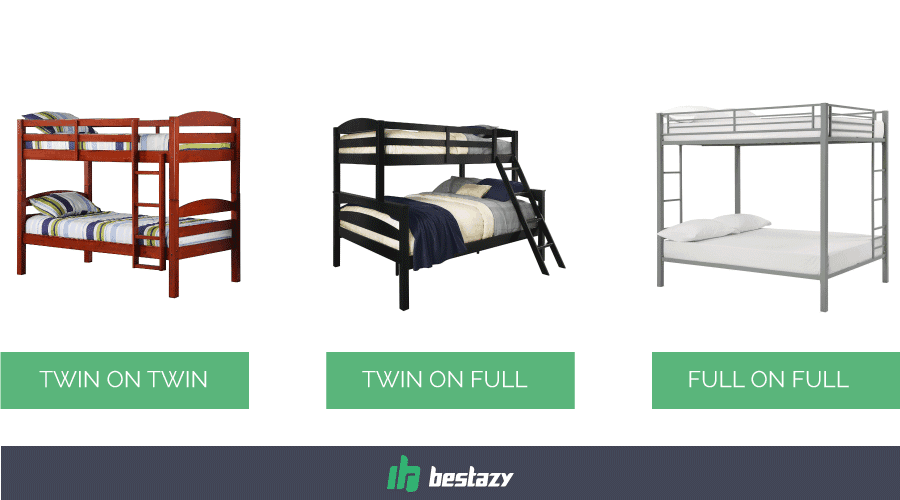 Accessibility to the Top Bunk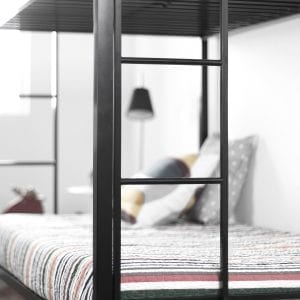 The safest way for a person to ascend to the higher berth is by using a ladder or stairs–not shimmying up one of the side posts or climbing up in the middle of a mattress via the guardrails.
Some models use detachable ladders while other have ladders built into the frame. Even ladders themselves come in different shapes. The traditional straight ladder either runs straight up and down or is angled against the bed frame. The slightly curved ladder offers a more "mod" look.
Climbing the stairway to heaven …
Instead of a ladder, some bunk beds have stairs connecting the ground floor to the upper level. Inside of climbing rungs, occupants simply walk up the steps.
While a staircase can make the bed's overall frame larger and heavier, stairs may be easier, safer, and more comfortable for people (especially young kids, adults, those with "ladder phobia", etc.) to use.
Finally, some staircases have storage areas beneath them, like drawers. And who couldn't use a little extra storage space?
Pretty cool, huh?
Storage Spaces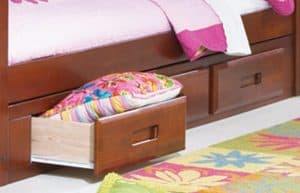 Speaking of storage, you can save even more room real estate by selecting a bunk-bed unit that multitasks with drawers, shelves, a trundle bed, etc. You can store clothes and other items as well as provide a place to crash for another person if needed.
You're now armed with the knowledge of what you need in a bunk bed, as well as what to look for. Read on to learn about the nine great bunk bed models.
Reviewing The 9 Best Bunk Beds On The Market Today
Safety First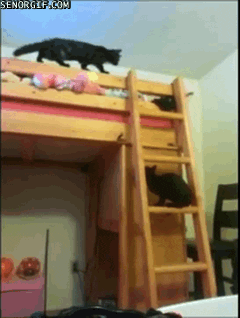 Above all, remember safety should be the top priority in bunk-bed usage. According to the National Institutes of Health, between 1990 and 2005, more than 500,000 children and adolescents under the age of 21 received emergency room treatment due to bunk-bed-related injuries. Often resulting from falls, injuries included lacerations, contusions, abrasions, and fractures. The most frequently injured body parts were the head and neck.
How do you protect your family from an injury?
The American Academy of Pediatrics suggests:
Expert Safety Tips
Position beds in the corner of the room. Surrounded by two walls, occupants will be less likely to roll out of bed.
Install guardrails along the upper level. Securely attach the ladder to the frame and place night light nearby for better visibility.
Don't let children under the age of six to sleep in the top bunk.
What to do next?
Before youngsters clamor onto the bunk beds, sit down and talk to them about what they think they should and shouldn't do when. See what they come up with and, if needed, remind them of these safe behavior rules.
No jumping on the beds (both levels)
No leaping from the top bunk onto the bottom bunk
No more than one person on the top level at one time (this may be fun, but more than one person may exceed weight restrictions)
Bunk Bed Safety Regulations
According to the US Consumer Product Safety Commission (CPSC), by federal law, today's bunk-bed manufacturers must comply with the Consumer Product Safety Improvement Act of 2008 (CPSIA). The rule "seeks to prevent the risk of deaths and injuries of children from being trapped between an upper bunk and a wall, in openings below the guardrails, or in openings in the ends of bunk beds."
Sections of the rule stipulate:
Bunk beds must at least two upper bunk guardrails, at least one on each side.
Specific lengths of guardrails running along each side of upper bed.
How guardrails must be attached
The tops of the guardrails must be no fewer than five inches above the top of the mattress
Minimum sizes of openings on headboards and footboards to prevent neck entrapment.
Maximum allowable amounts of lead in paint and parts for children's bunk beds
For a full list, see CPCS's "Bunk Bed Business Guidance sheet.
Wait, that's not everything…
Makers and importers of children's bunk beds must adhere to children's product safety rules to earn Children's Product Certificate. Likewise, manufacturers and importers of adult bunk beds must comply with consumer product safety rules to receive a General Certificate of Conformity (GCC). Finally, the American Society for Testing and Materials, International (ASTM) has its own voluntary Standard Consumer Safety Specification for Bunk Beds.