THE WINNERS
Before you do anything else:
What's the climate like where you live?
If you were to ask yourself only one question before you went and bought an evaporative cooler, it should be this one. It's because this type of device doesn't work the same everywhere.
For further information and tips on determining whether an evaporative cooler is a good choice for your climate, check our What's the climate like where you live section.
It's that important.
Nobody wants to get stuck with a cooling device that doesn't do its job right. Unfortunately, to avoid this, you'll need to put some effort into the process of choosing one. There are plenty of amazing evaporative coolers out there, but the fact they're well designed and fully functional doesn't mean they're the right choice for you.
You're probably thinking It shouldn't be that hard to pick a cooling device.
Let me just say this…
We thought the same thing when we started working on this guide. But turns out, it's bit more involved than you'd think.
So to help you avoid making a mistake with evaporative coolers, we bring you all the information you need, along with some questions that should help you make your decision.
What Makes Up The Best Evaporative Cooler
What are evaporative coolers really and how do they work?
You already know they're a type of cooling device, which means their main purpose is lowering temperature. And that's exactly what an evaporative cooler does, but there's still a big difference between them and other devices of the same type. It's in the way they achieve their purpose: the process of lowering temperature.
Now:
An evaporative cooler is a device that uses water for cooling purposes. As we'll see in the following paragraphs, not all of them boast the same features, but this is the one thing they all have in common.
You fill their water tanks or connect them to your water supply line and almost immediately, they start blowing out cooler air. This is called evaporative cooling.
Here's how it works:
The water from the cooler's tank soaks the pads located within the device. These are followed by a fan that sucks the hot air from behind the wet pads. While it goes through them, the air automatically becomes cooler. From the other side of the fan, you start feeling a welcome breeze, but the air gets more humid, too.
Fan VS Evaporative Cooler VS AC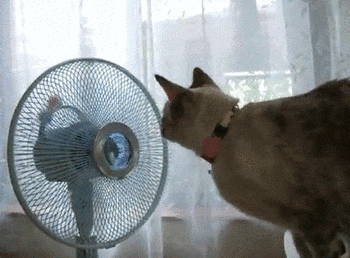 There's more than one way to keep yourself cool during the summer. Besides evaporative coolers, other commonly used devices include fans and AC units. If you haven't even considered them, now's the time to do so. You might end up realizing an evaporative cooler isn't the best choice for you.
So the question is:
What are the differences between these three types of devices? In other words, when should you choose a fan, when an evaporative cooler, and when an AC unit? Let's check them out one by one, so you'll be able to browse their features more easily.
A fan has obvious limitations – you don't have to be an expert on cooling to know that it'd be a lot less powerful than any evaporative cooler or AC unit. However, if you live in a tropical climate, it might just be the best choice for you, at least according to House Energy. Since you're already struggling with high levels of humidity, you don't need an evaporative cooler to raise them even more. And using AC would be way too expensive, since it'd have to be running all day long, while using a fan is the cheapest possible option.
Evaporative coolers humidify the air, which makes them an excellent choice for those living in hot, dry climates. But that also means they shouldn't be used in places with high levels of humidity. They need the circulation of fresh air to operate, meaning they'll never make it feel stale. One of their biggest advantages is lower energy consumption than that of AC units, which makes them cheaper for the user and safer for the environment.
AC units spend a lot of energy to keep you cool, which translates into a roughly 50% higher cost and greater environmental impact. Also, you can't keep the windows open while they're running, which might be a big downside if you're living in an already dry climate. But if the air in your space is both hot and humid, an AC unit could be the way to go.
Types Of Evaporative Coolers
You've read about the differences between a fan, an AC unit, and an evaporative cooler, and it still seems the latter is the best choice for you. However, you still need to choose between different types of evaporative coolers.
Here's what you should know:
Basically, there are three types of evaporative coolers: industrial, residential, and window-mounted.
But don't let the names fool you into thinking you already know exactly what you need.
Each type has its own set of pros and cons, and you should take them all into account before making your final decision.
What does CFM stand for?
According to Webopedia, CFM stands for cubic feet per minute. It measures the speed at which air flows out from a cooling device. The higher the speed, the more power the device has.
When it comes to evaporative coolers, units with higher CFM numbers are usually meant for cooling larger spaces. This, however, doesn't mean they're a better choice for everyone. For tips on choosing a cooler with the right CFM number, check our Are you trying to reduce energy consumption section.
Industrial evaporative coolers are usually bigger and heavier, as well as more difficult to move around. This is because they rarely feature rollers or any other type of casters used to transport heavier items. However, this type of cooler also boasts a higher CFM, making it more suitable for cooling larger areas and outdoor spaces.
Most residential evaporative coolers boast both better-looking and lightweight design. They're usually equipped with rollers, which makes it easier for you to move them around. Since their CFM is lower, they're only suitable for cooling indoor spaces. You'll find that the majority works best in small to medium-sized rooms.
Window-mounted evaporative coolers shouldn't be used for industrial purposes since they're usually as powerful as residential units. Although they're efficient in cooling small to medium-sized spaces, you won't be able to move them once you're done with the installation process.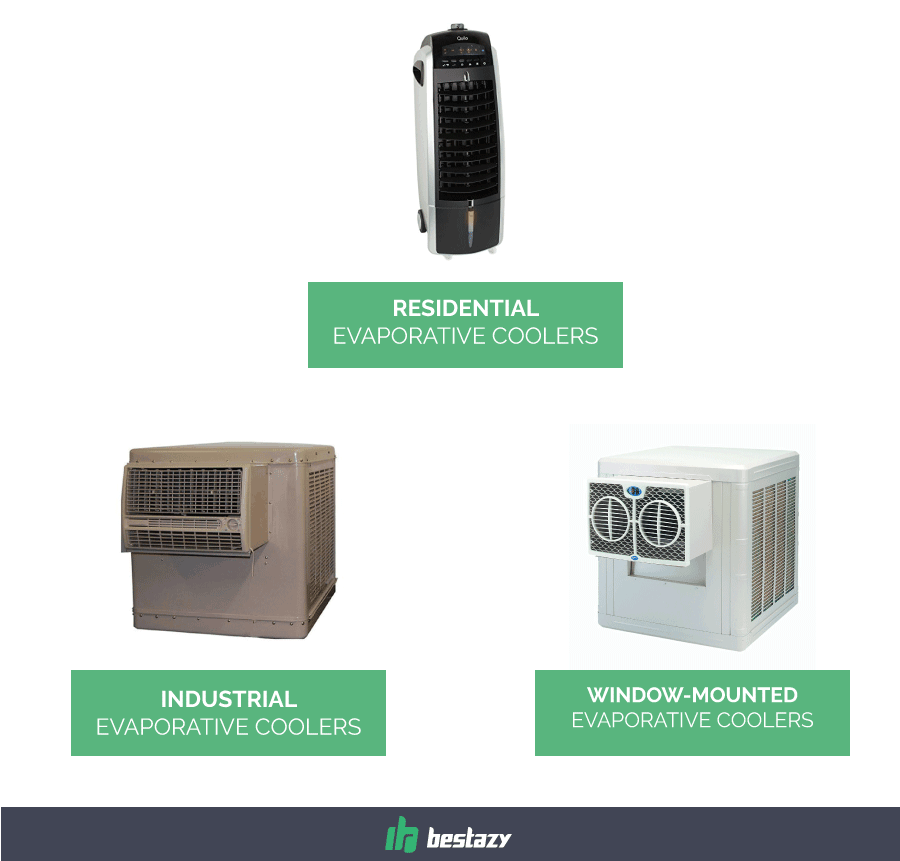 There's one upside, though.
Most of them are very easy to mount and come with all the necessary tools.
What's the climate like where you live?
Evaporative coolers are also known as swamp coolers, but it's very important not to let this choice of words fool you. When someone says 'swamp cooler', it's only logical to think of an appliance used to cool hot, humid areas. After all, those are the defining characteristics of swamps, right?
But a swamp cooler simply wouldn't work in those conditions. As we said before, it's meant to be used in hot, dry climates. This is because it not only cools but also humidifies the air that surrounds it. It's also the main reason why you should take your climate into account before opting for this cooling method.
What does that really mean?
Sure, the part about your climate being hot couldn't exactly be seen as a source of confusion. After all, if you're in search of a cooling method, it's hot enough for you to use an evaporative cooler.
But how can you tell if your climate is dry enough?
Any area with average humidity levels of 60% or less is dry enough for evaporative coolers. If you don't know where to place your home, do some research – it shouldn't take more than a couple of minutes. In general, however, it's the west half of the US that falls into this category.
For what purpose would you use your evaporative cooler?
The purpose of every such device is to cool the space in which you keep it, but different types of evaporative coolers excel in different tasks.
Here's the deal:
If you're looking for a cooling method for a specific room in your home, and don't plan on moving the unit at all, get yourself a window-mounted evaporative cooler. These are very efficient, easy to install, and you don't have to think about them much once you mount them.
It's a different story if you're looking for something that will cool you, no matter where you are in your home. You might need your cooler running in your study throughout the morning, but would like to be able to move it to your living room in the evening. In that case, it might be best to opt for a lightweight residential evaporative cooler with rollers.
On the other hand, if the space that needs cooling is a garage or a backyard, you'll need something with more power. Since you wouldn't have to move it around, an industrial evaporative cooler should do the trick. These don't have rollers, but they're efficient and quite powerful.
Would you move the unit often?
Your choice of evaporative cooler should also depend on whether you plan on moving it around or not. There are two different options if you don't, and one if you do.
Here they are:
If you'd like to be able to move your cooler around, steer clear of window-mounted and industrial units. Residential evaporative coolers are the way to go since they're the only ones with rollers.
In case you don't plan on moving the unit, you can go with both window-mounted and industrial evaporative coolers. You can place the latter anywhere you want, but the former, as the name itself suggests, need to be mounted on a window.
Would you be able to do the refilling of the water tank?
Let's say you need to keep a space cool even when you're not in it. The thing about most evaporative coolers is that their water tanks need to be refilled every couple of hours. This might prove to be very inconvenient for you.
But guess what:
There are coolers that don't need to be refilled at all. True, they're all industrial units, but that doesn't necessarily mean it wouldn't be a good choice for you. Instead of filling its tank with water, you'd only need to connect it to your water supply. It'll draw just the right amount of water to keep itself running, and you won't have to think about it at all.
Do you care about size?
Evaporative coolers come in different sizes, which is why you shouldn't buy one without checking its dimensions first. Take into account how much space you can spare since there's a big difference between industrial and residential units. And even among the latter, there are both more robust and more compact coolers.
Does it matter how noisy the unit is?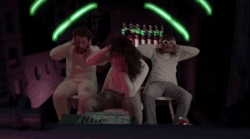 This might not matter to you all that much if you're looking to cool a larger space. However, if you live in a small apartment, the amount of noise produced by your evaporative cooler might make a big difference. Make sure to look for notes on this when going through our detailed reviews of individual products. But what if it's the more aggressive air current produced by the device that bugs you?
Here's where it gets good:
Some coolers feature sleep modes that help you notice them less, even when lying in bed at night. They do it by imitating the way air flows in nature. This is especially useful for families with babies.
Are you trying to reduce energy consumption?
If the answer is yes, don't even think about buying an AC unit. Evaporative coolers spend so much less energy it makes comparing the two laughable. However, there is something you can do to cut back on your expenses even if you opt for a cooler. And it involves choosing a unit with the right CFM.
Do this:
Multiply the number of square feet you need to cool by ceiling height, measured in feet. Divide the number you get by 2, and you'll get the CFM.
If you do that:
You'll avoid wasting energy trying to cool a space with a device that's just not up for the task. You'll also avoid wasting money on a device with more power than you'll ever need. Instead, you'll get the ideal CFM for the space you want to cool.
Special Features
So far, we've mostly been talking about the general characteristics of evaporative coolers. However, there's so much more to them than that, at least when it comes to residential units. That's why we're going to take a minute to give you a quick tour of some of their most common special features.
Let's check them out: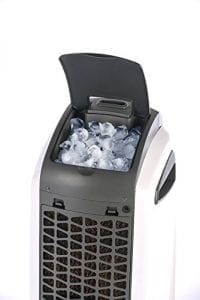 Some coolers can only be controlled manually, but there are plenty of those with remote control options and LED displays. If you opt for one of these, you'll get a controller that will enable you to turn on and shut down the device remotely. Of course, you'll also be able to change its settings. This might really come in handy to those living in larger spaces.
When you want it to be faster at lowering the temperature, you can feed your cooler ice. But not every unit has a separate ice compartment. These help improve the cooler's performance, at least when it comes to speed. If you like the sound of that, make sure to look for this feature when going through our detailed reviews of individual products.
Think you'd be annoyed by constantly having to check the level of water in the cooler's tank? The solution is very simple – look for units equipped with water-level sights. These are openings in the exteriors of coolers that let you see how much water there's left in the tank without having to open it.
All evaporative coolers make the surrounding air more humid, and there's no way around that. However, some of them allow you to control the levels of humidity in the space they're cooling. You do this with the help of humidification knobs with multiple settings.
Some coolers come with specially made air filters. Apart from cooling the air that goes through them, they also eliminate dust and many other harmful particles it may contain. This makes the air you breathe a lot cleaner.
Worried about forgetting to turn your cooler off? It's not a real issue, at least if you invest in a unit that's equipped with a timer. These allow you to set your cooler to keep running for a specific length of time, before automatically shutting down.
Some coolers can be set to work in a pre-programmed sleep mode. They don't always go by that name, but they all have one thing in common. Imitating the natural flow of air, sleep modes make the process of cooling less obtrusive. Since this is especially important during the night, they're usually explained as a feature that improves the quality of sleep.
Your Best Choice If…
…you want something energy efficient:
Portacool PAC2KCYC01 Cyclone 3000 Portable Evaporative Cooler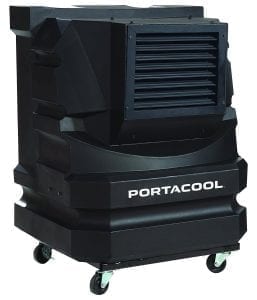 Do you want an evaporative cooler that's efficient and doesn't use much energy? We've got one that fits the bill. The Cyclone 300 from Portacool is a high-quality cooler which is resistant to rust and cannot leak. It's extremely energy efficient – the pump and motor function at 5.6 amps, and it uses only 120 volts of power, which is less than half of what other, smaller units tend to use.
It also doesn't use refrigerator gas and has a cooling capacity of 700 square feet. It features high-quality evaporative pads – KUUL Pads with media. This means you can use tap water to run it and the air produced will be 10 to 25 degrees cooler.
For a cooler that can efficiently cool down a room of a medium to large size, it really doesn't use up much power. So if you're going for maximum energy efficiency, this cooler is a great choice.
…you want something small and stylish:
Luma Comfort EC111B Portable Evaporative Cooler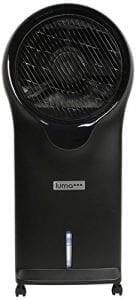 The Luma Comfort EC111B is a great choice for small rooms. Made by Luma Comfort, this quality cooler is sturdy, well-designed and aesthetically pleasing. This unit is a portable one, so you don't have to attach it to a water supply line – it has a completely removable two-gallon tank which is easy to remove, clean, and fill, which makes the unit very low-maintenance.
This cooler also features rollers, which makes it easy to move around. The fan on the cooler has three speeds and wind modes, including oscillation, and a handy remote control feature. It also features a user-friendly display which is easy to use and read.
Finally, what could be said is the best feature of the Luma is its stylish design. We have found that, when choosing by design, this cooler is many people's top choice. It can fit any interior decorating style and isn't an eyesore, like some other coolers out there. So if you have a small space and want something that looks stylish, this cooler is the right choice.
…you want something powerful:
Phoenix Manufacturing BW4002 Evaporative Window Cooling Unit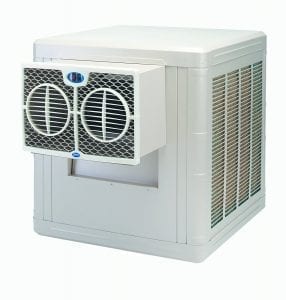 The Phoenix BW4002 is a good choice for medium to large spaces. It's durable and reliable, and the installation is very simple. So if you want a cooler that can cool down a large room in no time, this one is a good choice.
When it comes to power, this unit has a CFM of 4,000, which is a lot more than most other coolers out there. It's designed to provide more cooling power for less, so it gives you more CFM per watt than other coolers. Basically, with a CFM that high, it can cool down a large room in a matter of minutes!
It also features a MIRROSCOPIC blower shaft finish process that yields 90% more than the standard finish most coolers use. Basically, this unit is quiet, powerful, and gets the job done. So if you want quick cooling at a 28% lower energy consumption, the Phoenix BW4002 is a good choice.
…if you want something quiet:
Quilo QE1SKS 3in1 Quiet Low Energy Portable Tower Fan with Evaporative Cooler & Humidifier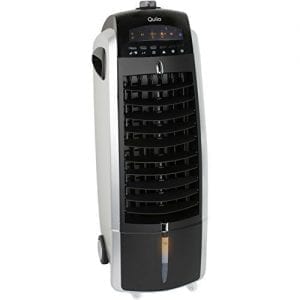 If you want the convenience of having an evaporative cooler, but can't stand the noise they make, the Quilo QE1SKS might be the right choice for you. Many people would like a cooler room, but detest the noise and humming sounds coolers make. But we've found perhaps the quietest cooler on the market!
This cooler is great for small spaces, has three cooling speeds, and an automatic off timer. It features three separate appliances in one – a fan, an evaporative cooler, and a humidifier. The 1.85-gallon water tank can easily be removed, and it features a filter that prevents dust and other particles from entering the tank.
You can use it to mimic a lovely natural breeze in your home – without the usual noise that comes with it. The fan is incredibly silent when running in a normal mode, but it also has a quiet mode that uses as little as 7.4 W. Our research has found that it barely makes a sound! So if you want something quiet but efficient, this is the one.
…you want something functional and easily adjustable:
Honeywell 525 CFM Indoor Portable Evaporative Cooler with Fan & Humidifier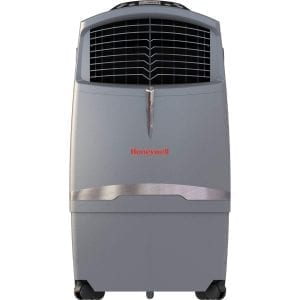 Whether you're looking for lower temperature, higher humidity, or a breeze in your home, the Honeywell 525 CFM has it all. It's meant to be used in small to medium spaces and it has a CFM of 525, as well as a cooling capacity of 320 square feet. It's amazingly functional and can easily be adjusted to fit various needs – perfect for a home with people of different preferences living in a single space!
This unit has three functions in one compact appliance – a fan, a cooler, and humidifier. The fan can be adjusted to imitate natural wind, the cooler provides a powerful airflow while using little power, and in the winter you can easily add humidity to any room with the touch of a button.
This unit is easily adjustable – it features three cooling speeds, including Sleep Wind Mode. The humidity can be adjusted by simply turning a knob. There's also an off timer, a low-water-level alarm, and a full-function remote control.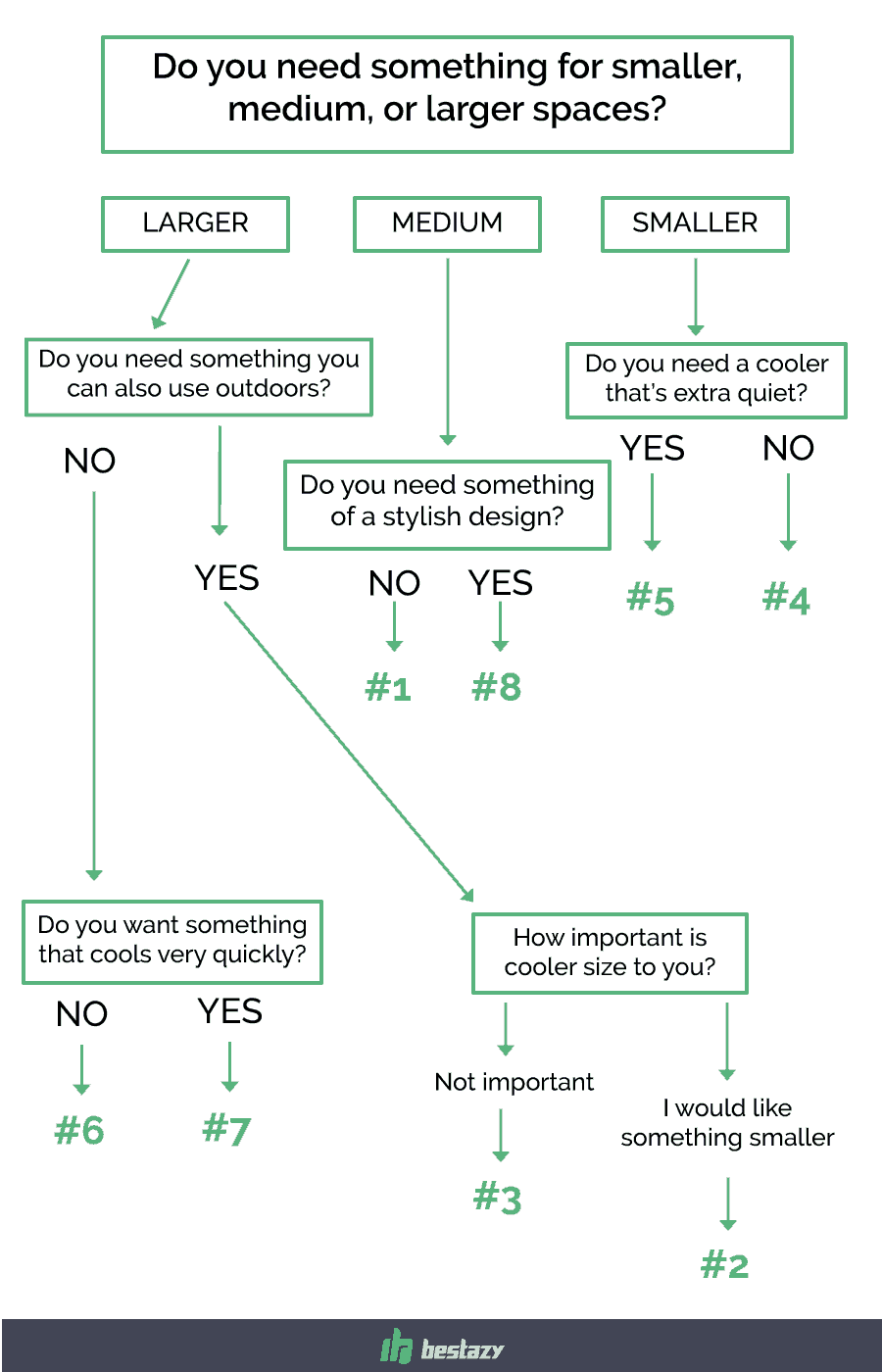 Getting The Most Out Of Your Evaporative Cooler
Once you're done picking out your cooler, you can move on to making sure you get the most out of it. Proper installation and maintenance can make a world of difference when it comes to the way your unit performs. Check out the following tips and prolong the life of your new cooler. We'll start from the beginning – the process of installation.
Installing an evaporative cooler
Did you end up choosing a cooler that needs to be mounted on a window? Luckily, they all come with instructions and all the tools you might need to install them. However, that doesn't mean you won't benefit from someone leading you through the process. In any case, you'll need some tips on how to connect your new cooler to your water supply line.
Here it goes:
According to Hunker, a DIY installation shouldn't give you much trouble. But before you start, make sure you have everything you need at hand. This includes not only the kit that came with the product, but a drill, level, and wrenches as well.
Step 1
Take out and assemble the support brackets following the instructions provided by the manufacturer. Using your drill and parts from the installation kit, mount the brackets on the outside wall of your home. Do it so that they're able to support the back side of the cooler while it rests on the windowsill. Make sure to use the level and to properly tighten all the parts.
Step 2
Lift the cooler itself and lay it on the windowsill. The vent should be resting on the support brackets. Follow the manufacturer's instructions to attach the unit to the brackets. Once again, make sure everything's fixed in place.
Step 3
Go to your water supply line and turn the water off. Using a wrench, remove the valve to replace it with the one you got as part of the installation kit. It should have an opening that's a quarter of an inch wide. Fix it onto the water pipe, making sure it's properly tightened.
Step 4
Get your newly installed water supply line to the cooler. The part you're supposed to connect to the unit should have a tightening nut and a compression sleeve. You'll find the cooler's connection opening at the back of its housing. Thread and tighten the nut using your wrench. As you do that, the compression sleeve will adjust itself automatically.
Step 5
Once you're done connecting the cooler to your water supply line, turn the water itself back on. Check for possible leaks on both ends of the line. If you spot any, simply tighten the nut some more. It should do the trick. In any case, this will be the last step in your installation process.
Adjusting the air flow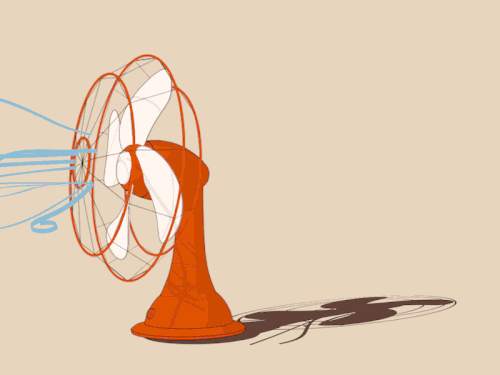 We've already mentioned that evaporative coolers raise the levels of humidity in the surrounding air. Although you can't do anything to stop them from doing that, you can make sure the airflow they produce is balanced. According to Save With SRP, this, in turn, will limit the levels of humidity and give you much better cooling results. But how exactly do you make sure your cooler produces a balanced air flow?
Before you do that:
By now, you're probably aware of the fact that you need to keep a window open while running an evaporative cooler. That's why you should take the air flow into account before deciding where to put it. The amount of air it blows out is supposed to be the same as the amount of air it draws from outside your home. It might sound complicated, but it's actually really simple.
Here's how you do it:
Crack a window in the room in which you're planning to use your new cooler. There's no need to have it wide open since you just want the air to start flowing in. Next, open the door and watch what happens. If the air current ends up slamming the door shut, that's a sign for you to open the window a bit wider. On the other hand, if it doesn't move at all, it means the window was open too wide.
Now that the air flow in your home is balanced, you can turn the cooler on and start enjoying the fresh air it's producing.
Maintaining your evaporative cooler
As you'll see, caring for an evaporative cooler isn't a task to be dreaded. However, regular and proper maintenance can significantly prolong its life and improve its overall performance. Window-mounted units need to be dealt with differently than industrial and residential ones, so we'll explain the process in two separate paragraphs.
Maintaining industrial and residential coolers includes proper cleaning and shutting down at the end of each season. Once every two weeks, use a mild detergent and lukewarm water to clean the device. You can do the housing with a damp cloth. No big deal, right?
If all this sounds a bit much, maybe you'd benefit from seeing someone else do it first. There are plenty of videos on YouTube that are basic explanations of how to do a proper cleanup of evaporative coolers before the start of the season. However, the one right here is among the best that we've seen. It includes the process of cleaning pads, checking the parts for damage, and lubricating the device so that it continues working optimally.
Now:
When you're ready to shut down and store your cooler for a longer period of time, make sure to do one last cleaning first. Then, drain its water tank completely, and clean both the filter and the water curtain. Finish by running the fan for about 30 minutes, so that the unit can dry completely.
Maintaining window-mounted coolers includes preparing them for use and shutting them down for the season. If you're getting ready to run your cooler, it's important to change its pads and clean its pump, but you can also oil the motor. When you want to shut it down, drain the water from both the cooler and the water supply line, disconnect the line itself, and unplug and cover the cooler.
Choosing the right evaporative cooler pads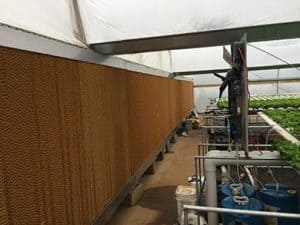 Wondering about those cooler pads we mentioned a minute ago? You can find them in every industrial and residential unit, although you're not supposed to have them forever. They need to be changed every once in a while, but that shouldn't be a cause for concern. We'll tell you all you need to know about different types and exactly how often you should replace them.
Here it goes:
Basically, cooler pads are what makes it possible for the device to cool the air it draws from the outside. This is achieved by getting the pads wet and placing them inside the housing so that the air is forced to go through them. As a result, the air that the device blows out is noticeably cooler than when it came in. There are two types of cooler pads that are most widely used: rigid pads made from cellulosic materials and fiber ones.
Rigid pads look a lot like cardboard pieces that have been firmly pressed together. They're very efficient when it comes to cooling, as well as quite durable. You can even clean and reuse them once they get dirty, but they're not used as much as their fiber counterparts. In all likelihood, it's simply because they're pricier.
When it comes to fiber pads, there are two subtypes: Aspen and synthetic fiber pads. The latter are made using synthetic shavings and are quite efficient. But they have some additional upsides working for them, such as resistance to mold and break down. This makes them more durable, although they are prone to calcium buildup. Plus, you can clean and reuse them, just like the rigid pads.
Aspen pads, on the other hand, are made using real wood shavings. Since they're pretty cheap, you'll find them in most coolers, no matter the type. They work well and smell really nice, but they have a downside as well. Namely, they're not as durable as the other types of cooler pads, which might be a deal breaker for some.
Now:
About the frequency with which you should replace the pads. This depends on a number of factors, including the brand you're using, how often you run your cooler, and the quality of the water with which you're supplying it. If you'd like to avoid unnecessary replacements, check the manufacturer's instructions and keep an eye on how quickly your pads are deteriorating.
However:
If you'd still like to know what to expect, we can tell you with certainty that Aspen pads need to be changed more often than the other types. Most people replace theirs at the beginning of each season. On the other hand, rigid and synthetic fiber pads can last for three to five years. Of course, provided that you clean them at least once a year.
Making use of your warranty
If you listen to our advice on maintaining your evaporative cooler, chances are it'll serve you well for years to come. Of course, you shouldn't take this as a guarantee of any kind. All things break eventually, and at some point in the future, this could happen to your cooler as well. Luckily, most of them come with warranties.
Now:
The kind of warranty you get will depend on the device you end up choosing. Typically, damage due to rust and similar factors gets treated differently than mechanical breakdowns. That's why you'll get an extended warranty for rust protection, while the one for parts will get you cover for a year or maybe two. But whatever happens to your cooler, make sure you get it fixed as soon as possible.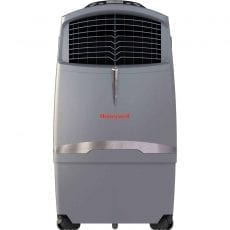 Best of the best
Honeywell 525 CFM Indoor Portable Evaporative Cooler
Winter is coming. Eventually. But right now you need the best evaporative cooler to keep you cool this summer. Read our reviews before you buy!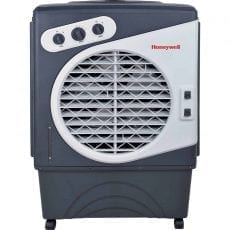 Most Buying
Honeywell Powerful Outdoor Portable Evaporative Cooler
Winter is coming. Eventually. But right now you need the best evaporative cooler to keep you cool this summer. Read our reviews before you buy!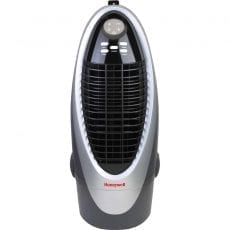 Best for the money
Honeywell Indoor Portable Evaporative Cooler
Winter is coming. Eventually. But right now you need the best evaporative cooler to keep you cool this summer. Read our reviews before you buy!