What You'll Need
Guess what?
You don't need to run out and buy some expensive repair equipment before you can clean your harmonica. They do sell harmonica repair kits, which can be helpful for more advanced tasks like replacing reeds.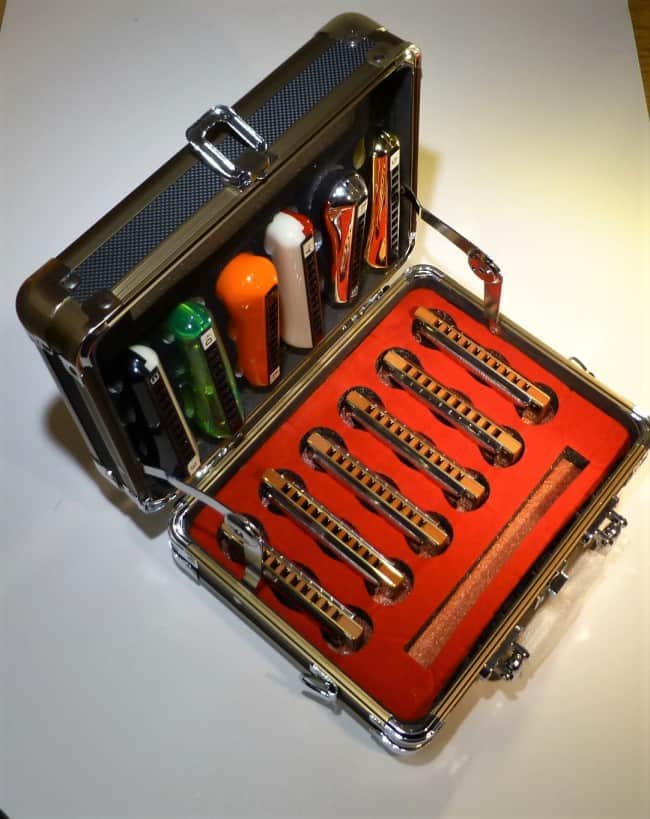 As it turns out, though, most of the things you need are easy to find—and you may even have them laying around your house. These include:
A screwdriver. The kinds of screws used in harmonicas aren't standardized, so make sure you have one that will fit your instrument. A screwdriver set is a smart purchase if you're not sure exactly what sizes you need.
2 soft, fuzz-free cloths. Microfiber cloths, like what you'd use on a computer screen, will work beautifully. You'll need two: one for washing and one for drying.
Rubbing alcohol
Container large enough to soak the reed plates
Distilled white vinegar
Water
Soft-bristled toothbrush
Toothpicks (optional, for chipping away stubborn deposits)
Step by Step: How to Clean Harmonica Parts
Step 1: Remove and clean the cover plates
Remove the screws and set them aside in a place they won't roll away or get lost. Once the cover plates are removed, dampen a clean cloth with rubbing alcohol and wipe both sides of the cover plates, making sure to clean away any stains or build-up. Once you've finished cleaning them, use a dry cloth to wipe away any excess alcohol.
Step 2: Remove and soak the reed plates
Grab your screwdriver again and use it to remove the screws on the reed plates. Unlike with the covers, the screws may be different sizes at different points of the plate, so keep the screws in order so you can put them back in the right place. Once you've removed the reed plates, soak them in a mixture of equal parts distilled white vinegar and water for 20-30 minutes.
Step 3: Clean the comb
While the reed plates are soaking, you should have just about the perfect amount of time to clean the comb. If there are stains or deposits beyond what the cloth alone can clean, use a toothbrush or firm-bristled paintbrush; for especially stubborn build-up, you can use a toothpick or similar tool to chip them away.
Now:
The material used in the comb will determine the best way to clean it. Wood combs should be kept free of moisture, so use a dry cloth to clean it. If the comb is metal or plastic, rubbing alcohol is the best way to clean it. Just dampen a cloth and use it to massage away any stains or build-up.
Step 4: Clean the reeds and reed plates
The reeds are the most delicate part of the harmonica, so you need to be especially gentle during this step. Brush the reeds gently with a cloth from base to tip. Never brush across or against the reed, and don't scrub or apply pressure, or you risk damaging them. You can be a bit rougher on the non-reed side and can even use a toothbrush to clean off stubborn dirt.
Step 5: Dry and reassemble
You can use a cloth to remove excess moisture or allow the pieces to air dry if you'd rather. Once they're completely dry, start the assembly by re-inserting the reed plates. Put each of the screws in about halfway, then gradually tighten them evenly across the plates until they're as tight as they'll go. Next, put in the comb and then put on the outer cover, tightening the screws gradually like you did with the reed plates.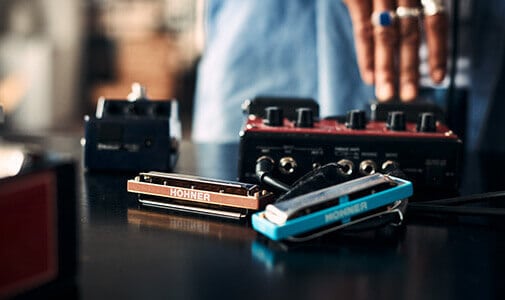 More Tips
Harmonicas with plastic combs are the easiest to clean. For the quickest clean of a plastic-combed harmonica, just rinse it under warm running water, then tap the mouthpiece out against your palm to dry it. This method will not work with metal or wood combs, however, as it may cause them to rust or warp (respectively).
The less saliva makes it into the harmonica, the less you'll need to clean it. Try to be as dry of a player as you can. If you know you produce more saliva when you're playing, you should plan to clean your harmonica more frequently.
Anything that's in your mouth when you're playing can end up in the instrument. Don't play right after eating, or eat while you're playing. You also shouldn't smoke while playing since this can lead to filmy deposits on the reeds. You should even avoid brushing your teeth or using mouthwash right before you play since these can leave a residue that you'll end up blowing through the harmonica.

The Last Word
Now that you know how to clean harmonica insides (and outsides), you'll be able to keep your instrument playing better for longer. Do you have a favorite cleaning technique that wasn't discussed here? Let us know in the comments!