Yodel's Single Handle is at least interesting, if not revolutionary, when it comes to design.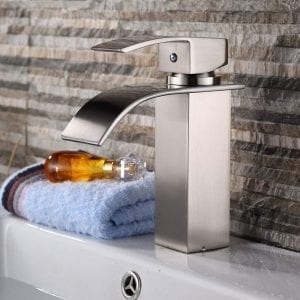 The main benefit of this faucet is the quality.
They're tested at high pressure, something we also did during our own tests. This promises durability, a promise that's reinforced by the faucet's qualitative base materials.
Even more so, the design variation is pretty large, with six finishes to choose from. On top of that, all the variations are sleek and look good with most interior designs.
If you're really bound on this product, you'll also love the huge variety of assorted bathroom accessories, available here.
If we're to look for a downside...
The thing is a bit loud.
And the higher pressure than usual may lead to splashing from certain sinks. These are not huge minuses, but they are things to take into account. This is especially true if your sink is smaller than normal.
Our bathroom sink testers were really bothered by this splashing when they were mounted on small sink basins. Basically, if we turned the flow higher than medium, anybody that used the spout got splashes on their tops. You can, in theory, control this with the on/off control, but we had a hard time doing that.
Features
Beautiful design
on/off valve to control the flow of water.
Single Hole Mount