The XtremepowerUS 85W is an electric chainsaw sharpener driven by an 85W motor to provide up to 4,200 RPM. Even with all this, it still weighs only 5 pounds and measures 14.5 x 9.9 x 6.9 inches. It features a pivoting head and vice angles that can be adjusted anywhere from zero to 35 degrees on both sides (left and right).
We reckoned it to be a tool fit for the homeowner who loves a quick and efficient job or even for professionals who need to quickly sharpen several chains with different pitch sizes occasionally. It includes a brake handle for holding the chain in place and easy maneuvering.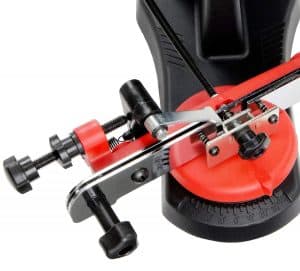 Above all…
It's affordable, portable, and does the job pretty well. During operation, we noticed the angles may get distorted and you might have to make little nuances to get the chain back on track. This can affect the overall precision of the cut by a small margin.
Features
Powered by an 85 Watt motor

Max of 4200 RPM

Capacity - .80" to .50"

Vise angle can be set from 0 - 35º right or left

Includes brake handle to hold the chain in place
For the price, this tool is a go. It's easy to use, great for small to medium operations, and safe to use.
The installation process, however, is not as easy as it should be and it may take you a while before you get used to snapping the chains in and out of the machine. It also arrived without the mounting bolts and screws so you'll have to get these separately.