The WORX Pegasus is a versatile product that can convert itself from a sawhorse to a worktable in seconds. This is probably the best feature of this product, which gives it versatility in terms of its usage.
Here's why this one is our favorite: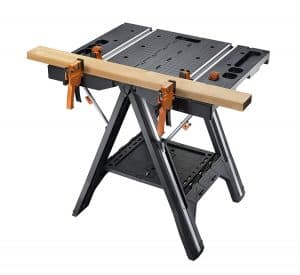 The unit is easily foldable, which makes it super easy to carry and store. Moreover, our research shows that the Pegasus has a 5-inch depth when folded. This comes in pretty handy in a lot of situations.
The sawhorse features two quick clamps and four clamp dogs which keep the objects on the worktable safe and steady for use. The worktable supports up to 300 lbs., whereas the sawhorse can support up to 1000 lbs. The unit also comes with a leg lock feature, which a lot of customers say greatly increases the security of the unit.
The tabletop measures at 725 square inches and has a height of 32 inches, offering a pretty wide area to work on. The unit weighs in at 30 lbs., making the product relatively easy to carry. This is especially good news for DIY enthusiasts, who often need to move their tools around.
Just a word of caution…
The product is sturdy like it promises, but we found that some people complained about its surface not being flat enough. Others also reported facing some difficulty with the clamps. Nevertheless, it's still the best one out of most other models, even WORX's own WX065 sawhorse.
Features:
Versatile worktable converts to a sawhorse or workbench in seconds – no assembly required
Compact, foldable and lightweight – only 5" depth when folded
Worktable supports up to 300 lbs., sawhorse supports up to 1,000 lbs.
Legs lock for added security
Includes (2) Quick Clamps and (4) clamp dogs to secure a variety of materials and shapes
Product dimensions: 31"x 25" or 725 sq. in., 32" height, 30 lbs. weight