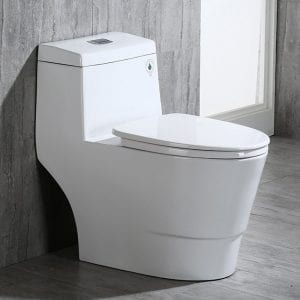 This relatively low cost toilet has a lot going for it. If you're looking to get the most value per dollar spent, this is probably the toilet for you.
Unless you're used to the pampering of the high-tech toilets above, truthfully,  you'll probably feel spoiled by this toilet.
It's styled in a luxurious modern take on the traditional toilet, which is a great look.
The look is also functional as the new sloped design makes it easier to clean by removing edges and corners.
The flushing system is also designed to function well. A new siphon shape allows the this toilet to flush powerfully, but also quietly.
This toilet has a raised seat which most adults will find to be a welcome design.
Lastly, the seat uses high-end soft closing materials to ensure that you never have to deal with any annoying seat or lid slams.
'What about the environment,' you wonder?
It does have a pretty high solids gallons per flush, but it also has a second flush option for liquids. These are 1.6 and 1 gpf, respectively.
Although the dual flush is nice to see, the efficiency option is still one of the higher low-flow options. Together, the toilet averages 1.28 gpf which is low enough for federal tax rebates.
Don't worry, you can install it.
This toilet is actually built to be self-installed. It includes all the necessary parts for installation and an easy-install guide. It even includes the tools you'll need.
It is a bit heavier at almost 120 pounds, so that is something you will want to consider.
This product has a great five-year manufacturer warranty on all porcelain parts. The mechanics are only covered one year. Warranty information here.
We will say this about this toilet…
It looks like it could be on a spaceship. You could use this toilet in a more modern bathroom design.
The rectangular flushing button on the back of the toilet also somehow feels even more futuristic than the auto-flushing toilets.
Features
All inclusive design
Dual flush
Soft closing seat and lid
Tools included
Button flushing