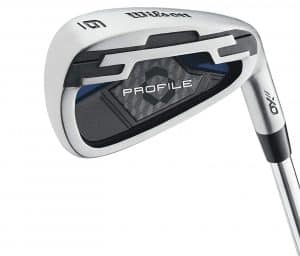 Golf is one of those rare sports people can play well into their senior years. You can even start late, unlike football, baseball or soccer. If you're closer to retirement age than your college years, the Wilson Profile XD Senior set should definitely be on your radar.
This senior set is built for older golfers between 5'5" and 6'1" whether they are a man or women. They are easy to hit and have a special senior flex graphite shaft. The grips are also larger and easy to grasp which give you more control on the approach or off the tee.
The irons have perimeter weighting with stainless steel heads with large sweet spots. You'll get four in the set with clubs 6 – 9 and a 5H hybrid club with high launch tech. There are also two wedges – one built for the sand and one for your approach shot. The latter gives you more control of the spin, and the sand wedge has a wide sole with "super" low weighting to help you get out of those traps.
But that's not all…
The low weighting carries over to the driver as well. It sports a 460cc forged titanium composite head, and as you'd expect, a large sweet spot. You can follow that club with a fairway wood which sports a similar build, but a different length and loft. Last but not least is the putter with heel-toe weighting which is solid, but not on the level of the rest of the clubs in our opinion.
Seniors will appreciate what the Wilson Profile XD golf club set brings to the table along with the fact you won't have to dip into your retirement fund to afford them. The clubs come with a car bag, three club head covers, and a 1-year warranty.
Features
460cc forged driver
10 club set
Right or Left-handed
Unisex clubs