Wilson may not be the first name to come to mind for new golfers, but it's a brand we highly recommend. They have put millions of clubs into beginner's hands over the years, and the Wilson Ultra Complete set is your best bet if your budget is tight.
While Wilson bills this set as "complete" you'll actually only get nine clubs. That's enough to get anyone started, but you will be limited in a few areas like sand traps and potentially the fairway. It all depends on the distance you can get although we don't think you'll have any problems with the woods.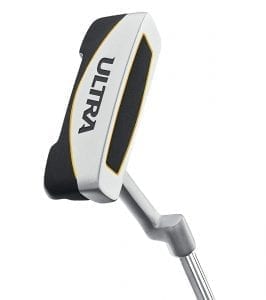 When you're ready to tee off, a 460cc titanium matrix driver is at your disposal. It has a large sweet spot to help increase your accuracy and a loft of 10.5-degrees. Details are a bit sparse on the fairway driver and hybrid club which is unmarked but believed to be a 4H. We don't have any other tech specs to share, and the same goes for the irons unfortunately.
The irons are what we would refer to as "solid" but not as forgiving as a club from Callaway or other top-tier brands. They also leave a considerable gap in your arsenal as you're only getting irons 6 through 9 along with the mysterious hybrid. As mentioned, there is no sand wedge, but you will get a pitching wedge and a heel-toe putter with a paddle grip.
Included with this set is a standard, but sturdy carry bag with a shoulder strap and stand. You'll also receive head covers for the drivers and can choose between Red and Yellow color schemes. Lefties will be thrilled with this set as well and won't feel left out. The Wilson Ultra Golf Club set comes with a 1-year warranty out of the box.
Features
9 club set
460cc driver
Hybrid club
Steel shaft irons