The number three option on our list is a Westcott iPoint Evolution Axis. This is a mid-priced electric pencil sharpener with a feature we haven't seen in the previous two options:
The pencils sharpener has a dial selector for up to 6 different sizes of pencil, including colored art pencils!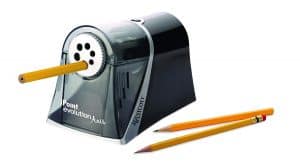 This is also a corded, electric pencil sharpener so no batteries expense but again you will be limited on where you can plug it in. It is designed for high-volume usage making it perfect for an office or classroom environment. It also employs the dual helical blades that deliver a precise and fine tip while maintaining sharpness for many uses. It employs Auto-Stop features that senses when the pencil is optimally sharpened and stop to prevent over-sharpening or unnecessary waste.
My favorite features offered by the Westcott iPoint Evolution Axis:
It's extremely quiet to operate.
And, it comes with a 10-year limited warranty.
The Westcott electric pencil sharpener offers many features we don't get with the other two options. I like that it comes with a warranty and can manage multiple different size and type of pencil. Having the ability to handle high-volume usage and still get a nice fine tip on your colored pencils is really all you can ask for from an electric pencil sharpener. However, this model actually offers more and that's why it's one of my favorites!