Given its size and category, I have to say that the Wenzel Evergreen Tent is very specious.
Furthermore, the inside of the tent can be separated into two rooms, because it comes with a room divider (always a cool accessory to have).
As opposed to many 6 person tents with only one door, the Wenzel Evergreen Tent actually has two doors next to each other. The doors are D-style, and they really facilitate the entry and exit.
A good thing to know…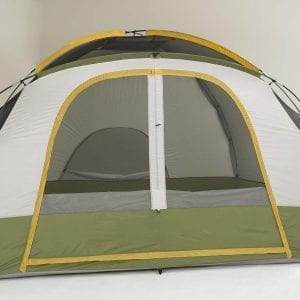 To achieve maximum venting during the day, be sure to keep both doors open – it will pay off after nightfall.
Moreover, if you open the windows as well, the tent will have enough air to go around, and you will have enough fresh air throughout the night..
The mesh windows are also great.
But wait, there's more!
In addition to the mesh windows, this tent also has a full-mesh roof.
Now, this is something most campers look for in a tent.
If you'd like to have the sky all to yourself to gaze at the stars, the full-mesh roof on the Wenzel Evergreen Tent will enable that.
In fact, a lot of customers opted for this tent precisely because it has a full-mesh roof.
What about the poles?
The tent poles are multi-diameter, which means they offer you more headroom.
The poles are made of fiberglass, and are fairly stable.
The set-up is quite simple. Most users didn't experience any major problems during set-up.
Are there cool accessories?
First of all, there's the gear loft- a perfect place to store things.
It's not very common to expect from a manufacturer to simply add so many accessories included in the tent price, which is why most users find the gear loft a very pleasant surprise.
And…
There are two interior mesh pockets (great for personal belongings such as keys, cell phones, etc.). There's also an electricity port--ideal if you're camping in a public campsite.
Any drawbacks?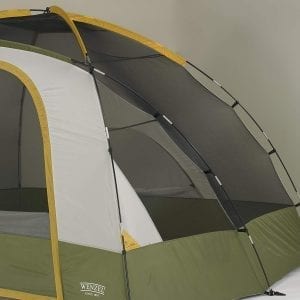 Surprisingly, the Wenzel Evergreen Tent doesn't have that many drawbacks. In fact, most customer reviews are quite positive.
However, the biggest problem users have encountered is its weather resistance.
The tent is not very good when it comes to handling strong winds. If you encounter a lot of wind, don't be surprised to experience problems with tent stability.
Also…
Some parts are not sturdy, because they're made of poor material. You should be careful during setup, because you might unintentionally cause certain parts to break.
And finally…
There's the problem with rain.
These types of tents are made to withstand light rain, but not downpours. We got in multiple reports from our experts as well as the customers we interviewed, saying their Wenzel Evergreen Tent leak in heavy rain.
There is a 10-year warranty on all gear.
More Information to be found here.
Features
fabric type: polyester with polyurethane coating
fiberglass poles
room divider
2 D-style doors
3 windows
multi-diameter poles
full-mesh roof
gear loft
2 mesh pockets
electricity port
pre-attached guy lines for added stability