Every grill on our list is portable to a degree although some made to toss in a trunk… not a truck. The Weber Q2200 liquid propane grill certainly falls into that category, but don't be fooled by its stature. This little grill can cook with the best of them and can work with both disposable and refillable LP tanks.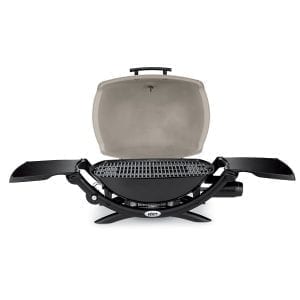 This stylish cooker won't take up much space on your deck or in the car as it only measures 26" x 51.4" x 25.1" with the tables fully extended. It weighs 43 pounds so it's what we would refer to as stout, but still easy to carry. The weight is due in part to the build quality, which we're pleased to say is outstanding.
Weber went with a glass-reinforced nylon frame for the Q2200. The body is made from cast aluminum along with the lid which has the standard built-in thermometer. Those side tables fold down when not in use, and the base has a slot of the bottom to catch any runoff.
But aluminum is lightweight, isn't it?
Aluminum is great when you want to keep things light, and there's plenty of it in this grill between the lid and base. The real weight comes into play with the porcelain-enameled grates which are cast iron with attached. You'll get two of them which provide a total of 280 square inches of grilling space. That's enough for around 13 burgers if you don't make them too large.
This grill has a single stainless steel burner rated at 12,000 BTU per hour. You can fire it up with the push button electronic ignition in a second, and it heats up just as quickly as you'd expect. The grease catching system is nice, but the pan is flimsy aluminum, so you'll need extras eventually or a more permanent solution.
If you've been put off by how difficult larger grills are to assemble, you'll dig the Q2200. You can put this one together in a matter of minutes and have a juicy steak on your plate in a half hour. Don't believe us? Then check out this video …
As you can see, this griller was able to put together the Weber Q2200 in less than 4 minutes which is impressive, to say the least. The cart you see in the video is available as well if you want to extend its range and save your back when camping. The other accessory we want to mention is one you'll want to consider seriously. A propane adapter like this one from GasSaf allows you to use full-sized tanks instead of those tiny propane camping canisters.
This grill comes with Weber's 5-year warranty which is good on the body, grates, burner tubes, lid and firebox aside from fading or discoloration. A 2-year warranty covers the rest, which is better than you'll get from many manufacturers. Like most grills, the Q2200 comes with an owner's manual and hose out of the box.
Features
280 square inches of grilling space
Folding side tables
12,000 BTU per hour
Stainless steel burner