Want a cage that you can connect to pretty much any tube system on the planet?
Then the Ware Tube Time Small Animal House is the one for you.
This compact but sturdy plastic-and-wire cage has universally connectable tubes, meaning you can hook it up to pretty much any hamster tube-based habitat on the market.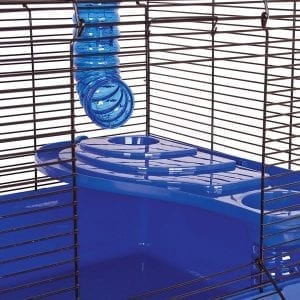 And that's the major selling point with this cage.
Your hamster deserves to dabble in world domination, so we love that there's potential here for unlimited expansion.
Like, imagine the possibilities. An entire room full of hamster tubing. A hamster metropolis. A hamster sovereign nation inside of your house! Who wouldn't want that?
...That's a thing people want, right?
No?
Well. Anyway.
So as for the cage on its own...

It's your basic, all-accessories-included hamster habitat that's probably better suited to dwarf hamsters than to Syrians.
Expand it into the metropolis we mentioned and then your Syrian will be happier and healthier, but otherwise, there's just not much floor space for a bigger ham to enjoy.
Features:
Universally connectable tubes
Built-in wheel
Deep tub for bedding
Dimensions: 20.5 x 16.5 x 19.5 inches
Weight: 6 pounds