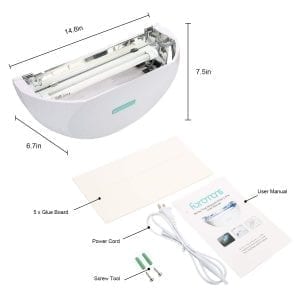 Add some style to your home with the Wall Sconce Flying Insect Fly Light Trap. This best mosquito trap has an eco-friendly design that allows you to eliminate insects without any noise associated with it. It uses a 365-nm wavelength attraction as well as UV light tube and a sticky coated trap to attract bugs into the trap. There is also no mess as bugs are collected on a collection board, which is removable and replaceable for a clean way to eliminate bugs from your home.
The Wall Sconce Flying Insect Fly Light Trap has an attractive design that can only be used indoors. It can't operate if wet and does require installation on your wall as well as an external power supply. The construction of this insect trap provides plenty of safety as it doesn't have an electrical grid that zaps bugs. Instead, it catches them on the sticky-coated trap.
A reflective coating has been added to the outside of the Wall Sconce Flying Insect Fly Light Trap to help with the insect attraction, and all bulb tubes come with a 5000 to 8000-hour lifespan. It may be difficult to find replacement bulbs for this device, and eye damage may occur you look directly into the light beam for a long duration.
Features
Explosion proof, ultraviolet light tube
365 nm wavelength attraction
Sticky coated trap
Replaceable collection board
Reflective coating
Wall hanging construction
100 percent satisfaction guaranteed