The Razorback from Viper is a bristle dartboard that works with both steel tip darts and soft tip darts. With a movable number ring combined with the healing properties of the sisal fibers, the board has a long and durable lifespan.
One of the first things of note is the very thin wiring dividing each segment.
In fact, one of the thinnest we encountered during testing.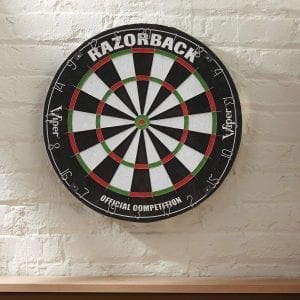 This drastically increases the surface area and reduces bounce outs.
The wiring does not contain any staples across the board, again a big tick of the box when looking for a high-quality tournament ready dart board. The board also comes with a range of mounting screws, a bracket, and dampeners to easily affix to a wall or cabinet.
In testing, the soft tip darts did work very well with the board, and we rarely had a bounce out while using the steel-tipped darts. The wiring was triangular, again increasing the surface area for scoring.
Viper boasts their compressing ring system, compressing the sisal fibers even more so than standard. When assessing two bristle boards side to side, the Viper proved to have the best healing after the removal of darts and several games.
What really shocked us was…
While we found this board to work the best with steel-tipped darts, we were pleasantly surprised at the effectiveness of the soft tipped darts, as in most cases they tend to perform far less than anticipated.
Specifications
Bristle dartboard
Sisal fibers
Compressed rim for durability
Moveable numbers ring
Super thin wiring
No Staples
4 x 19.2 x 0.5 inches
05 pounds