Our research also led us to this extreme durability VETO PRO PAC Tech Pac LT Tool Bag - one of the best tool backpacks you can invest in to carry your tools. This bag has a stylish look to it that is both modern and contemporary in its design.
It features a waterproof bottom and 27 pockets that will fit virtually any tool you have in mind. The base of the tool backpack is constructed from polypropylene and molded for maximum protection for your tools, which we recommend to prevent damage.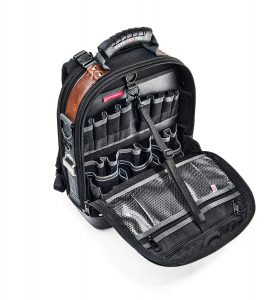 The best part…
This tool backpack has a laptop compartment that makes it ideal for technicians to carry with them for any job. The bag is compact enough that it can be taken on an airplane and there is additional space to carry accessory items that a technician may need.
Comfort has also been designed into the VETO PRO PAC Tech Pac LT Tool Bag as it has padded shoulder straps and a chest strap for additional support. You'll be able to easily carry this tool backpack wherever you need to go with all your tools in tow.
We recommend this tool backpack for anyone the needs to carry digital devices that need added protection when traveling. This is a strong tool backpack that offers plenty of storage space and versatility in its development.
Features
27 pockets
Waterproof bottom
Polypropylene molded base
Storage for 15 in. laptop
Accessory storage
Ideal for a technician
Chest strap
Outside hooks
Padded straps