If you're looking for a standard two-piece pool cue, this may be a great option for you.
Here is why: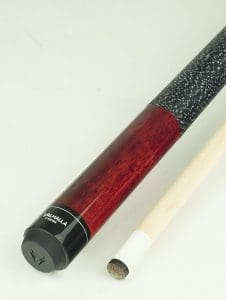 It can be purchased in any standard weight excluding half ounces. It's 58 inches long. It has a standard 13 mm tip and a stainless steel joint.
You may have a difficult time developing english with a 13 mm tip.
The cue comes with a high impact ferrule which will increase the durability of the cue and improve shot quality.
This cue can be purchased in seven colors.
In testing his cue was found to have a high amount of power, but it could sometimes be lacking in accuracy.
What don't we like?
There have been some reports of this cue falling apart after a short product life.
If this turns out to be the case for you, fear not, though. This product comes with a lifetime warranty.
Features
Irish linen wrap
Stainless steel joint
High impact furrel