The UTG Law Enforcement SWAT vest is another awesome plate carrier that weighs 3.5 pounds when empty and measures 23-inches long. The girth is adjustable with a range of 40-to-54 inches around the torso, making it appropriate for most body sizes.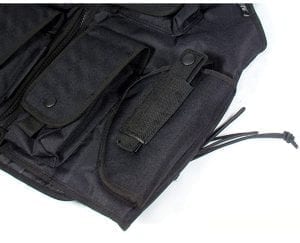 Do you carry accessories and gear?
It features a thumb break holster, pistol and rifle magazine pouches, elastic loops for shotgun shells, and a radio pocket – all necessary features for anyone intending to clash outside. The tactical vest was designed with law enforcement entry teams and firearm enthusiasts in mind.
On the inside, it's made of comfortable and light material while it features heavy-duty nylon on the exterior.
Features:
Thumb break holster
Pistol and rifle magazine pouches
Elastic loops for shotgun shells
A radio/medial kit pocket
This vest is especially easy to adjust both at the waist and shoulders and is surprisingly comfortable. It fits anyone with a moderate build, and all the pouches, pockets, loops, and holsters are easy to access.
One thing we didn't like was...
The only issue we found is the material does not breath well and staying in it too long can be very uncomfortable. It's also not the best choice for airsoft and paintball players since the zipper mechanism can easily come off when yanked.