This scope is a perfect fit for any crossbow with a picatinny rail or a weaver rail.
The eye relief is 3.8 inches, which means you have enough space when aiming and shooting. Up to 50 yards, this scope is parallax-free, which is fantastic when you're crossbow hunting.
The UTG 4X32 has a 32mm lens and 4X magnification. The clarity is what so many users point out.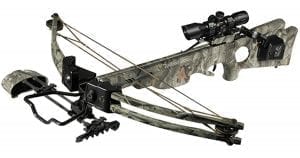 In their words, it's excellent.
The manufacturer doesn't exactly say whether the lenses are multi-coated or fully multi-coated. It simply says it uses "broadband lens coating". However, we've asked around and found out the majority of users think it's fully multi-coated…
The light gathering on the UTG 4X32 is really, really good, which is something the users love about it.
Even in low-light conditions, you'll get a good view.
The reticle is illuminated, with brightness settings. You can switch between green and red, and you have five brightness settings at your disposal. And if you don't need illumination (in daytime use) you can turn it off.
What about the batteries?
The batteries will last long enough, but they might underperform in really cold weather. It's good to know this if hunting when it's really cold.
But, there's one thing about the reticle that bothers many users.
There are five lines on it, which tends to be (a bit) distracting. It was probably too much because it can interfere with your aim. Many users claim the scope would be much better if it had a pyramid-style reticle.
Nevertheless…
There are so many other great things about the UTG 4X32.
Its FOV is 27.2 feet at 100 yards, and the scope is very easy to mount. It comes with its own rings, so you won't have to make an additional purchase.
The sighting in is also quite simple because the scope has a zero-reset and locking function on the turret. Once you zero it, you can align the markings and start using the scope right away.
That's a relief!
The UTG 4X32 is shockproof, rainproof and fogproof. It can sustain the normal wear and tear perfectly, so you shouldn't experience any issues there. One user of this scope has even told us he dropped it a few times from the tree stand without damaging it a bit (although we don't recommend you do this, of course!).
This is a high-quality product a great number of users use and enjoy. It has a limited lifetime warranty – more information here.
Features
9.9 x 3.6 x 2.9 inches; 1.59 pounds
3.8-inch eye relief
8mm exit pupil
4X magnification
parallax at 50 yards
broadband lens coating
side wheel illumination
zero reset/locking W/E knobs
flip-open lens caps
mounting rings