A bulky, well-rounded police scanner, this Uniden device is suitable for use in the car or at home, since it has a desktop design. With a black finish, complex software, and controls design let's see if this scanner from Uniden is worth a try.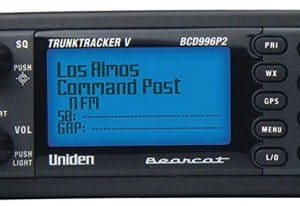 The main feature of this product is that it's in compliance with APCO P25 Phase 1 and 2 protocols, but we also have to mention the dynamic memory system, location-based scanning, and GPS compatibility. The band coverage on the scanner is pretty large, receiving information from frequencies between 25 MHz and 1300 MHz. The build is trunked and digital, ensuring a good coverage and sound quality.
The main plus of the Uniden BCD996P2 is the advanced software and memory structure, being capable of complex scanner tasks and keeping your favorite channels in storage. A secondary benefit is the RF Capture Technology, which focuses your scanning based on your location.
And we have to mention…
It's in compliance with both P25 protocols. As a downside, we believe that this product tries to do a bit too much in terms of software, ending up being difficult to properly understand and use.
The experts we've talked to concluded the same.
It's not the best choice for a person that isn't too tech savvy, but with a bit of effort, you can get it to work properly. Our focus group reinforced this point, with over 50% of them saying it was hard to comprehend what button they should be pressing at which moment, and over 70% of them complaining about a tough time while programming.
Features:
Compliant with Phase 1 and Phase 2.
Digital & Trunked
Location-based
Dynamic memory system
Band Coverage of 25 - 1300 MHz