A simple scanner, with few, but strong functionalities, the Uniden BC365CRS is something to consider if you're looking for a small exposure to the radio world. This police scanner is not a state of the art device, but it will do its job simply and efficiently.
What we liked about this Uniden product is the 500 channel memory, allowing you to save preferred frequencies and listen to them whenever you want. Other than that, it is narrow brand compliant, and it has a weather alert system, though not as advanced as the S.A.M.E. system.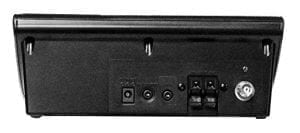 Reinforcing the idea that this is a scanner for the "chill" radio amateur, it also has alarm clock functions, FM radio receiver, and 30 slots to save your favorite local radio stations.
While we like its versatility and the fact it's perfectly capable of tapping into local agencies' frequencies, this device surely lacks in the features department if we pit it against market competitors.
To sum the pros and cons, it's going to do its job, and it's a good place to start police scanning, but it doesn't offer the full, radio use experience.
Regardless, for a novice, this is a really good choice. The people we've interviewed agreed they had an easier time figuring out what each button does, compared to other scanners. The experts we've consulted stated that this is a good choice for a person who wants to listen to transmissions over different frequencies, but doesn't necessarily want to debate Phase 1 vs Phase 2 protocols online. Both our team and the focus group agreed the design of this product is appealing, but many of us had a hard time doing the initial programming.
Features:
500 channels storage capacity
Weather Alert System
Alarm Clock
Broadcasts radio on FM