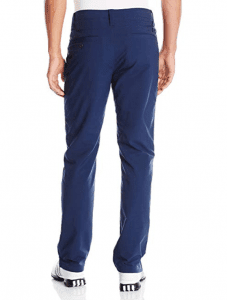 Under Armour is a brand most famous for football gear and compression clothing, but they also have excellent products related to golf. These pants are among those products, and we believe they can fit various styles and budgets perfectly.
These are made from high-quality materials - elastane, polyester, and nylon. As such, they're very comfortable and when you wear them to play golf, they improve your mobility and allow you to focus on the game. We've found that the materials are also sweat-proof and that the pants can dry really quickly, which we think is great for those leading busy lives.
It gets better:
Under Armour Match Play golf pants provide comfort and style at the same time. These give you a straight-leg fit, which makes them appropriate for wearing to the office as well. With four pockets, they're as practical as pants get. Waistband is also included to improve your flexibility on the golf course.
The biggest downsides we could find were as follows. Firstly, the pants are a bit too baggy for some. Secondly, the material shows stains, which isn't ideal when you use them for playing golf. And lastly, the actual color is brighter than shown on the product images, which can be misleading for some.
Features
Straight-leg fit
Soft and stretchy
Waistband included
Made from nylon, polyester, and elastane
4 pockets