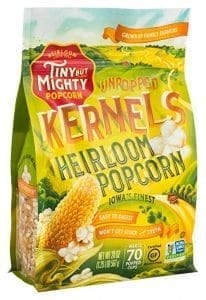 We're a sucker for a product with a catchy name, and the Tiny But Mighty brand certainly caught our eye. It's unique from other kernels as it comes from an Heirloom seed that's been in the Kelty clan for over a century, and the popcorn tastes the same today as it did way back then.
Unless you're a food fanatic, you may not know about the awesomeness of heirloom fruits and veggies. They provide an authentic flavor that's been unaltered by time or chemicals and have a higher nutritional value as well. Tiny But Mighty's unpopped kernels are as healthy as they come, and the company claims they won't get stuck in your teeth. Customers we talked to 6back this claim up for the most part although you may still catch a hull or two as no popcorn is truly hulless.
This healthy heirloom snack is an excellent choice for anyone looking for high-quality popcorn. You won't get much variety due to the nature of this kernel but can remedy that with a dash or two from your favorite topping. If you want to keep things all natural, you can opt for organic popcorn oil as well. TBM pops white and is sold in 20-ounce bags which cooks around 70 cups of popcorn. You can pick up this corn in single bags or go with a three or six-pack if you prefer to stock up.
Features
Natural heirloom kernels
Kosher