The Thunderhead 2.5 can come across as relatively expensive, considering it doesn't have a lot of features. We find the product's design beautiful and extremely effective in helping increase the output pressure of water. And the white color brings a modern touch to your bathroom.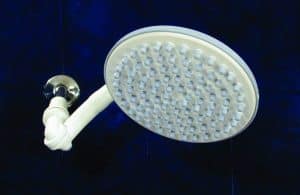 The unit weighs in at 3.25 pounds with dimensions of 10.6 x 9.5 x 7.4 inches making it one of the conveniently large-sized shower heads in the market. Pair it up with this external shower arm for a full-fledged rain-like experience.
But, wait… 
The TH2.5 comes with an external water flow regulator that helps in decreasing the water consumption during the shower but our reviews show that the flow regulator leads to water leakage, which we believe is disappointing considering the price of the product.
Features:
High pressure – up to 80 psi
Self-cleaning mechanism due to high pressure
External water flow regulator