The Tekton 26759 16-piece model is a well-made screwdriver set with high-quality products. The set includes eight slotted screwdrivers ranging from sizes 1/8 x 4 inches to 5/16 x 8 inches. It also comes with eight additional Phillips screwdrivers from #0 x 4 inches all the way to #3 x 8 inches.
It features three-sided, textured handles that we found very useful in providing maximum grip and torque while comfortable to use. The full-length handles are also rounded providing comfort and easy control. The 4-inch stubby screwdrivers are compact and come in handy when you have limited room to operate. All the blades are made of high-quality chrome molybdenum steel and heat-treated for durability.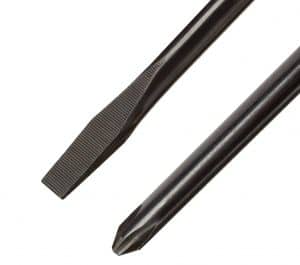 As if that's not enough…
The tips have a black oxide finish, which prevents corrosion, increases the contrast between the blade and the screws as well as increasing grip.
In our experience…
These screwdrivers are perfect for anyone working on an automobile, doing some wiring and other medium scale household tasks. It fits perfectly in your hands, it is sturdy and should last you a long time if used correctly.
The markings on the butt of the handles on these tools make them easy to spot and pick the correct size, though color-coding the slotted and Phillips drivers would have been more helpful.
They are, however, very light, and we do not recommend using them as chisels. One of the issues we found is that the blades are not magnetized, making it a bit cumbersome when engaging screws.
Features
Three-sided, textured handles provide more grip and torque
Chrome molybdenum steel blades for durability and exact fits
Features a protective black oxide coating that prevents corrosion
Different sizes are indicated on the handles for easy identification
Manufactured in the USA