TC Electronic MojoMojo Overdrive Pedal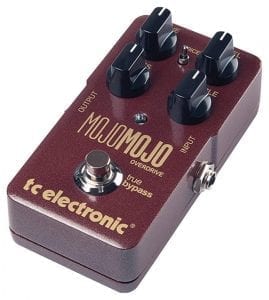 TC Electronic is known for making great equipment that's affordable for any guitarist, and they don't disappoint with their MojoMojo Overdrive. It gives you a transparent overdrive that's full in the low end—no screechy distortion here. With a lot of options in a compact, rugged package, it's a versatile pedal and, in our opinion, the best value on the list.
This pedal is an especially good choice if you like chaining effects. It was designed to complement with the Dark Matter and it sounds great paired with a wide range of distortion, fuzz, and other effect pedals. The same is unfortunately not true of amp styles. The MojoMojo sounds especially great paired with Marshall-style amps but can be muddy when used with a lot of solid-state amps.
What's the bottom line? Paired with the right equipment, the MojoMojo has a warm, open overdrive perfect for jazz, blues, and rock—and you definitely can't beat the price.
Features:
Controls: Drive, Level, Bass, Treble knobs; voicing switch
Dimensions: 5" X 3" X 4"
Weight: 10 ounces
Power: 9V battery or AC adapter (not included)
True Bypass