This is a great pool cue for anyone who needs portability or customizability. It's a two-piece cue that comes with its own 1x1 case. There are nine available colors and four weights.
There are some noteworthy extras included.
The included case was a nice touch. It has a divider to seperate the two halves so that there aren't any collisions during transportation. Additionally, the walls, top, and bottom are made of low-impact foam.
The case is zip-up and has an adjustable shoulder strap. It also has an exterior pocket for chalk or other equipment. The exterior of the case comes in a nice looking style.
We also liked that extra layers of varnish that are applied. Nine total layers protect this cue from moisture and damages. You can expect the wooden components of the cue will hold up quite well to any types of incidental maluse.
However, you'll need to be more careful with the brass joint. Although a brass joint does often produce a better shot than steel, it's less durable.
You'll need to be careful since brass can bend with relative ease.
What's the rest made of, you ask?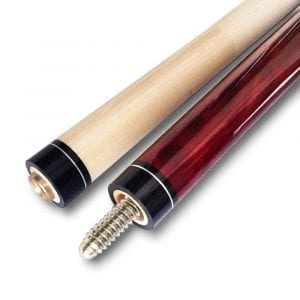 The shaft and forearm are made of hand selected, grade-A canadian hard maple. We were happy with the material used regarding structure.
Stylistically, you may be a bit disappointed to find out that this cue uses overlays and decals rather than inlays like the other cues on this list so far. This means instead of decorations being set into fitted holes in the maple, they're essentially stickers coating the outside of the cue.
It's much less appealing to the eyes.
The wrap is made of painted leather, which does look nice. Although this leather wrap will likely be more durable than linen wraps, you may find your hand slips a little more.
The leather wrap is also intended to help with deflection, however we would not call this a low-deflection cue.
This is a standard 58-inch cue that comes in 19-21 ounces with a single 19.5 half ounce option. There is a weighted pole that can be removed or changed out to produce any weight you'd prefer. It's 13 mm in diameter.
No warranty information was available for this product.
Features
Comes in several colors
Leather wrap
Hand selected maple
Weighted bolt