The Super Turbo 1000watt Elite 36v Electric Scooter is super sturdy and powerful.
With its solid steel frame, it's "built like a tank" and "takes off like a young animal."
Further endorsements include "responsive," "full of energy," and "very dependable."
One user who's been using it for seven months to commute 12 miles daily, five days each week, describes it as "very durable."
Speaking of commuting…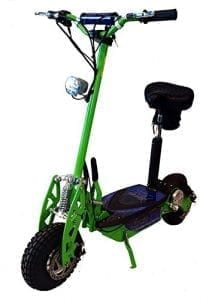 Reviewers love the "great" ride and that they look "cool" on their way to work or just tooling around.
Now here's the really good part...
The Super Turbo 1000watt Elite 36v Electric Scooter's turbo motor makes it fast and strong.
Several riders love its power and report the scooter climbs hills on turbo with no problem.
The manufacturer sells a supplementary hill kit for riders who want even more of a boost.
People close to, at, or even a bit over maximum weight (250 pounds on flat ground) feel the scooter handles well and doesn't lose power or speed during drives.
Looking for a change of pace?
The scooter allows riders to adjust power with an Econo/Turbo mode button.
Those who aren't in a hurry and wish to just cruise can–and will really feel the difference between the turbo and econo modes.
Accelerate at your own pace–from very slow to slow to medium to fast to very fast–very gradually or within several seconds.
Whoa, let's slow things down for a sec...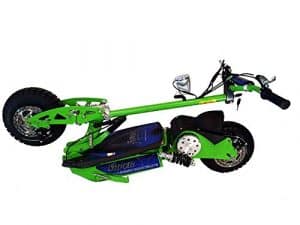 The main concern about the Super Turbo 1000watt Elite 36v Electric Scooter is its braking performance.
The scooter is heavy.
In fact, it weighs 92 pounds--61 pounds without battery.
Which affects its ability to stop quickly. Nonetheless, we also encountered these anecdotes:
One rider, Joseph, commutes through a hilly area and admittedly rides his brakes "a lot".
When he first started driving the scooter, it would "stop on a dime."
However, after a few weeks, he discovered the brakes began requiring a longer stopping distance.
Another owner of this scooter, Shaun, warns the scooter doesn't come to a complete stop quickly and that he "almost hit a person because [he] couldn't stop fast enough."
Going down a hill is "scary" because the brakes "slide" even after tightening.
A third rider in a hilly area who "really uses the brakes a lot" says that after a month, the brakes were not as effective as they were earlier.
One of experts, Steve, who also happens to own this electric scooter, added the brakes "don't seem to grab" as well as expected--even from the first day of use.
Is it really that bad?
While the brakes do work, he suggests squeezing them firmly and learning to anticipate stops.
Steve also warned:
The Super Turbo 1000watt Elite 36v Electric Scooter's front and rear brakes need frequent adjustments.
A few people found and viewed a video on the manufacturer's website providing step-by-step instructions on adjusting the brakes.
For some, that did the trick, but for at least one other person, the adjustment changes didn't help.
Another maintenance tip is to check and tight bolts before rides because they loosen during rides.
Mixed
For most people, the lead battery lasts long and is fine.
A few people plan to switch to lithium batteries.
While the Super Turbo 1000watt Elite 36v Electric Scooter folds up for convenient storage, it is heavy to carry.
Assembly is fairly easy.
Finally, purchasers of the Super Turbo 1000watt Elite 36v Electric Scooter praised the manufacturer's excellent customer service and rave about Chris.
To see a review and demonstration of this model by a new owner, watch this video.
Features
Weight: 92 pounds (61 pounds without battery)
Dimensions: 46" x 12" x 42" (unfolded) or 17" tall (folded)
Maximum rider weight: 250 pounds on flat ground (300 pounds on flat grounds with hill kit installed)
Motor: super turbo 1000-watt, 36-volt, 3000 rpm
Battery: 36-volt, 12Ah lead
Battery charge time: six to eight hours
Battery charge cycles: up to 350
Range: 10 to 18 miles
Maximum speed: 18 to 27 mph
Brakes: Front and rear disc/caliper
Suspension: adjustable front mono shock and dual rear shocks
Drive: heavy duty chain
Tires: 4.1" x 350" x 4", all-terrain
90-day warranty