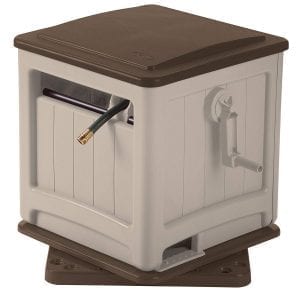 The Suncast Hose Hideaway with Smart Trak is a freestanding garden hose reel that discreetly conceals up to 225 feet of 5/8"-diameter standard vinyl garden hosing.
Consumers love two things about how this item works:
the hand crank that reels in yards of hose easily
the Smart Trak guide that ensures that the hose is neatly and evenly wound back onto the reel.
But there's more:
Another feature users praise is the storage bin (over the garden hose reel itself), which is convenient for storing nozzles, sprayers, sprinklers, etc. Made of sturdy resin construction, the Suncast Hose Hideaway with Smart Trak also earned kudos for its toughness and ability to withstand sunlight (UV rays) and heat. However, we also noticed the plastic construction and handle were a bit flimsy.
Love those earth tones!
The Suncast Hose Hideaway with Smart Trak has a light taupe body and mocha lid that makes it inconspicuous in the yard or garage. It fits into any landscape well.
Features
Patented Easylink system for watertight connection between hose reel and hose
Dimensions: 26" (including crank handle) x 21" x 27.5"
Includes leader hose
Hose not included
Comes fully assembled