The Spalding product next up in our list is the NBA Official Game Basketball! That's right. Kobe Bryant and Dwayne Wade used it. And there's no reason why we shouldn't!
Let's find out why it's so popular: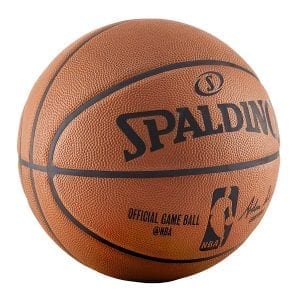 So naturally, this ball comes in the official NBA size and weight 7 (29.5"). The cool thing about this one is it comes with a full grain Horween leather cover, which actually gets better after continuous use!
Keep in mind, though, that genuine leather tends to be hard to touch and lacks the softness found in other cushioned covers. Also, the material takes time to break in and offer top performance.
This basketball is designed for indoor use, but word on the street is that it's strong enough to withstand outdoor play too! (We'll recommend you don't take the risk, though!)
We love how great this ball is for professionals, especially since it offers such a competitive play and grip.
But, we do have some reservations…
We did find a handful of reviews that pointed out the ball's lack of durability. Several customers said the ball started to lose its grip over time, and that there was a visible drop in the handling and control quality.
We also found complaints of how the ball tends to deflate quickly. Lastly, considering that it's not very long-lasting, the ball is pretty expensive!
Features:
NFHS-approved
Full grain Horween leather cover
Official NBA size and weight