When it comes to footwear, Smith & Wesson are known for their excellent attention to detail. This results in high-quality products capable of resisting both water and damage. Their Breach 2.0 Boots are among their finest shoes, boasting lightweight design, waterproof materials and sturdy reinforcements.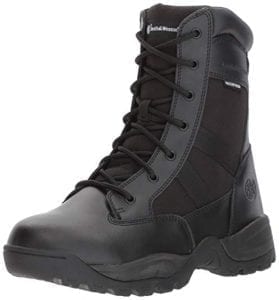 Made from leather and nylon, the uppers of these shoes are at the same time highly durable and incredibly lightweight. Thanks to Smith & Wesson's HydroGuard® technology, they are very successful at keeping your feet dry at all times. They feature a steel shank that gives enough support even to those working in the toughest environments. Equipped with rubber outsoles with an innovative pattern, these work boots will keep you from losing your footing even on slippery surfaces.
Here's where it gets good:
These work boots feature EVA midsoles, which do a great job when it comes to providing arch support and keeping you comfortable. As a result, they're a great choice for those who need to be on their feet all day. To make it even better, they have a gusseted tongue, the purpose of which is to keep out dirt and debris, so you can care for your shoes with greater ease.
Of course:
Even the best of shoes have their downsides. While doing our research, we've found that they don't do a very good job at keeping out the cold. A number of customers have said that they aren't as breathable as they would like them to be. Also, they feature a side zip and no kick rim, which can make them a bit more difficult to take off.
Features
Leather and nylon uppers
HydroGuard® technology
EVA midsole
Rubber outsole
Steel shank
Gusseted tongue
Side zip