Prefer to keep things simple?
Look no further than the SKROSS Pro-World & USB Travel Adapter for some good old-fashioned Swiss engineering.
This one tops our list for a few reasons.
First of all, we love the smart design and functionality.
The SKROSS adapter definitely isn't the only one in the world to use sliders to change plug configurations, but it is one of the better designs on the market. Those sliders lock firmly into place and make sure the adapter plugs in securely to any wall outlet.
Secondly, its elegance makes the SKROSS Pro-World adapter extra pleasing to the eye, but it's definitely not all about the aesthetics here!
Several customers who bought the SKROSS Pro-World adapter mentioned they were impressed by its durability.
We couldn't agree more.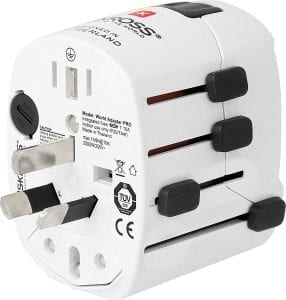 This is a solid product that can handle getting jostled around on plenty of trips without taking damage.
Last but not least...
This conveniently sized travel adapter can be used in a whopping 220 different countries according to the manufacturer, making it a great option for the habitual globetrotter.
And if you prefer to stick to a single country or continent, we can confidently recommend SKROSS's more specifically designed products, like the World to Europe adapter.
As an added bonus, we loved the SKROSS adapter has a replaceable fuse in the event of a power surge.
But even better?
It has a USB port in addition to the standard AC outlet, so you can plug your phone and your laptop in at the same time.
Talk about convenience!
Like all regular travel adapters, though, this one doesn't convert voltage, so make sure your devices are dual-voltage before you go plugging them in.
The SKROSS Pro-World & USB Travel Adapter has a two-year warranty, with more information available at the manufacturer's website.
Dimensions: 2.83 x 2.24 x 2.95 inches
Weight: 7.3 ounces
Features:
Works in 220 different countries
Replaceable fuse
Comes with USB port