The Silky Hayauchi 390 179-39 is one of the simplest pole saws on our list, and also one of the most expensive. While that may seem odd considering it's a manual saw, it would be a mistake to overlook this long pole saw as it's an effective, eco-friendly alternative.
This landscaping pole saw is in the "Pro" class, and the brand itself is beloved by professionals and amateur arborists alike.  It has an operating weight of 6.9 pounds with a durable, lightweight pole that's in four sections. While there's no motor or battery to drive this saw, it can go considerably higher than any other model we've come across. It is a very long pole saw. It's also very easy to use and comfy given its weight oversized rubber grip and a shock absorber on the end of the last pole.
When height matters…
You'll want to pick up the Silky pole saw 179-39 as the three telescopic extensions extend from 8 to 21 feet. That's impressive, and so is the curved pole saw blade attached to the end of this pole. The blade's made in Ono Japan from Sk3 high carbon steel and is 1.5mm thick with 5.5 teeth per inch. The teeth are in the Silky 4-RETSUME pattern, which is unique to the company and helps place it among the best pole saws on the market.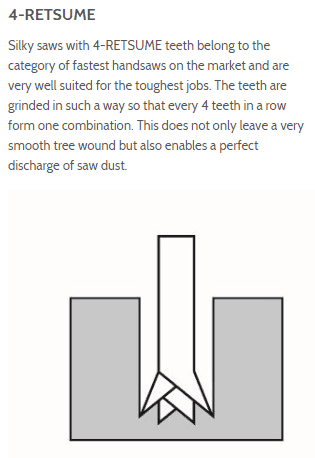 Have a branch at an odd angle? Not a problem for the HAYAUCHI as you can adjust the pole saw blades for two different angles. There are double sickles built onto this blade as well. The upper sickle is ideal for dealing with vines while the one towards the rear is perfect for undercutting bark. It's a small feature, but one you'll wonder how you lived without once you put it into action. If you think it's not built for bigger branches, watch Smilin' Don take out this 9-inch limb below…
There's not much else to say about this Silky pole saw as it's a saw we love and fully stand behind. Countless professionals feel the same way, and if this one's a bit too tall, you can always opt for the shorter Silky Zubat with a range of 8 to 13 feet. The only drawback is its price although it comes with a limited lifetime warranty. You'll also get a custom fit curved scabbard, and a short user guide.
Features
15-2/5" curved blade
Extends to 21 feet
Silky 4-RETSUME technology
Spring-loaded locking buttons
Limited lifetime warranty