The compact Silhouette Portrait 2 is a "great little machine to get your feet wet" in the world of vinyl cutter crafting and "a blast" to use.
Sleek, light, and easy to transport, this "unobtrusive" model is convenient for 1) saving space in a crowded or small workspace, 2) fitting into a drawer or on top of a shelf for storage, and 3) carrying around for on-the-go crafting.
But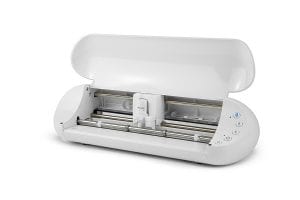 One downside of this cutter's small size is its restriction on project size. Limited to cutting 8"-wide material, the Silhouette Portrait 2 is adequate for making decals and stickers, but too narrow to accommodate something like 12" x 12" cardstock.
It's also durable and economical in the long run. We read reports of owners using the Silhouette Portrait 2 "all the time" for four to seven years. They design and make their own party decorations, cards, high-quality stationery goods, customized labels and more…which saves money and makes the cutter worth the investment. The included blade and mat also seem to be long-lasting, although the mat is too sticky initially for many users.
Also
With automatic adjustable blade settings, the Silhouette Portrait 2 can slice through varying thicknesses of paper, cardstock, vinyl, fabric, and more. A couple of users feel the blade settings suggested by the machine aren't always accurate but require trial-and-error experimentation to determine the proper setting for specific materials. For example, the blade setting is more effective for cutting thin, not thick paper.
Nonetheless
With the Silhouette Deep Cut Blade (sold separately), you can slice through materials up to two millimeters thick. In terms of overall performance, the machine cuts cleanly and works well on small and intricate designs.
Users love the Silhouette Portrait 2's "print and cut" feature. With its built-in optical scanner, the machine allows you to create a design utilizing the included Silhouette Studio software (more on this later) and print it out. You then feed the printed design into the cutter. Its scanner locates registration marks on the printed material and then cuts out your design.
However
A few people report wasted paper resulting from the scanner having trouble locating the registration marks, not aligning the paper properly, and/or cutting slightly off the mark. Nonetheless, when the scanner does locate the registration marks, the results "come out nicely."
Silhouette Studio, the software that accompanies the Silhouette Portrait 2, needs to be downloaded from the manufacturer's site. Software installation and use are easy for many people but still presents a learning curve. One "very, very computer savvy" user understood the software relatively quickly but thinks it's "not very intuitive" for people unfamiliar with design software. Nonetheless, patience, experimentation, and watching online tutorials are worth it in the end.
Some good, some bad ??
Although described as "very powerful" and providing access to a wonderfully expansive image library, the Silhouette Studio software also has its many critics. Customer service also earned mixed reviews. ?
For a demonstration on setting up the Silhouette Portrait 2, watch this step-by-step video guide .
Features