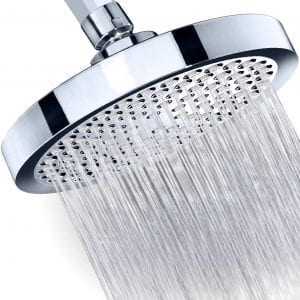 This Somov World product is one of the best rainfall shower heads available in the market. The product has a very elegant chrome-plated finish and delivers everything it promises.
Our research show that this product gives out excellent performance levels at the desired water pressure level. It even comes with a detachable water restrictor that enhances the user's experience by giving out a super powerful flow of water through its tiny, anti-clogging and self-cleaning nozzles that prevent lime and hard water deposits.
The best part… 
We love how easy it is to install this shower head! It quickly connects to any standard shower arm without any need for additional tools. You also get a roll of Teflon tape as a bonus with this product.
Features:
Rainfall shower head
Removable water restrictor
Self-cleaning nozzles: 90 Powered Anti-Clogging Silicone Jets
Easy tool-free installation