Another option if you're looking for a chromatic harmonica is the Saxony from Seydel. It just might be the most playable chromatic harp you can find, with a smooth-gliding design and a comfortable lip profile. While it might not be cheap, it's a well-built instrument that will give you a fast response and big sound.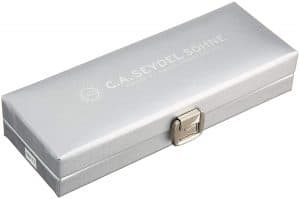 Seydel has re-designed the mouthpiece on this harmonica with rounder openings, which puts less strain on your lips when you're playing. They've also re-designed the slider for both comfort and performance. The cover plate has a widened opening at the back to give your sound more overtones, making it richer and fuller.
Steel reeds, in general, are known for their clarity. There are fewer overtones generally than with brass reeds, which can make your tone crisper and give it better projection. The tolerance between the reeds and reed plate is very small, making sure you don't have any leaky air while you're playing.
The Saxony Chromatic was the first serial-produced chromatic harmonica. This allows them to get the price a bit lower than with other chromatic models. It's still not cheap, but it comes in at under $500, which is on the lower end of the professional range. If you need a harp that's not too pricey and will serve you well both on the stage and in the recording studio, this is a great choice.
Features:
Keys: C (also available in G)
Tuning: Chromatic
Cover: Matte Chrome
Comb: Aluminum
Holes: 12
Reeds: Stainless steel
Reedplates: German Silver