This is an upgrade to Seydel's previous Session model. It has a new look, but there are changes on the inside, too, with an improved reed system that makes it more reliable and easier to play. If you're mainly looking for a blues harmonica, this is definitely one you want to look into.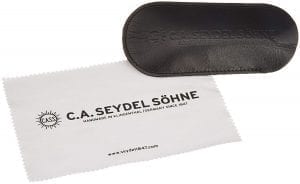 The feature that most sets this one apart from other options is the material used in the reeds. They're made of stainless steel and set in a recessed German Silver plate. First of all, this makes them more durable, but it also means they can be flatter, reducing the space between the reed and the reed plate. The sound this gives you is clear with a superior response.
The tone of this harp is full but it's also very bright. You'll get a sound that's clear and less airy than other models. This is great if you want to project over the sound of a band but some players prefer the warmer tone of a wooden comb. It sounds especially good when you're playing in the lower range and on the lower keys, with a well-balanced tone that's consistently in tune.
The Session Steel feels heavier than you might expect. It's also larger overall. This has a couple benefits. The weight is from the use of metal for more of the components, which translates to an instrument that will last longer and feel sturdy in your hands. The size gives you more space to work with for the same number of holes. There's more space between them, and the holes themselves are slightly larger, too, which many people find makes it easier to play.
Features:
Key: C
Tuning: Diatonic
Cover: Stainless Steel
Comb: Plastic
Holes: 10
Reeds: Steel
Reedplates: German Silver