This is an awesome and innovatively designed inflatable kayak that is perfect for any hard to reach boating destinations. It has a PVC coating and weighs 25.5 pounds.
Hikers, rejoice. Because this is the most portable kayak Bestazy came across in our search. We love this one because folds into a backpack that holds the entire kayak including paddles, pump, and seat.
And the best part?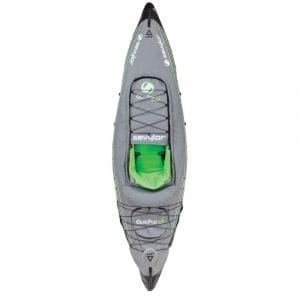 The whole thing unfolds and assembles in about five minutes.
And this kayak isn't just a gimmick or novelty, either.  There's plenty to love about its performance.
On still water, this kayak can cruise. The long slender dimension cut down on drag and maximize your paddling efficiency. This kayak is 120 by 33 by 20.5 inches.
Don't mistakenly take this kayaks long nose for a wave cutting edge. The elongated shape is actually meant for efficient flat-water paddling.
It works very well. In addition to being the most portable kayak on this list, it's also one of the faster ones.
If you are someone who is looking for legitimately efficient water travel, this is a great option. Especially if you don't want to leave your kayak tied up somewhere unsecure or unsafe.
What's not to love?
Well, a couple things.
First, we did find that the efficiency of this vessel wasn't fully capitalized on. The kayak's outer fabric is somewhat loose on the sides, which creates a lot of unnecessary drag.
It seems like this might be a necessary sin, however, in order for this kayak to fold into a backpack.
Second, there have been multiple reports that the included paddles aren't high quality. Some testers found that paddles came apart at the joint and needed to be adjusted far too often.
Keep this in mind, as well.
This kayak has a carrying capacity of just 250. For some people, that doesn't allow much room at all for equipment.
This kayak has a one-year limited manufacturer warranty for defects. You can find more information in this owner's manual.
Features
Converts into backpack
Paddles included
Pump included