If you want a kayak that can comfortably sit three people, this will be a better option for you since it actually has three seats.
Don't plan on taking much equipment along with the three of you, however, since this kayak only has a capacity of 490. In fact, three large people could put this kayak over its carrying capacity. This may not be the right kayak for, say, a family of football players.
Who is it right for, then?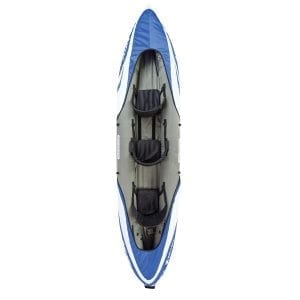 Almost anyone else who wants a three-person lake kayak.
This is a durable kayak built with a PVC coating.
Multiple air chambers keep your family and friends afloat in the event of a puncture emergency.
The adjustable seat allow anybody to sit comfortably and the splash guard does a reasonably good job of keeping you dry.
Many testers noted this kayak had excellent tracking, which may be due to the removable tracking skegs.
It's 12 feet and 3 inches by 3 feet one inch. Deflated it's 18 by 10 by 24 inches.
It weighs 34.8 pounds.
Keep in mind that his kayak doesn't include paddles, so you'll need to purchase some before you are able to get out on the water. You'll also need to buy a pump.
This product has a one-year limited warranty against defects.
Features
Seats three
Multiple air chambers
Tracking skegs